Five Thoughts: Nevada/Delaware Compact, Aviation Club Closes, and Jason Somerville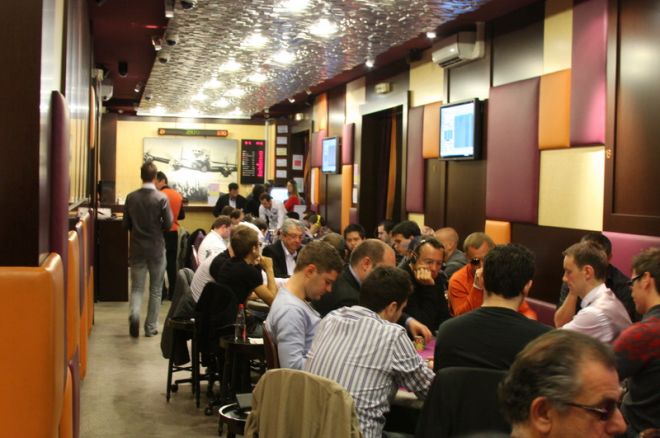 In February of 2014, Nevada Gov. Brian Sandoval and Delaware Gov. Jack Markell met in Wilmington, Del. to announce a poker-only interstate compact. The agreement was the first of its kind in the United States, and both Governors boasted about the more diverse online poker offerings that would become available with shared liquidity.
There was no set date for implementation, but Gov. Markell stated, "It is in everybody's interest to push this as quickly as we can."
Days passed. Weeks passed. Months passed. There were rumors that the compact would launch last summer, but nothing materialized. There is still no shared liquidity in the U.S.
Now, one year later, there is a four-to-six-week timeline according to Steve Tetreault of the Las Vegas Review-Journal.
"An agreement Sandoval signed last February with Delaware Gov. Jack Markell for their states to share online poker players should go live in four to six weeks," Tetreault writes. "Sandoval said 'technical glitches' delayed the rollout that was expected last summer, but he has been told by Nevada gaming regulators it now is 'imminent.'"
Is four-to-six weeks really "imminent?" More than a month is "about to happen?" The glacial pace of legislation is overwhelming.
All the while, New Jersey hasn't budged on the issue of shared player liquidity. With the continued success of online casinos in the Garden State – casino play has made up 80 percent of the online gaming market in New Jersey over the last two months – it's no wonder the DGE hasn't dedicated any resources to a poker-only compact. In Nevada, where only online poker is legal, it makes more sense for Gov. Sandoval and company to push for shared liquidity.
A conspiracy theorist would turn to Gov. Chris Christie, who allegedly is responsible for the PokerStars delay. New Jersey State Sen. Ray Lesniak told PokerNews that he has been told from multiple credible sources that Gov. Christie is the reason PokerStars has not been granted a license to operate in New Jersey.
"This is just another in a series of Gov. Christie's actions that turn his back on the people of the state of New Jersey to boost his presidential campaign," Lesniak told PokerNews, referencing Gov. Christie's relationship with online gaming supervillain and Republican benefactor Sheldon Adelson.
The intrastate model can't function without shared liquidity. Well, it can function, but it won't be very successful.
1. The American Footprint
It's easy to dismiss the "imminent" Nevada/Delaware compact because the numbers are unexciting. According to PokerScout, Delaware Poker, the online poker provider in the state, is averaging approximately 10 real-money ring-game players at a time over the last six months. To put this into perspective, Donnie Peters notes that this is about .0011 percent of the population (approximately 936,000).
Nevada isn't crushing it either. WSOP.com is averaging approximately 125 real-money ring-game players over the last six months – about .0044 percent of the state's population (approximately 2,839,000).
In my opinion, this compact isn't about immediate growth (although shared liquidity may increase player numbers slightly, especially in Delaware when players realize they can compete against 100 other players rather than nine). This compact is about creating a model that other states can opt into. Look at all of the issues we are witnessing right now in California. There are far too many stakeholders with far too many diverging opinions, and compromising is painstakingly difficult. Instead of one piece of online gaming legislation that all of the proponents can get behind, there are three bills with three (or more) different sanctions fighting amongst other proponents to pass their respective piece of legislation .
Don't forget there are still people lobby against online gaming legislation too.
With Nevada and Delaware's compact, there is a model in place for future states to join an already desegregated player pool. If Pennsylvania passes online gaming regulation and they want the poker players in their home state to compete with Nevada and Delaware to create bigger prize pools, then (presumably) all they have to do is accept the terms and conditions that have already been established. If there was no compact in place, and two or three more states legalized online gaming, then we would have a situation like California where there are too many cooks in the kitchen.
It is much easier to add than it is to unify.
New Jersey's stubbornness is alarming, not just because they are the 11th largest state in the country in terms of population (approximately 8,938,175), but there is a possibility that they could create a separate compact with other states. This is one of the many headaches that can accompany the state-by-state model. This is of course a wild hypothetical with no factual backing, but it is within the realm of possibility.
The compact between Nevada and Delaware will be successful if they can simply adhere to best practices with geo-location and avoid any software or technical issues between the two states. Even if player numbers are only marginally better after the compact launches, the model can improve if it is sustainable.
For now, the waiting game continues.
2. Aviation Club de France Closes
In September of 2012, I was in my apartment in Trinidad and Tobago with my now wife when I received a Skype call from Mr. Donnie Peters. Evidently there was some sort of issue in Europe, and they needed a live reporter in France for the Season XI WPT Grand Prix de Paris that weekend.
Sure. Why not?
It was my first time in the City of Light, and I woke up early on Day 1 to tour Paris with Kristy Arnett and Mantvydas Plinius. They were shooting the welcome video for the event, and I was stuffing my fat American face with crepes, gazing upon the Arc de Triomphe, Eiffel Tower, and other amazing landmarks.
Cards were scheduled to be in the air shortly, so I split from the group and headed down Champs-Élysées to get myself situated at the historic Aviation Club de France (ACF). I had been informed that you need to be a member of the club in order to enter, even as a lowly live reporter, and that there was a dress code as well. With one of my nicest button-down shirts tucked into a pair of semi-ironed slacks, and a backpack slung over one shoulder, I strolled into the entrance.
The security guard at the bottom was expecting members of the poker media, and was very helpful in getting me set up with an account upstairs. In order to get inside, you were momentarily stopped between two locked doors to prevent anyone from either raiding the joint or escaping. Once I was in the system, I found "media row" — two tables smushed together with a few ethernet cables dangling about — and took a seat.
The club was old and cramped. Players at adjacent tables were basically sitting on top of one another, and traversing to and from the poker room was a difficult task, even for those with supreme navigational skills. Players, as they tend to do, found things to complain about regularly, but there were so many inexperienced participants in the €7,500 buy-in event that it was worth their "struggle."
Personally, I fell in love with the venue. For more than 100 years ACF operated in the heart of Paris, catering to gamblers from all over Europe, and there we were covering a televised World Poker Tour event at that very venue. Of course it was going to be cramped, and getting in and out of the front door was going to be time-consuming, but if you sit back drink it all in, playing in that space is amazing.
Unfortunately, this story has a sour ending. ACF was placed into judicial liquidation last week, five months after the French police raided and closed the room. The 213 employees of the club are now without work. Now, the only choice for poker players in Paris is the Cercle Clichy Montmartre, which only has a license until 2016.
French poker players were dealt another blow right before the judicial court offered a ruling on ACF. The European Poker Tour announced it would not be returning to Deauville next season. The fight for the legitimacy of poker is not just an American one, friends. France, a country without shared liquidity in Europe, is struggling as well.
3. Somerville is a Star
On Friday, PokerStars announced that Jason Somerville, Run it UP! king and PokerNews Podcast cohost during the 2014 WSOP, is now a member of Team PokerStars Pro. In a statement, the company acknowledged Somerville for his work on the streaming platform Twitch.
"Jason Somerville represents the latest generation of poker pros, raised on American poker television and video game culture," the company said in a press release. "The young American has parlayed his poker passion into a successful Twitch feed, where fans watch his real-time play, commentary and strategic advice on the popular video platform and game community."
Season 3 of Run it UP! premieres this Sunday, March 1 at twitch.tv/pokerstars.
On the felt, Somerville caught my eye in 2011 when he won his first bracelet at the WSOP. As an aspiring player, I decided to check out PokerVT, the training site he represented alongside friend and mentor Daniel Negreanu. Somerville's content was great. He was capable of simplifying strategies and breaking down the action while keeping it fun.
The following summer, Somerville was back on my radar when he linked up with November Niner Russell Thomas. The two launched a web series named The Final Table, and again the content was superb. Thomas finished fourth in the Main Event, earning $2,851,537.
From there, Somerville started to take off. He started producing a video series called Eating Cake, a primitive, pre-taped version of what is now Run it UP!, and his audience started to grow and grow. His content began to evolve as well, and his shows went live.
Donnie and I had the distinct pleasure of working with Jason over the summer on the PokerNews Podcast, and it was a blast. His presence gave us an added layer of legitimacy, allowing pros to open up more freely on air, yet at the same time he fit right in with our friendly banter and silliness. Even after chopping the ARIA super high roller for more than $1.3 million, Somerville showed up on time for every single episode (even at 11 a.m. during the Main Event) and never hesitated to help set up the broadcast or break down the equipment when the show was over.
A total professional with drive and a clear vision for where poker content is going, Somerville is a massive asset for PokerStars. I can't wait to see what he does next, and I'll be supporting him all the way.
4. Online Poker Regulation Approved by Portuguese Ministers
On Thursday, Portugal's Council of Ministers approved a bill to regulate online poker in the country. Once signed into law by President Aníbal Cavaco Silva, the bill will create a new license-based market similar to ones already in place in Spain, Italy, and France. Unlike these three countries, it is unknown whether or not Portugal will operate as a ring-fenced market, barring liquidity with neighboring European nations.
According to Giovanni Angioni of PokerNews, given the scope of the legislation, Portugal is not expected to establish a ring-fenced market.
Games of luck and chance, gambling games, and horse racing are likely to be taxed between 15 and 30 percent of their gross gaming revenue (GGR). Sports betting is likely to be taxed between 8 to 16 percent of GGR. The Portuguese government expects gaming revenues of approximately €25 million, and according to Expresso, these estimates have already been included into the country's budget.
Licenses will be awarded to, "all the companies that will ensure the full respect of a set of financial, economic and technical requirements." Licenses will reportedly be valid for three years and will be renewable.
In addition, regulated online gaming sites will be allowed to market their products under the same set of rules that is currently applied to alcohol.
Hey, look everyone, a federal government that has common sense!
OK, maybe that's not fair to the U.S. State's rights is a legitimate, Constitutional hurdle, but that didn't stop us from passing the UIGEA in 2006. As for France, and the other countries that restrict their users in a ring-fenced market, let it go. All you are doing is alienating players and pushing your largest rake contributors into markets where liquidity is legal and regulated.
How many French professional poker players now call London home?
When President Silva signs this bill into law, and more information becomes available, you'll be able to catch it right here on PokerNews.
5. #ThrowbackThursday
We're already over 2,000 words, so let's enjoy a video that features a hairless Donnie Peters from our #ThrowbackThursday vault on The Muck.
Shoutout East Coast Grinder and Gutshot Maniac.
Get all the latest PokerNews updates on your social media outlets. Follow us on Twitter and find us on both Facebook and Google+!