Five Thoughts: Lame Ducks, OFC High Rollers, A Three-Time Winner, and More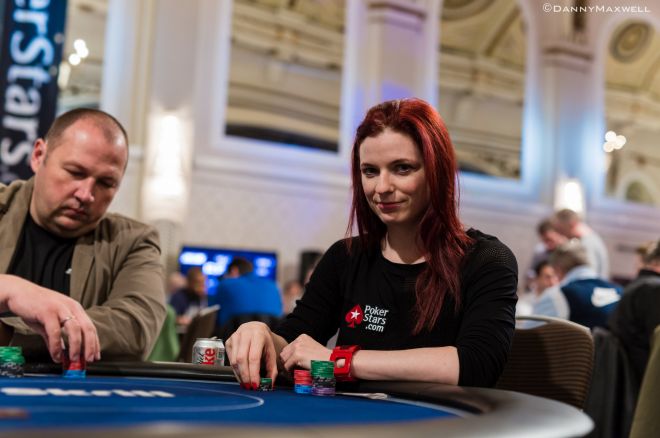 The winter of 2010 was my first in Brooklyn. I had just completed my bachelor's degree at Elon University, and was coming off of my first World Series of Poker with PokerNews. After the WSOP came to an end, I was offered a freelance position with the company, and began writing this very column each week.
I'll not soon forget those first months in New York. The apartment I was living in was, well, small. Very small. My room consisted of a mattress, a desk, and a closet. The extra room was designated to my laundry basket and a bin. Looking back on it, the entire situation was a mess and the room was dreadfully overpriced. No one should ever pay that much money to live in a box.
But it was home, and I was a young kid living in Brooklyn with nothing to really complain about.
At that time, Senate Majority Lead Harry Reid attempted to push through an online poker bill during the lame-duck session. Like the Unlawful Internet Gaming Enforcement Act, Sen. Reid planned to attach this online poker legislation to a must-pass bill.
According to information leaked by the Las Vegas Review-Journal, this bill would've established a strong marketplace and allowed for PokerStars, Full Tilt Poker, and partypoker to apply for licenses. However, there was one clause that called for a 15-month blackout period in order to properly issue these licenses. This was very alarming for people like me that didn't see the writing on the wall, and didn't think that in just four months the U.S. government could pull the plug on the entire operation.
How could we survive for 15 months without online poker? Oh, the irony.
I was wildly optimistic about the prospects of Sen. Reid's bill, sweating every update from Matthew Kredell and the other writers on the legislative beat. I wasn't too young to understand that the legislative process was slow, but I was young enough to believe that online poker could be federally regulated by 2012.
The legislation failed, of course, unlike the UIGEA four years earlier. During the 2006 lame-duck session the UIGEA was notoriously attached to the SAFE Port Act, an anti-terrorism bill that passed and was quickly signed into law by President George W. Bush.
This past week, Sen. Reid's name was in the lame-duck news once again. Unfortunately, this time his name was being paired with Sheldon Adelson, and the same fear that was associated with the UIGEA crept back into the poker world.
1. The RAWA Lame-Duck Battle
Sen. Reid has always been a proponent of poker-only legislation. According to the Poker Players Alliance (PPA), he isn't happy with the state of online gaming in the U.S., and, as a Senator from Nevada, he is certainly influenced by Mr. Adelson.
A few weeks ago we discussed the Restoration of America's Wire Act (RAWA), a bill that would "prohibit all forms of Internet gambling." Adelson was receiving push back from fellow Republicans who want to protect the 10th Amendment (state's rights), but then rumors started to circulate about an attempt to attach RAWA to a must-pass bill.
Could it be the UIGEA part deux? PPA Executive Director John Pappas was certainly concerned.
"There's no doubt about it," Pappas said when asked if the threat of RAWA was real and if Sen. Reid's involvement was a possibility. "[Adelson] certainly wields a lot of influence with Republican leaders and has a good relationship with Sen. Reid as well."
Even is poker was carved out of the bill, Pappas and the PPA believed that the legislation would have negative effects.
"We'd be selling the poker community short with a carve out just for poker," Pappas said. "What would happen to those states where other kinds of online gaming are already occurring? If you're concerned about state rights, not just the rights of states to offer poker, it extends to the rights of states to offer all kinds of gaming."
This is interesting, but perhaps necessary. Initially, the battle was always for poker-only legislation. Again, Sen. Reid isn't an ally of online gaming as much as he is an ally of online poker. There is also the fact that online poker is a skill game, while online black jack is not. Initially, the PPA was always quick to highlight these differences in order to push for legalization and regulation.
If the three regulated markets in the United States — Delaware, New Jersey, and Nevada — are any indication, casino gaming is necessary in order to generate tax revenue. New Jersey is crushing Nevada (poker-only) at a rate much greater than the population discrepancy, and states that are considering legalization and regulation will want to maximize profits. This means partnering online poker with online casino gaming.
The idea that Sen. Reid would work against the PPA and the interests of our industry is sad, but thankfully RAWA appears to have been defeated. For now.
#CRomnibus will not carry internet #poker prohibition pushed by Adelson. Kudos to all of you who made your voice heard -jp

— PokerPlayersAlliance (@ppapoker)
There is still a nonzero chance that it could hit the fan in the coming days, but it looks like we're in the clear and the waiting game will continue.
2. High Roller OFC
There's no doubt that Open-Face Chinese Poker (OFC) has taken the industry by storm. During any live tournament you can walk around the room and see several players grinding on one of the many OFC apps, and Twitter is littered with screenshots of hands from players asking for advice, bragging about burying an opponent, or complaining about a bad beat.
This week was an historic one for OFC tournament play, as the TonyBet OFC Poker World Championship, a $10,000 buy-in event, took place at King's Casino in Prague. The tournament attracted 23 entries, creating a prize pool of €218,500 — the largest ever registered in a live OFC poker event.
Jennifer Shahade won the event, earning €100,000 and a championship belt. We need more championship belts in poker (shout out to partypoker and Playground Poker Club as well), just look at how triumphant she looks holding it high into the air.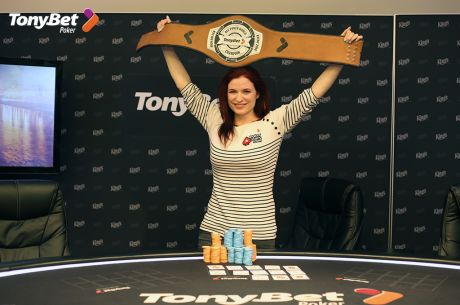 Shahade, a two-time American women's chess champion, had never played a high roller before this event, but is regarded as one of the best OFC players on the available mobile apps. If you want to learn more about her, and perhaps take in a few snippets of information about OFC, I suggest that you listen to her interview on a past episode of the Thinking Poker Podcast.
Because of the lack of betting OFC isn't technically "poker," but it is a very entertaining game and makes for a great side event. The live stream of the TonyBet OFC Poker World Championship on PokerNews was an enjoyable watch, but there is certainly room for improvement. Since the players were playing pineapple, a variant of OFC where you are dealt three cards and must discard one, it would be interesting to see which card each player threw away. This would give viewers added information that two players at the table aren't privy to, allow the commentators to analyze the decisions each player is making, and could also lead to a graphical representation of the entire deck that would adapt as the game progresses.
If none of the players are in fantasy land, all but one card will be used. If each card is ticked off as it is dealt, then the sweats will become increasingly more interesting because we the viewers will know what cards are still alive.
These streams would have to be delayed to maintain the integrity of the game, which is usually standard operating procedure anyway.
While it is nowhere near as popular as no-limit hold'em, OFC has proven that it's not a fad either. It remains popular among those in the poker community, and I don't believe this $10,000 event will be the last big buy-in OFC tournament either. The boom may never come for OFC, but it won't fall off the face of the earth either.
3. Third Time's the Charm
Laurent Polito topped a massive field of 682 entries this week to win PMU.fr WPT National Paris and €140,000. Polito is an absolute crusher, and this is his third WPT National victory in the last two years.
In January of 2013, Polito took down another WPT National Paris for €74,500, and this year he also won PMU.fr WPT National Cannes, pocketing €86,000. The Frenchman's success isn't just limited to World Poker Tour events, however, he also won a €10,000 High Roller at Barcelona in 2012, earning €270,229.
In total, Polito has grossed more than $1.4 million in live tournament earnings.
Just looking at Polito's Hendon Mob page, I am blown away at how many final tables he's reached in the last few years alone. Scrolling down, all you see is single-digit results, and he has a total of 10 victories.
While Polito did have that massive score in the EPT Barcelona High Roller, most of his success has come in smaller buy-in events. I've always wondered why up-and-coming players don't just focus on these events to hone their craft and, more importantly, profit. Not only to WPT National, WSOP Circuit, Mid-States Poker Tour, and Heartland Poker Tour events feature smaller buy-ins, which help reduce variance, they also attract a lot of inexperienced players. It is easier to succeed against the weekend warrior who has been saving up for a $1,000 tournament than it is against a pro willing to fire multiple bullets in a $5,000 tournament.
Pride and poker go hand in hand though, and there are countless players chasing an elusive dream of stardom. No one closes their eyes and pictures themselves as the winner of a $1,000 side event, they want to see a bracelet or a giant Champions Cup.
I'm not sure what Monsieur Polito sees when he closes his eyes, but when he opens them I bet he looks down at a lot of purple €500 notes.
4. WSOP APAC Winner Adds a Circuit Ring
Speaking of grinding on the Circuit, Scott Davies picked up a WSOP Circuit ring this week at WSOP Circuit Harrah's Cherokee. No, the 2014 WSOP Asia-Pacific Main Event winner didn't take down the festival-ending main event, rather it was a simple $365 buy-in affair.
To give you a little perspective, if Davies only used the money he earned from his WSOP APAC victory ($737,907, roughly 60 percent of his career earnings) he would have 2,021 buy-ins on the $365 circuit.
Davies topped a field of 353 players in the event in North Carolina, earning $24,355 (or roughly three percent of his top prize in Australia).
"Feels great to come back and take care of some unfinished business," Davies told our own Chad Holloway after the event. "I traveled the WSOP Circuit and earned a National Championship seat back in the 2011/2012 season, and while I had some success, the goal of capturing a Circuit ring eluded me. I remember seeing an article somewhere a year or so ago listing me in the top 10 for most cashes without a ring, and I've always wanted to get myself off that list."
Love it. "Unfinished business." It sounds like the trailer for a cheesy Keanu Reeves movie.
THIS SUMMER. COMING TO A POKER ROOM NEAR YOU. ONE MAN. ONE RING. LET THE CHIPS FALL WHERE THEY MAY.
It's great to see a bracelet winner getting out there and playing an array of events, especially a WSOP APAC/Europe Main Event winner. We were fortunate enough to have Davies on the PokerNews Podcast not too long ago, and he was very down to earth and entertaining:
Davies also cashed in the $1,650 Main Event at WSOP Circuit Harrah's Cherokee, but the winner was a different well-known grinder.
5. My Name is My Name
Jake Bazeley, who has been sporting a Marlo Stanford picture as his Twitter avatar, emerged victorious in the WSOP Circuit Harrah's Cherokee Main Event. The 31-year-old Cincinnati native outlasted 797 entries to take home the top prize of $239,096.
"I never really go by leaderboards and points and stuff like that," Bazeley said after the tournament. "I'm just more about making money and at the same time having fun and being competitive with it. Winning is winning. I don't really do it to get points or a ring or anything. I just want to win."
Prior to this event, the top spot had avoided Bazeley for nearly three years. His last win came in January of 2012, when he tok down a $340 buy-in side event at the Southern Poker Million Dollar Heater for $21,321.
I don't know about you, but just like we need more championship belts in poker, we need more events called the Million Dollar Heater.
During the last three years Bazeley has several final table appearances, including a runner-up finish in a WSOP bracelet event in 2012 and in an HPT event a few months later. Just this year, Bazeley finished third in the Million Dollar Heater Main Event.
MOAR MILLION DOLLAR HEATERS.
Unsurprisingly, Bazeley was excited to finally reach "the altar" once again.
Congratulations to "Bazeman," who is among the first crop of players I was lucky enough to cover in this industry. In 2009, when I was with PocketFives at the WSOP, we focused exclusively on the online grinders, and it's been fun watching some of them grow into withered live pros. Good luck to Bazeley on the mop tour circuit for the rest of 2014, and remember...
Omar don't scare.
Get all the latest PokerNews updates on your social media outlets. Follow us on Twitter and find us on both Facebook and Google+!