Taking the WPT to the Next Level: Adam Pliska Tours Hublot HQ in Switzerland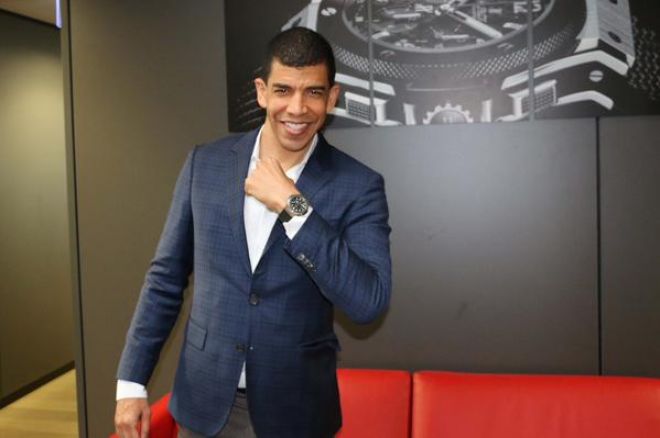 Back in December, the World Poker Tour (WPT) announced a new relationship with renowned Swiss luxury watch company Hublot, who had previous collaborations with FIFA World Cup, Ferrari, and both American football and basketball. Hublot, which was initiated and developed by Jean-Claude Biver and CEO Ricardo Guadalupe, became the "Official Timekeeper and Official Watch" of the WPT and Alpha8, which included title sponsor of the Hublot WPT Player of the Year.
"Along with our Monster Headphone sponsorship these are probably our first big third-party sponsorships in a long time," WPT President Adam Pliska tells PokerNews. "Not only in terms of money, but in addition to that they've put about a million dollars in watches into WPT events that we give out throughout the season at televised final tables. It's been terrific. I just wanted to go out there. If they're going to support poker, I'm certainly going to go out and show my respects. It was incredible."
And Pliska did just that, taking the trip overseas to Hublot's headquarters in Switzerland for a visit that has helped strengthen the new sponsorship, which is more akin to a partnership.
The initial announcement, which was made at the WPT Five Diamond World Poker Classic in Las Vegas, revealed Hublot would offer two versions of a limited-edition 45.5 mm-diameter Big Bang Unico World Poker Tour watch, which will be available at retail while each winner of a televised WPT Main Event and Alpha8 will win their own custom timepiece.
"The difference between Hublot and some of the other high-end luxury watches is Hublot combines this sort of composite material, so they take these traditional fine watches and combine it with an athletic, younger look," Pliska explains. "So they tend to go after sports and lifestyle. They have an agreement with the Lakers now, and they've been very active in soccer and those type of things. It's about a lifestyle brand, it's about aspiration and going for those sort of high achievements. For the WPT, it couldn't be better."
Pliska wanted to see for himself how these luxury watches were made, and he admits he wasn't quite sure what to expect.
"I had no idea about how the process is," he admits, "but you go out there and there are old-fashioned watchmakers in the corner. Some of these watchmakers get one watch for five weeks."
What Pliska discovered was an impressive operation in a vast complex, one that saw Hublot make their own chemicals, machines that cut and manipulated brass, and a specialized design area. At the end of it all he discovered the aforementioned watchmakers, who donned white lab coats and used extreme magnification lenses to assemble their masterpieces, which often times consisted of 400-500 miniature pieces. As Pliska explained, they preferred to work in complete silence because of "intense, psychological pressure."
"They're very proud about what they've done," Pliska says of the superb craftsmanship. "In the last 10 years they've really had great success in the watch market."
Of course, he was so impressed that the WPT President had to get a Hublot of his own.
"I love it," Pliska says with a bright smile. "I look at it, even the box is beautiful. It's just terrific."
For years, the WPT had trouble attracting third-party sponsors, a frustrating experience Pliska attributed to the changing sponsorship landscape.
"I really don't think you can do sponsorship like people did 10 years ago," Pliska reveals. "People used to say, 'Poker brought to you by whatever.' That was fine, everybody was making money. Then there was a long time people could never understand why they couldn't get sponsors into the poker industry. We had the same problem. Why couldn't we do it? We went outside and we failed, inside and we failed, we did agencies and failed, and then finally a few years ago we decided to forget it, assume we weren't going to get a sponsor, and go back to the drawing board."
Pliska continues: "We talked to people about what they wanted, and why poker wasn't getting the sponsorship it deserved. We developed a program that I'm really proud of now. What we try to do is really work with them and make them partners and integrate. It's not just 'Brought to you by...' You'll see that they're very integrated in the show. All of our partners give back to the community. In this case, the watches."
Indeed, Hublot may be a title sponsor of the Player of the Year race, but it's become clear they're much more than that. In December, they held a party for players during the Five Diamond, one Pliska described as one of the classiest the poker world has ever seen. Players and viewers alike will also see Hublot integration throughout broadcasts on Fox Sports Networks, including a handcrafted timepiece being brought to the table alongside the money during heads-up play.
"I wanted to go to Switzerland because it's important," Pliska concludes. "I wanted to be connected with it. I want them to feel that we understand. They're very proud about what they do, as you can imagine. They produce these great works of craftsmanship. They have some watches that they've sold for $5 million. These are some amazing timepieces. To go there and watch the process, the history behind it, and what they're vision is, they're just a cool company. It's not about having sponsors, but true partners that understand each other."
Get all the latest PokerNews updates on your social media outlets. Follow us on Twitter and find us on both Facebook and Google+!