Love Sports? Then You'll Love the 850 Sports News Digest App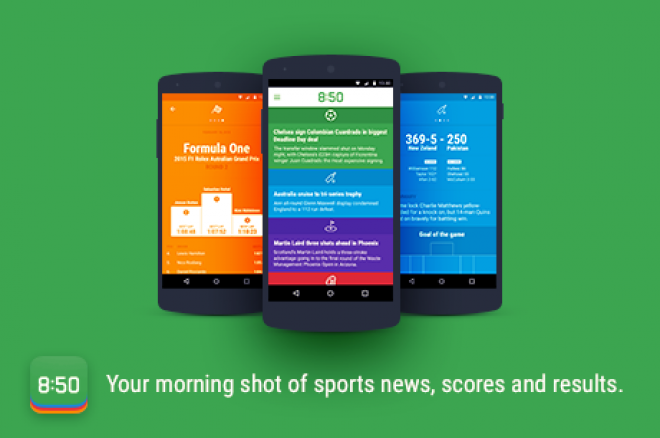 Let's be honest, there aren't many people who are happy at 8:50 a.m. For most of us, it means we're sitting at our desks, turning on our computers, and sipping on the first of too many cups of coffee. 850 Sports News Digest, however, is trying to bring back the joy into the busy sports fan's life for their last 10 minutes of freedom before the work bell chimes.
If you love reading about sports, but often find yourself short on time, you've likely tried a few sports news apps on your phone. The problem with a large number of these sports news apps is the user interfaces can be complicated, making it difficult for you to find what you want and the quality of the content can vary wildly depending on where they pull the content in from.
This is where 850 Sports News Digest steps in and offers a great alternative. They are trying to reinvent the way sports news appears on your phone. The company is the brainchild of Jon Bishop, a technologist, and Neil Goulding, a sports journalist, to create a second-to-none sports news experience that puts mobile phones first.
When you start the 850 Sports News Digest app, you'll notice the clean interface that displays your chosen sports including: football, cricket, golf, rugby league, rugby union, motorsport and tennis. You'll also notice that the write ups are short and to the point, giving you a quick breakdown of the important news in as few words as possible. A quick tap of the screen and you can see a bit more information on the sport you are interested in, which is summarised in an easy-to-digest paragraph or two of information, backed up by insightful diagrams of key moments such as the best goal of the game or biggest blunder.
Bishop, the co-founder, recently spoke to the technology site Techcrunch about 850 Sports News Digest and said this about his competitors: "content is often sourced though aggregation, content farms, re-writes or, as is common with many media sites today, having rushed overworked reporters spewing out work as quickly as possible."
Bishop went on to say: "Our approach is to focus our efforts around the journalists, give them the ability to write quality, short content exclusively for the app, that is professional and informative to the reader."
Bishop's business partner and co-founder, Goulding, is a sports journalist by trade and has been key in assembling a team of top sports journalists and up-and-coming talent such as Louise Potter, Rob Hayes, Shane MacDermott, George Martindale, and Mark Rawlinson who are the talent behind the crisp and to-the-point updates across the sports covered.
I've been putting the app through its paces over the weekend and it has been a welcome addition to my collection of apps.
The company aims to give you a daily roundup of your favourite sports that can be digested in the 10-minutes before you have to start work (hence the 850 name) and it does exactly that and via one of the smoothest interfaces seen in the field. With more sports and languages in the pipeline, I can only see 850 Sports News Digest going from strength-to-strength.
850 Sports News Digest is available to download now for free on Android and on iPhone.