Pigskin Diaries Presented by DraftKings Super Bowl XLVIII: Broncos vs. Seahawks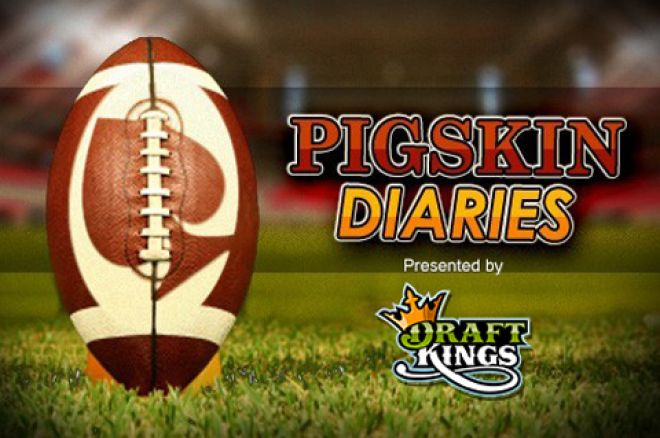 About a week ago, my fiancé Jenna and I went out to see Jack Ryan: Shadow Recruit at a movie theater close to our apartment in Trinidad. After the show we grabbed a quick bite to eat, headed to her brother's truck, and started to head back home.
In order to get back home, we needed to make a right out of the movie complex onto the highway. Remember, Trinidad is a former British colony, so left is right and right is left. We waited at the light for around a minute or so, chatting about the movie and the jerk that sat next to us and talked the entire time.
"Oh," Jenna said. "It's green."
I turned my attention from her to see that the light was indeed green, but for some reason I hesitated to push my foot down on the gas. Suddenly, out of the corner of my right eye, I saw lights. With my foot still firmly on the break, I watched in horror as the truck blazed through the intersection at no less than 120 kilometers per hour (75 mph).
We were that close to being absolutely obliterated.
At first I was shaken up. The idea that our lives could've been dramatically altered had I naturally pressed down on the gas at the sight of a green light was traumatizing, but eventually I just focused on the fact that we luckily avoided a tremendous accident.
A few days later, my run good continued. I asked the Twitterverse for a small transfer on PokerStars, and from thousands upon thousands of miles away, Kiwi David Yan answered my call. A few direct messages later I was ready to grind a small Sunday schedule, and 14 hours after that I exited in fifth place of the Bigger $11, earning just under $7,000.
So to recap, in less than a week's time I went from avoiding tragedy by a struck of luck to posting an ROI of over 60000% in a tournament with nearly 20,000 players.
I'm not a superstitious person whatsoever. As a member of the poker media and a casual poker player and sports bettor, I understand and have experienced variance. I'm also fortunate enough to have taken AP Statistics with a brilliant high school teacher – who may or may not have influenced me to make my first online poker deposit – and I'm fully aware of the concept of independent events.
If consecutive roulette spins have no statistical influence on one another, then there is absolutely no connection between driving in a car and playing in an online poker tournament days later.
On the contrary, I do believe that there is a psychological connection between the two. In the days after my near miss, I was injected with a bit of purpose. My ambition and focus increased, and whether or not it was artificial or manufactured, it had a positive effect on my work ethic and my play on the virtual felt. During the dozen other tournaments I bricked on Sunday, I was playing more patiently and confidently.
This revolutionary clairvoyance has carried over to my research heading into Super Bowl XLVIII. Despite swinging and missing for eight consecutive years – that's right, I'm 0-8 picking the Super Bowl ATS – I am extremely confident that I have this game figured out.
Before we get down to the nuts and bolts though, let's have a little fun.
Football season may be over, but you can still get in on the action at DraftKings.com. Basketball, hockey and golf games are running around the clock, and pitchers and catchers report for Spring Training in less than a month!
Props
All of these prop bets are courtesy of Bovada.lv. Some are more serious than others. Most of them will lose you money.
1. What will be higher, seconds in the National Anthem sung by Renee Fleming or Peyton Manning passing yards in the first half? (Seconds, -120)
I'm still not sure if this is one of the serious ones or not. The line for the National Anthem is two minutes and 25 seconds, which is 145 seconds. If Fleming hits that on the dot, then Manning will have to throw for over 145 yards in the first half. His passing total for the game is over/under 290.5 yards.
After watching Fleming sing on YouTube, I am inclined to take the seconds. She is slow. Really slow. Unless she wants to wrap things up quickly to get out of the cold, I think we could have a new record on our hands.
2. Will Knowshon Moreno cry during the singing of the National Anthem? (Yes, +170)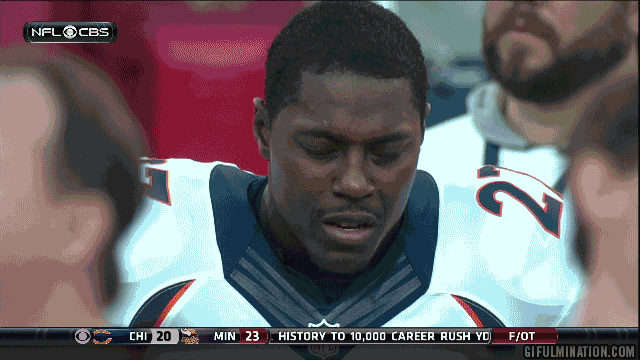 3. Total rushing yards – Knowshon Moreno (Over 62.5, -125)
After crying a monsoon of tears, I think the Jersey native will have a nice game. Seattle's run defense is its weakest link – not because of a lack of talent, but rather a lack of size in their front seven – and Manning will do his best to exploit this. He might even check to the "fat man" play, which resulted in a 28-yard scamper on 3rd and 10.
4. Who will have more rushing attempts in the game, Russell Wilson or Montee Ball? (Ball -1.5, -150)
Including the playoffs, Ball is averaging 9.57 carries per game over the last seven games. During that same timespan, Wilson is averaging 4.57 carries per game. If we believe that Denver is going to try and run the football, then Ball will play an integral role on offense.
5. Total receiving yards – Julius Thomas (Under 55.5, -115)
Since returning from his injury, Julius Thomas is averaging 5.67 catches and 59.83 yards per game. The problem is, the Seahawks rank third in DVOA against opposing tight ends (-34.5%) according to Football Outsiders. Since their Week 12 bye, only one tight end (Lance Kendricks) has accrued 50 or more receiving yards against Seattle. During that time span, they played against both Vernon Davis and Jimmy Graham (twice).
6. Total tackles and assists – Richard Sherman (Under 3.5, -115)
Unless the Seahawks opt to move Sherman around the field (he tends to play exclusively left corner), I believe Manning will avoid No. 25 at all costs. I could even see the Broncos running bunch sets away from Sherman, forcing him to either pick up a tight end or move to the right side of the field.
There's also the inevitable Sherman hype after his post-game WWE promo, which may have inflated this line a bit.
7. Golden Tate to score the first touchdown (16-1)
This is a gut call. Tate hasn't scored a touchdown in the playoffs. Heck, he's only scored one touchdown in the Seahawks' last eight games, but the odds are too good to pass up. Only Jacob Tamme (18-1), Zach Miller (25-1), Manning (40-1), and Robert Turbin (40-1) have longer odds than Tate, unless you want to bet that there will be no touchdowns scored at all (66-1).
8. Will Wes Welker drop a pass in the game? (Yes, -120)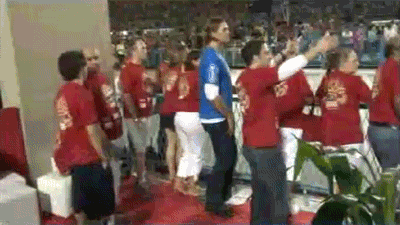 9. Total receptions – Percy Harvin (Over 4, -130)
There will be more on this in a bit.
10. Total receiving yards – Andre Caldwell (Over 9.5, -105)
I wish there was an Andre Caldwell touchdown prop, because I'd be all over it. Manning loves this speedy receiver, and in a game where Denver will need a bit of creativity to succeed on offense, Caldwell could get an opportunity to make a big play down the field. I don't know why, but when I close my eyes I see Manning running some kind of fake bubble screen to Demaryius Thomas and throwing a wheel route to Caldwell.
Seattle Seahawks (+2.5) vs. Denver Broncos
Here's how the teams match up in DVOA, courtesy of Football Outsiders:
| Team | Total DVOA | Rank | Offense DVOA | Rank | Defense DVOA | Rank | Special Teams | Rank |
| --- | --- | --- | --- | --- | --- | --- | --- | --- |
| Seattle | 40.1% | 1st | 9.4% | 7th | -25.8% | 1st | 4.8% | 5th |
| Denver | 32.8% | 2nd | 33.7% | 1st | -.2% | 15th | -1.1% | 21st |
The Seahawks opened as slight favorites in a majority of books, and the money quickly flooded in on the Broncos. I am personally waiting for a late surge to come in on Denver to push this line to a field goal, but even if that doesn't happen I will happily take Seattle and the points.
About a month ago, on The Behind the Bets Podcast, Las Vegas bookmaker Bob Scucci said that if Seattle and Denver both reached the Super Bowl, the Seahawks would open as 3.5-point favorites:
#Seahawks would be 3.5 point favorites in Super Bowl vs. #Broncos (via Bob Scucci on @chadmillman podcast)

— RJ Bell (@RJinVegas)
Besides Russell Wilson's "slump" and America's sudden obsession with Omaha, Nebraska, what has changed in the last 42 days?
Nobody prepares like Peyton Manning. He knows that Seattle's front seven is smaller than average. He knows that Earl Thomas likes to be overly aggressive. He knows that he will be facing Cover 3 for a majority of the game. He knows that Sherman will be stride-for-stride with whomever he is covering, and that Byron Maxwell and Walter Thurmond are easier to throw against.
Unfortunately for Manning, Maxwell and Thurmond are still terrific in press Cover 3.
This game isn't going to be about Manning's ability to change the play at the line of scrimmage and trick the Seahawks defense – although I really, really do believe they will run one fake bubble screen to try and get Earl Thomas to over pursue – it's going to about the Broncos wide receivers getting off the line of scrimmage and getting into their breaks. To make things easier, Denver will likely run several bunch and stack sets to get their receivers out of their breaks, but Seattle is clearly aware of these concepts.
Eric Decker and Moreno are the two most important players in this game for Denver. If Decker is physical enough to get out of his breaks cleanly, then I think he will play a huge role in stretching the field vertically for the Broncos. If he can't then Manning will have to continuously throw underneath routes, and the Seahawks are very capable tacklers in the secondary. Getting big yards after the catch will be very difficult.
Moreno needs to be able to pick up big yardage when Seattle is out of its base formation. Manning will look to check to run plays against nickel and dime, and Denver's offensive line should be able to create some space.
On the other side of the ball, I'm concerned about Denver's secondary. During the AFC Championship Game Tom Brady missed a lot of big throws, but he still finished with 277 yards and a touchdown. I understand that a big chunk of that came in "junk" time, but Seattle's offensive attack is much more dynamic, particularly with Percy Harvin on the field. You can joke all you want about Harvin's frequent injuries, but he was off to a fast start against New Orleans in the Divisional Round of the playoffs, high-pointing a prayer from Wilson on a 3rd and 8 in the second quarter.
Harvin adds an extra dynamic to the Seahawks offense that they haven't had all season, and I think he'll play a big role in this game as long as no one launches at his head.
I have no worries about Russell Wilson playing quarterback in a big game, and we all know Marshawn Lynch is "bout that action, boss."
Ultimately, while I believe the Seahawks will win the game, I think I will be rooting for the Broncos to win the game. Part of me wants to see Manning put the "playoff choker" narrative to rest once and for all, and part of me wants to soften the blow when I fall to 0-9 ATS in the Super Bowl.
Seattle 20
Denver 13
MVP: Percy Harvin (16-1)
Last Week: 1-1
Playoffs: 6-4
Regular Season: 115-137-4
Get all the latest PokerNews updates on your social media outlets. Follow us on Twitter and find us on both Facebook and Google+!