Five Thoughts: Zinno's Third WPT Title, The American Poker Awards, a $500K, and More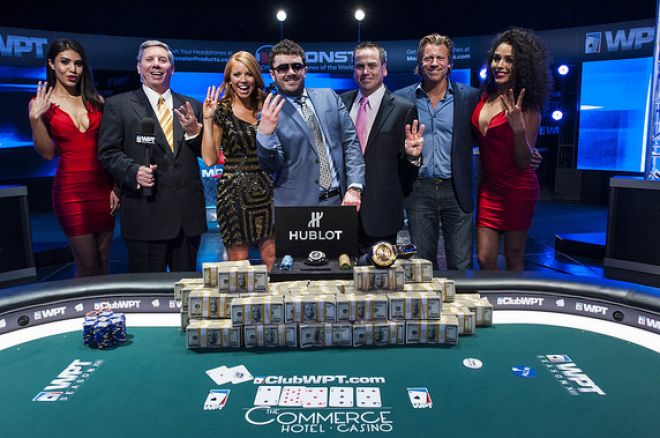 Narrative plays a meaningful role in the way we consume sports. Rivalries, legacies, and the off-the-field activities tend to creep into our consciousness when we're watching the actual games, and help us to create rooting interests.
Super Bowl XLIX wasn't just the New England Patriots versus the Seattle Seahawks, it was a collection of storylines and narratives that hung in the balance while two teams whipped a pigskin around Glendale, Arizona. It was Bill Belichick's legacy versus Pete Carroll's legacy. It was Tom Brady's attempt at no. 4 versus Russell Wilson's attempt at no. 2. It was a former dynasty looking to return to the winner's circle versus the defending champions looking to form a dynasty. It was the Patriot way versus the Legion of Boom.
When Malcolm Butler jumped that slant route at the goal line, neutral fans didn't cheer or jeer simply because the Patriots won or the Seahawks lost. They celebrated (or refrained from celebrating) because a certain narrative was fulfilled.
The same is true for poker, at least from the fan's perspective. We love narrative. Most of the headlines you see are about tournament wins, and most of the stats we keep refer to tournament results. One reason why is it's impossible to track live cash-game results, and becoming impossible to track online cash-game results because players are (rightly) allowed to opt out of data mining. There simply isn't enough information for us to properly rank the most successful players in the world.
Another reason is, you guessed it, narrative.
Each tournament tells a certain story and, while most of them are very similar, we never get tired of them. When one player remains after battling hundreds, sometimes thousands of opponents, we want to celebrate their accomplishment. When a winner is a casual player turning a weekend hobby into a big score, we congratulate them for fulfilling a dream. When a winner is a seasoned pro who finally got the monkey off their back, we praise them for overcoming their struggles. When a winner is an elite pro who just keeps collecting trophies, we eulogize them as one of the best in the game.
Each poker tournament is a mini hero epic where one person, barring a chop, will have every single chip before we turn the final page.
Like our views on sports, we sometimes lack nuance when dissecting tournament results. We can throw out a number of titles or check Hendon Mob for lifetime career earnings, but what do they really mean? What if a player was extremely lucky at a select few final tables, and pocketed a bunch of titles because they were on the positive side of variance during that small sample? I'm guilty of not digging deep enough sometimes myself, especially when it comes to statistics before the poker boom in 2003.
Did you know that Doyle Brunson bested fewer people (approximately 600) en route to nine World Series of Poker bracelets than Davidi Kitai (810) did in the $3,000 Six-Max last year? That's crazy.
We're also quick to dismiss the bounce of the ball or any hint of variance when discussing narrative. Either we're too scared of the realities that come with chance or too lazy to analyze variance, but many of our narratives are created out of randomness. We use narratives to give meaning to these happenings, even when there may be no meaning at all.
The most intriguing story this year is Anthony Zinno, who is playing extremely well and running hotter than the sun. However, the whole story would've never unfolded if he didn't win that first title in the fall of 2013.
1. Zinno Captures Third WPT Title
On Hand #96 of the Season XII WPT Borgata Poker Open final table, Zinno was all in and at risk with the
against the
of Vanessa Selbst. Zinno surely had the best of the situation, and according to the PokerNews Odds Calculator he was a 72.26-percent favorite to win the hand.
That's a bit smaller than you think though, right? When you table two jacks and your opponent shows you ace-nine, you don't think you're going to lose more frequently than one time out of four. Alas, the numbers never lie, and over infinity you are only going to win the hand 72.26 percent of the time.
Had Selbst spiked in ace in that hand, Zinno would've exited in third place, earning $301,225. It certainly would've been a bad beat for the Rhode Island native, but raise your hand if you've been eliminated from a tournament as a more than 72.26-percent favorite. It happens every day.
Of course, Zinno won the hand and went on to win the tournament, earning $825,099 and his first WPT title. A little over a year later, Zinno was once again at a televised WPT final table, this time at the WPT Fallsview Poker Classic. He was the chip leader and dominated the final day, only relinquishing the lead for a short while before earning his second title.
Zinno joined the PokerNews Podcast after his second win and was very humble. We asked how it felt to join poker's greats as a two-time WPT champion, and he said he got "chills."
"I don't quite categorize myself by any means in the same pool as [Daniel] Negreanu and [Phil] Hellmuth because of how much they have done for this game," he added.
Shortly thereafter, Zinno traveled to Commerce Casino and made WPT history, winning the WPT L.A. Poker Classic. Zinno become just the third player (Marvin Rettenmaier and Darren Elias were the others) to win back-to-back WPT events, and the third player to win three WPT titles (Gus Hansen and Carlos Mortensen were the others). He also pocketed a cool $1 million and earned his second Hublot Oceanographic 4000 watch.
As the runaway leader in the Hublot WPT Player of the Year race, Zinno is a favorite to earn a third luxury Swiss watch come April.
To think that, with one little bad beat, this whole narrative is null and void. Instead, Zinno held, and went on the tear of a lifetime.
Whether he likes it or not, Zinno is now in an elite group of tournament poker players with three WPT titles and over $3 million in career tournament earnings. Likewise, all three of his major wins came in televised WPT events, giving him an unprecedented reach in the American market. This isn't always the case with poker success in the U.S. — Matt Matros, who won three WSOP bracelets over a three-year span, is a relatively unknown player because of lack of exposure.
Zinno topped a combined 957 entries in his back-to-back victories, and an additional 1,189 entries in the Season XII WPT Borgata Poker Open. Altogether that's 2,146 entries, more than four times the amount Hansen outlasted (503) and nearly double the amount Mortensen outlasted (1,095).
With a three more events remaining, Zinno can also break the record for most cashes in a single season with eight. He is currently tied with Byron Kaverman (Season XII).
2. American Poker Awards
Both the American Poker Conference and the American Poker Awards blew me away. Alex Dreyfus and his team did a terrific job throughout the entire day at the SLS Hotel Beverly Hills, and industry members from across the country were present to discuss pressing topics and celebrate poker achievements in 2014.
I was only able to catch the final two conferences, and they were fantastic. Chris Grove was an excellent moderator for the Online Poker Snapshot, steering an excellent conversation about the current state and the future of regulated online poker in the U.S. Jeffrey Haas and Eric Hollreiser traded friendly blows back and forth, representing partypoker and PokerStars, respectively, and both of them made very important points about where the regulated sites have succeeded and where they can improve. Adam Small, co-founder of PocketFives, served as the voice of the community on the panel, and appropriately sat between Haas and Hollreiser.
If you want to listen to all of the panels, you can do so thanks to Bernard Lee, who participated on the players panel.
I was pleasantly surprised to see how many people were in attendance for the conference, and shocked to see the crowd at the awards show. Thanks to the L.A. Poker Classic there were dozens of top professionals in attendance, and many of them dressed to impress. Others, well, they make a lot of money playing poker. We can at least say that.
It was so cool to look around the room and see all of the people who contribute in this awesome industry. It was even cooler to watch everyone support one another, which isn't always the case. Although many of our goals are the same, all of the stakeholders in this space aren't aligned. In fact, we are often butting heads en route to trying to accomplish the same thing. I'm not saying the American Poker Awards will serve as a bridge to amend all of our differences, but it's something positive that we can all share.
Editor-in-Chief Donnie Peters made some excellent suggestions after the event, including one that I really can get behind: inviting legislators and regulators to attend in 2015. It would be great to show these individuals, who currently hold all of the power, that we're a legitimate industry with great thinkers at the helm. We support regulation and want to follow all of the laws, whether they be state or federal statutes, and we are ready to comply in order to grow the game we all love.
Moreover, we want to help you generate free tax revenue that is currently going to unregulated sites. There are millions of dollars available in every state, but stigma and fear are two giant hurdles.
I'm already looking forward to the 2016 conference and awards, and I wish I could hop on a plane to Malta later this month for the European Poker Awards. I'm sure Dreyfus and his team will crush yet again.
3. $500,000 Super High Roller Planned for July 2-4 at ARIA
Well, hello there.
According to SuperHighRoller.com (what an amazing domain), the $500,000 buy-in Super High Roller Bowl kicks off at ARIA Resort & Casino on July 2. The tournament features an estimated prize pool of $25 million and an estimated first-place prize of $8.25 million. The winner will also receive a "one-of-a-kind" Super High Roller Bowl Championship Ring, which will be "hand-crafted exclusively for this event."
The website also hosts a players tab with the "full roster of Super High Roller Bowl Players." It's not certain if these are confirmations or perspective players, but I'm certain that some of these players will skip the event while many others, who have not been highlighted, will play. Among the notables on the roster are Dan Colman, Phil Ivey, and Tom Dwan.
Hellmuth is also listed, but I expect him to come up just short of $500,000 right before registration closes — or something like that.
There are two events preceding the Super High Roller Bowl, the Super High Roller Celebrity Shootout (June 27-28) and the Super High Roller Cash Game (June 30 - July 1). Both complement the World Series of Poker's $111,111 High Roller for ONE DROP (June 28-29) and $25,000 Pot-Limit Omaha High Roller (June 29 - July 2).
The organizers and ARIA have crafted a terrific schedule to cater to a specific set of players, and the WSOP can only benefit from the additional high-roller foot traffic. Two tournaments, the ONE DROP High Roller and the PLO High Roller, may not have been enough, but together, these five events should attract poker's elite from all over the world to Las Vegas for a week of high-roller action. Perhaps some of these players will even stick around to play in the WSOP Main Event. Obviously the professionals listed on the website will take a stab at the $10,000 series-ending event, but not all of the businessmen have time to play in a two-week tournament.
It will be interesting to see if ARIA, or one of the many other MGM properties in the world, will try to send a qualifier or two to Las Vegas for the Super High Roller Bowl. There is a contest on the website to send a fan to the final table with $5,000 in spending money — also known as YOLO money — but it would be awesome to qualify even one recreational player into this elite event. I love super high rollers as much as any other poker super fan, but the one thing they are missing is the aspirational narrative that makes poker so great.
4. The Real All-Time Money List
Forbes recently released the annual "Hate Us Because You Ain't Us" list, or, as they formally refer to it as, the list of the world's wealthiest people.
Our favorite real-money gaming villain, and Chairman and CEO of the Las Vegas Sands, Sheldon Adelson comes in at No. 18 on the worldwide list with an estimated $31.4 billion net worth. To put that into perspective, Latvia (ranked 96th) has a GDP of $30.9 billion, according to the United Nations. Nearly 100 countries and territories have smaller GDP's than Adelson's net worth.
Adelson, who ranks 13th in the USA, was previously ranked No. 8 in the world. Who knew that buying box seats for Chris Christie at Dallas Cowboys games could be that expensive?
Joining Adelson in the top 100 from the gaming industry is Lui Che-woo, who established K. Wah Company in Hong Kong. K. Wah is the parent company of several Asian-based casinos, including StarWorld Macau, the Grand Waldo Hotel, and Galaxy Macau. According to Forbes, Che-woo is worth $11.6 billion.
Further down the list are two Canadian citizens from the gaming industry, Mark Scheinberg and Guy Laliberté. Scheinberg's $4.1 billion net worth is enough to make him the 10th-wealthiest person in Canada, and land him at No. 405 in the world. Laliberté's $1.9 billion net worth lands him at 22nd in Canada and 1,006th in the world.
Fun fact, according to the Hendon Mob database, the top 100 members of the all-time money list have a combined $953,012,662 in earnings. Yep, that's exactly one-half of Laliberté's estimated net worth.
To recap, Adelson is estimated to have 2.7 times the net worth of Che-woo, who is estimated to have 2.8 times the net worth of Scheinberg, who is estimated to have 2.2 times the net worth of Laliberté, who is estimated to have a net worth that is twice the combined live tournament earnings of the top 100 poker earners of all time.
My head hurts.
5. Sam Simon Passes
On Sunday, Sam Simon passed away after a long battle with colorectal cancer. Simon, 59, was known as an animal advocate and philanthropist, and pledged the majority of his fortune to philanthropic causes.
Co-creator of The Simpsons, Simon was an avid poker player, registering several tournament cashes dating back to 1995. In total, he racked up $358,655 in career live tournament earnings, including six cashes at the WSOP.
While my time with Simon in Las Vegas was limited, there was always one constant at all of the tables he played at. Smiling. Simon was such a warm, welcoming person, who interacted with top professionals and amateurs alike. It's inspiring to see that, even in death, he is committed to helping those around him. I am sure his philanthropic efforts will keep people smiling for generations.
Rest in peace, sir.
Photo courtesy of the World Poker Tour.
Get all the latest PokerNews updates on your social media outlets. Follow us on Twitter and find us on both Facebook and Google+!