Alex Jacob Dethroned After Winning $149,802 on Six-Day Jeopardy Run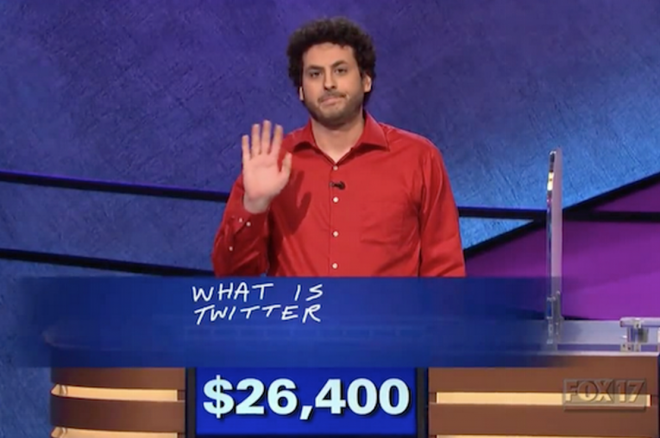 Alex Jacob is not only a successful poker player, he's now one of the most accomplished players in Jeopardy! history. After riding a six-day winning streak, Jacob fell on Monday in his seventh appearance. Jacob, who won the 2006 United States Poker Championship and is now a currency trader in Chicago, won $149,802 during his run.
In addition, Jacob received $2,000 for his runner-up finish in his seventh appearance, which brought his official winnings up to $151,809. That puts him in the top 15 all-time Jeopardy! winners, though a far cry from Ken Jennings, who tops the list with more than $2.5 million in winnings.
In his final appearance, Jacob made the Final Jeopardy! round holding $26,400 to Todd Lovell's $18,400, and Monica Lott's $9,600. The final answer was: "This social media company launched in October 2010; in 2012, with about a dozen employees and no revenue, it sold for $1 billion."
The correct response was: "What is Instagram?"
Lott answered incorrectly and lost her $5,000 wager. Lovell was correct and won his $8,001 wager, brining his total to $26,401. That meant in order to win Jacob needed to answer correctly and have wagered more than $2. Unfortunately, he wrote down "What is Twitter?" and lost his $10,401 wager.
With that, Jacob's impressive run, which infuriated some and impressed many, came to an end.
Keith Williams, the 2003 Jeopardy! College Champion and strategist of the game, previously offered a qualitative analysis of Jacobs versus 11-time champ Arthur Chu, who sits No. 4 on Jeopardy's all-time money list. You can check that out on Williams' site TheFinalWager.co.
Williams was also kind enough to supply PokerNews with his thoughts on Jacob's time on Jeopardy!:
"Many of Alex's strategies — jumping around the board, hunting for Daily Doubles, maximizing expected value on wagers — had already been well established by several prominent Jeopardy! champions. What was novel was the stalling tactic: waiting a few seconds to give a response, drawing out category names, and so on.
"This is well within the rules, but I don't see it becoming standard practice. A lot of that is psychological; most players would rather not risk the perception that they're "cheating," and when you're onstage, there's the nagging fear that if you don't blurt out your response immediately, it will magically vanish from your mind.
"Perhaps the technique has psychological benefits, but I believe it had a negligible effect on the outcome of Alex's games. Because Alex tended to take out the higher-value clues first, the clues toward the end would usually be worth $400 or $800. The probability was small that such amounts would allow Alex's opponent to get back into contention. Not to mention those clues are typically a buzzer race, and Alex had the timing down.
"With all of this talk about strategy and mind games, let's not lose sight of the most important skill: Alex Jacob is a damn solid trivia player. He had the goods to win these games; on top of that, he took every advantage he could identify, something very few players even consider."
Jacob's run on Jeopardy! may be over, but don't be surprised to see him again later down the road as he is assured to get invited back for the Tournament of Champions.
"To everyone who wanted to see me on tonight's #Jeopardy: thank you, it really means a lot," Jacob said on Twitter. "Sorry I let us down last night #noexcuses. Yes, (barring something crazy) I will be in the next #Jeopardy Tournament of Champions. My guess is Feb. or May of next year."
You can watch Jacob's final Jeopardy! appearance here:
*Lead photo screenshot from Jeopardy!
Get all the latest PokerNews updates on your social media outlets. Follow us on Twitter and find us on both Facebook and Google+!
Executive Editor US, PokerNews Podcast co-host & 2013 WSOP Bracelet Winner.