Phil Hellmuth Talks to PokerNews About Celebrity Wife Swap Opportunity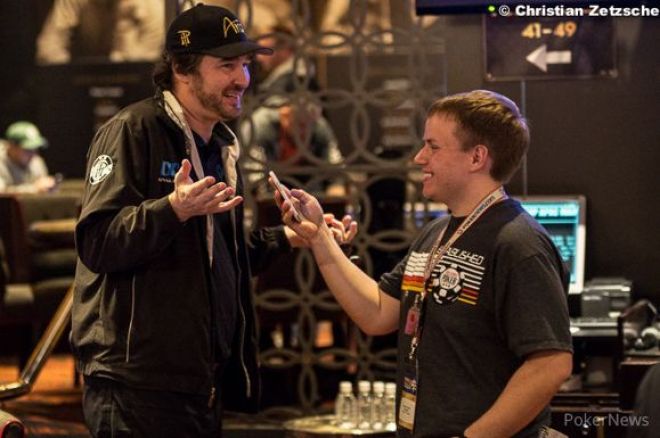 On Tuesday, 13-time World Series of Poker bracelet winner Phil Hellmuth sent out an interesting tweet, one that said he had an offer to be on the ABC television show Celebrity Wife Swap. However, his wife Katherine declined the opportunity. Hellmuth is currently at the WSOP Asia-Pacific, and elaborated on the tweet.
Hellmuth revealed that the opportunity presented itself when the production reached out to his agent. Hellmuth added that the show would pay less than $100,000 but would be worth much more in publicity alone.
For those unfamiliar with the show, Wife Swap takes families from different social classes and lifestyles and swaps out the wives in each. So in this case, Hellmuth's wife would have went to live with a different family for two weeks while the wife from that family would have to live with Phil. Celebrities who have appeared on the show in the past include wrestlers Ric Flair and Roddy Piper, musicians Coolio and Mark McGrath, and actors Andy Dick and Lorenzo Lamas. It's unknown if Hellmuth would have been paired with another poker player.
"It's pretty cool to get that offer. I would love to do it," Hellmuth told PokerNews. "That kind of stuff is fun for me, and I feel like it's a chance for the world to see me, to see the real me. I think too often people think I'm a jerk. If they see me on that show over two weeks – never lose my temper, never swear, a lot of patience – I think they would say wow, this is the Phil that we've never seen before, but this is the real Phil."
Hellmuth was clearly excited about the opportunity, but it was one his wife shot down without hesitation.
"Unfortunately my wife is a psychiatrist at a pretty famous institution, and she hates press. She doesn't like it when they show her on the World Series of Poker coverage ... It's unfortunate for me that she just really has no interest," Hellmuth said. "My wife is beautiful, she's in fantastic shape, I drool over her every day. She's brilliant, she's stable, she's very logical, and so I think she would do just phenomenally well on the show. People would love her and say great things about her."
Even though it doesn't sound like Hellmuth will be appearing on Wife Swap, he is open to the idea of appearing on other reality TV shows.
"I would have done Dancing with the Stars. I'm sure I would not have done great, but I would have done that show," he said. "I would do Celebrity Apprentice in a second because I think that show could showcase some of the skills that I have as a business man."
You can listen to Hellmuth's full interview with PokerNews here:
Get all the latest PokerNews updates on your social media outlets. Follow us on Twitter and find us on both Facebook and Google+!