Get Your Daily Dose of Sports News With 8:50 Sports Digest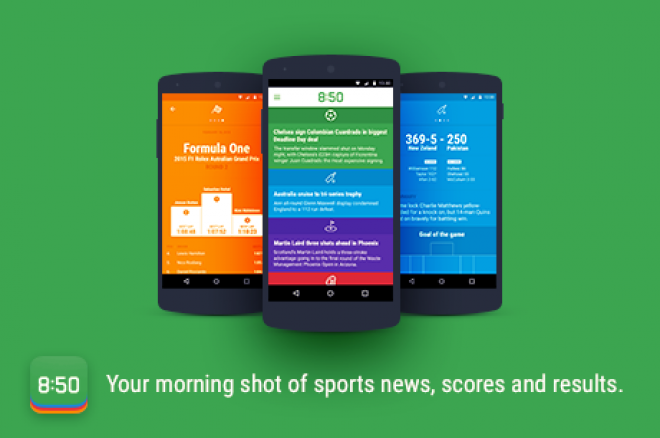 If you have a nine-to-five job, you know very well that 8:50 is not exactly the best part of your day. If you are not furiously running on your way to the office, you are already at work, you have turned your computer on, and you have just filled your mug with the first of many coffees.
During the 10 minutes that separate you from the start of a new working day, you would like to do a lot of things. You would like to check the latest news about your favorite team, to have a look at what's happening to their opponents in the league, at that big tennis match played at night, at the qualification round for the next Formula 1 Grand-Prix, at the latest news about golf.
The problem? You have only 10 minutes left. Only 10 minutes.
The Solution? Say Hello to 8:50 Sports Digest
If you like reading sports news, you often find yourself short on time and you have a smartphone or a tablet - 8:50 Sports Digest has got you covered.
This sleek and easy-to-use free app available for iOS and Android has been created by tech expert John Bishop and sports journalist Neil Goulding exactly to make sure you get everything you need to know about sports in no time.
If you only have 10 minutes to catch up with the latest sports news, 8:50 offers you what the app's creators define "a simple, beautiful sports digest, curated and written by talented sports writers."
"850 Sports Digest was the most intense project we have worked on together yet with me setting tight budgets and pushing on delivery times and asking the world of the quality of the look-and-feel and features. But as always, they delivered above expectation," the App's co-founder Bishop said.
How Does 8:50 Work?
The app is ridiculously easy to use. Once you have it on your phone or tablet, tap on the 8:50's icon to launch it and... that's it! 8:50 immediately offers you a complete overview of the most important news about football, cricket, golf, rugby, motorsports, and tennis (more sports will be added soon) with short articles written by professional journalists. Because, remember, you only have 10 minutes to go through everything.
The no-frills articles available on 8:50 offer you a complete overview of the of the most important sports events that took place while you were asleep. Click on the headlines, and you will be served with everything you need to know about each and every event in the list. And from my personal experience, I can guarantee you that most of the times you will be able to read about all the facts that you need to know in less than one minute!
"When it's 10-to-nine and you just want to know what happened in the sports before you get to the office, 8:50 will give you a summary of everything you need written by sports journalists with a simple, beautiful app," the app's official site states.
You can install 8:50 on your iPhone or iPad from the Apple Store, or you can add to the collection of apps on your Android device from Google's official Android Play web-store.
Get all the latest PokerNews updates on your social media outlets. Follow us on Twitter and find us on both Facebook and Google+!