Five Places to Eat in Las Vegas This Summer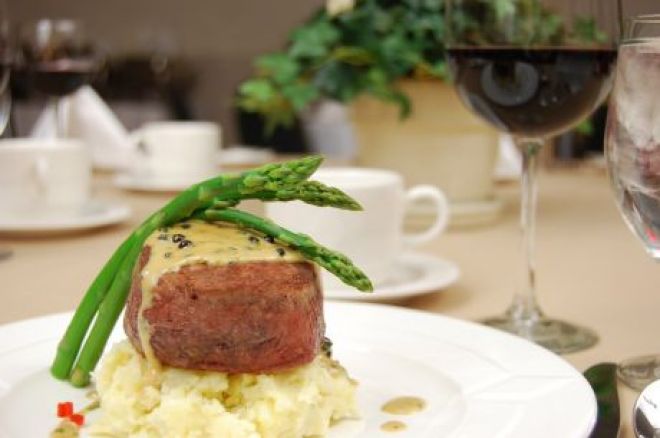 With the 2015 World Series of Poker almost here, poker players around the world are making plans to travel to Las Vegas, be it for a weekend, a couple of weeks, or all summer. They'll be arriving hungry for the challenge, the fun, and the opportunities for fame and fortune the WSOP provides.
They'll also be arriving hungry, period. And just as the Rio All-Suite Hotel and Casino will suit their appetite for poker, Las Vegas will suit their appetite for good food, too, having become over the last few years one of the "world's best food cities." Whether seeking a quick bite during a dinner break, a satisfying early meal before a day of play, a late-night post-poker spread, or an unhurried experience with fine cuisine on a day off, the city provides an unending selection to satisfy all tastes.
Having spent several summers in Las Vegas ourselves, we have found a few favorite food destinations over the years we'd like to share. These five spots aren't to be considered a "Best of" list, but rather dining spots we've enjoyed and found ourselves going back to time and again as well as recommending to others.
These obviously only scratch the surface of the culinary delights Las Vegas has to offer, nor do they exhaust the incredibly wide variety of world cuisines on offer. For that reason we'll point you to some more resources along the way to help you discover other worthwhile dining options.
Bachi Burger
Serving up Asian-style gourmet burgers and sides, Bachi Burger is one off-the-Strip place we never fail to visit at least once each summer, if not more often than that. The "Banh-Mi" Burger is a favorite choice of ours, with Angus beef, pork, shrimp, lemongrass, curry aioli, nuoc mam sauce, and more, with an order of truffle parmesan fries and a Boba milk tea drink (or perhaps the strawberry guava milkshake).
There are over a dozen specialty burgers, all piled high with thick, high quality beef and fresh toppings, plus BBQ burgers and other sandwiches, a selection of salads (the Bachi Caesar is a treat), plus beer, boutique wines, sake, and other beverage options. With three locations, each just a short drive from the Strip.
For more burger-related options, check out "Best of Las Vegas: 5 Great Burger Joints on The Strip."
Hash House A Go Go
With five locations in and around Vegas — including the most recently-opened one in the Rio — most returners to the WSOP know about Hash House A Go Go, the place that serves mammoth helpings of mostly breakfast-themed meals, although the selections stretch the definition of breakfast as most of us know it.
There are a variety of "House Hashes" (with roasted chicken, corned beef, salmon, chorizo, and other choices), "Farm Scrambles" (eggs done up in numerous ways), and "Indiana Favorites" (all meat-centric). Meanwhile, the famous big-as-your-head waffles and pancakes have to be seen to be believed, and the menu includes other sandwiches, salads, and more.
We've included this one in our list of "Best of Las Vegas: 6 Great Breakfast Joints for Post-Poker Feasting," if you're looking for more breakfast options (no matter what time of day). Indeed, given the proportions Hash House A Go Go serves up, you'll likely be better off eating there after playing rather than before.
Lotus of Siam
With all of the celebrity chefs and Michelin-starred restaurants in Vegas, many locals nonetheless highlight some less obvious choices as favorite dining destinations, including some seemingly hidden away in strip malls like Lotus of Siam. This Thai restaurant is located just around the corner from the Rio on Sahara Avenue, making it an inviting choice for a dinner getaway.
Alas the beloved lunch buffet is no more (done away with last July), but there remains plenty on the menu to delight. The Panang Braised Beef Short Ribs, Suki Scallops, Drunken Noodle Prawns, and Koi Soi (Thai Steak Tartare) are among our favorite dishes. A Gourmet Magazine review in 2000 heralded Lotus of Siam as "the best thai restaurant in North America," a reputation has endured over the years and which we're not ready to dispute too greatly.
Of course, there are other thai options in Las Vegas — including some locals recommend before Lotus of Siam as even better. See our "Best of Las Vegas: 5 Great Thai Restaurants" for more options from this aromatic, spicy category of eats.
Musashi Japanese Steakhouse
Known as a foremost teppanyaki-style restaurant — think hot steel plates with meat, fish, and vegetables sizzling on them — the Musashi Japanese Steakhouse is also a terrific destination for sushi lovers as well. A national chain, there's a location just a few miles from the Rio on Paradise Road.
The menu features a wide assortment of appetizers and entrees — for the former we often order the Calamari Tempura, then go for the broiled tuna with light teriyaki sauce, garlic chips, and jalepenos. Entrees all come with miso soup, salad, rice, and assorted vegetables. If in a big group make a reservation and then make an enjoyable night of it.
And if sushi is how you roll, see "5 Off-the-Strip Sushi Spots You Need to Check out in Vegas" for still more options.
Picasso at the Bellagio
We'll end this short list with a true example of fine dining for those willing to spend a little more for a distinctive dining experience. Fans of the 2001 remake of Ocean's 11 may recall the Picasso at the Bellagio, an award-winning restaurant with a menu derived primarily from the regional cuisine of France and Spain.
Featuring multiple menus, you cannot go wrong with the Prix Fixe from which you select an appetizer (e.g., crème of butternut squash, poached oysters, or warm quail salad), a couple more main courses (featuring choices like sautéed ruby red shrimp or filet of black bass, roasted Maine lobster, veal chop, and more), then a selection from the delectable dessert menu (we like the chocolate torte).
Add a bottle from the wine cellar stocked with 1,500-plus selections and perhaps get a table outdoors on the patio from which to enjoy the fountains, and take note as well of the several works by Picasso, and you're in for a memorable evening. Don't go without a reservation.
More Deliciousness...
That's five and we haven't even mentioned other faves like the Red Velvet Cafe (a great vegetarian option), Wicked Spoon (a high-end buffet in the Cosmopolitan), Nobu (another great Japanese restaurant, located in Caesars), Naked Fish (another strip mall hidden gem), among others — not to forget All American Dave, another excellent, healthy option for those unable to get away from the Rio.
But now we've made ourselves hungry, and so before signing off let's pass along a few more handy resources for those looking to get out of the hotel room and find an inviting ambience in which to enjoy good food and drink.
Check out "Best of Las Vegas: 10 Great Sports Bars" for ideas about some of the best places to go that combine good eats and comfortable seats for summer sports viewing. Also see "Best of Las Vegas: The 5 Best Breweries and Craft Beer Bars" highlighting some of the more popular Vegas destinations for those with a thirst for craft and seasonal brews as well as other high-quality quaffing.
And let us also point you to Jimmy Fricke's excellent food-themed website Jimmy Eats Vegas where the poker pro offers several carefully considered recommendations of dining destinations in Las Vegas, including "Jimmy's Map of Deliciousness."
Photo: SXC.hu
Get all the latest PokerNews updates on your social media outlets. Follow us on Twitter and find us on both Facebook and Google+!