PokerNews Staff Picks Their Top Storylines Heading Into the 2015 WSOP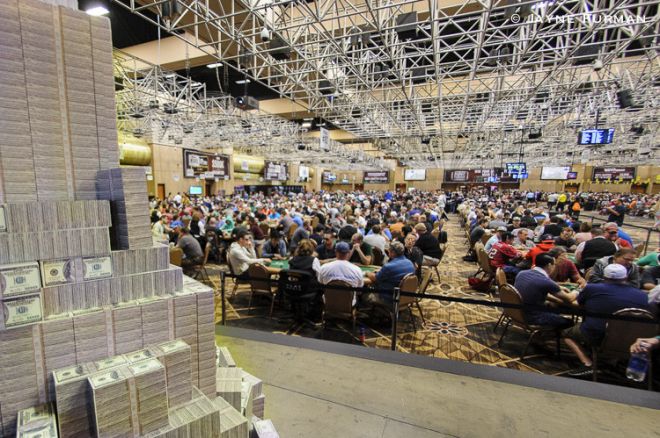 Today is the day. It's time to start the 2015 World Series of Poker!
The WSOP brings all kinds of excitement to the table, and this year is no different. Here at PokerNews headquarters, we can feel the electricity buzzing around us, and we can't wait to bring you, the audience, the top stories all summer long. In line with our staff predictions for the 2015 WSOP, the team was asked for the top storylines heading into the Series. Here's what they had to say.
"I feel as though a lot of the early focus is centered solely on the Colossus event," said PokerNews Editor-in-Chief Donnie Peters. "While it will be a huge turnout of players that shatters all sorts of records, it's still just a $565 buy-in event, and that doesn't exactly get my blood pumping. For me, I'm looking at two things. The first will be the big-name pros who have been quiet for a few years now. By 'a few years' I'll say hasn't won a bracelet since 2011, which means a drought in 2015 would be four years without gold. This would include top names such as Jason Mercier (2011), John Juanda (2011), Brian Rast (2011), Erik Seidel (2007), and Huck Seed (2003). Seidel may be the most interesting of this bunch because he continues to win big events outside of the WSOP, but it's been seven years now with a bracelet. The second storyline I'm interested in will be the chance for Ronnie Bardah to cash in the WSOP Main Event for a sixth year in a row. Last year, he set the record for consecutive cashes with five, and will now be 'in the mix for six,' as I'm calling it."
Managing Editor and resident WSOP bracelet winner Chad Holloway thinks the Colossus event is the biggest storyline heading into the WSOP. He said, "The biggest story heading into the WSOP seems to be the Colossus event. It seems players all across the country are excited for what is sure to be a massive event that'll award life-changing money to one lucky player."
For Strategy Editor Martin Harris, he's looking at numbers, too, but more so in regards to the bigger picture, not just one event such as the Colossus. When asked what he thought the biggest storyline heading into the summer was, Harris responded, "The numbers." He then went on to elaborate, "Every year since the 'boom' faded circa 2007, most have predicted field sizes and prize pools to drop at the WSOP (particularly since Black Friday), but every year the numbers have remained essentially steady. Will 2015 be any different?"
PokerNews contributor and podcast host Remko Rinkema is also looking at numbers for more than just one event. "The four huge no-limit hold'em events (Colussus, Monster Stack, Little One for One Drop, $777) will be all the talk this summer," Rinkema said. "The lower buy-ins of these events will once again draw people from all over the world to fulfil their poker dreams. Seeing this unfold will be a true spectacle to watch, and with the two cheapest events being new additions to the schedule I can only imagine how huge they will be."
With PokerNews.NL Editor Frank Op de Woerd, the focus is solely back on the Colossus, though. "The Colossus is a good one already mentioned by some preceding me," said Op de Woerd. "It's going to be huge, and I was surprised to see the organizations statement that if it isn't the largest event in the history of poker, 'it will be a disappointment.' I love it! Even some very low-stakes players I know plan on going to Vegas this year to play the event, so it's going to be exciting to see what happens."
Sticking with our across-the-pond friends, PokerNews.UK Editor Matthew Pitt echoed the biggest storyline being the Colossus event. "I think a lot of focus is going to be on the Colossus event," Pitt said. "It's new, it'll be huge, and for many aspiring poker players it is going to be their Main Event."
Back to the US, Omaha, Nebraska native and staff writer Mo Nuwwarah fell in line with the Colossus as well. "The top storyline has to be the Colossus," Nuwwarah said. "Even fringy poker players I know are talking about it, planning on going to play it, asking me about it, etc. One player even told me he's calling old poker acquaintances who haven't played seriously in years and asking if he can put them in because he thinks the value will be so high."
Looking back at everyone's predictions from earlier in the week, the seven staff members asked gave answers that averaged to just shy of 17,000 for total entries in the Colossus event. That's a huge number that will rocket the prize pool to over $8 million and well past the $5 million guarantee, and early indications say it will be even larger than 17,000.
Finally, whereas the Colossus is certainly on everyone's radar, contributor Marty Derbyshire has a different storyline he's looking towards.
"Every year there's at least one female player who makes her mark on the WSOP in a big way," Derbyshire said. "For example, take Loni Hardwood making three final tables and winning a bracelet in 2013 or Melissa Burr making four final tables in mixed games in 2014, including a deep run in the $50,000 Poker Players' Championship. I think the number of women playing has grown exponentially and at least one or two female players will have breakout summers in 2015. One might even make the Main Event final table and become the first to do so since Barabara Enright in 1995 and helping turn 2015 into 'The Year of the Woman' at the WSOP."
What are you most looking forward to at the 2015 World Series of Poker? Is it the Colossus event? Is it the big-name pros? Or is it the chance this will be the 'Year of the Woman' in 2015? Let us know by commenting below!
Want to stay atop all the latest in the poker world? If so, make sure to get PokerNews updates on your social media outlets. Follow us on Twitter and find us on both Facebook and Google+!