Natasha Barbour Bluffs Away Her Breakout Opportunity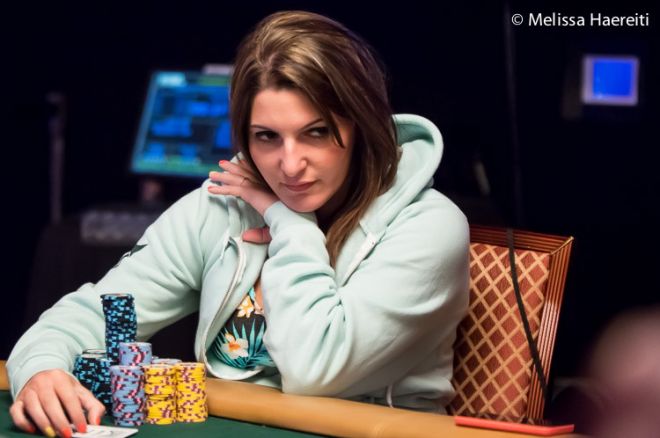 In this industry, you never know which storylines are going to surface throughout the World Series of Poker, and this summer has been no different.
Last night, a perfect story unfolded, but we, and many of the spectators, were snapped back into reality when Natasha Barbour ran a huge bluff into Ben Zamani that ultimately cost her the tournament in Event #20: $1,500 No-Limit Hold'em.
Barbour had the chance of a lifetime to win a WSOP bracelet at her first final table in Las Vegas, and when you have a rail that includes WSOP bracelet winners Jason Mercier, Brandon Shack-Harris, Chance Kornuth, and Matt Waxman, you're probably not only a fan favorite, but also guaranteed some stellar advice.
This was the position Barbour found herself in going into the final day of play in this event. The bracelet, however, was still far away, as she had four other players to contend with.
$103,857 — with five players left on the fourth day of play, that was the guaranteed amount Barbour would take home. But there was so much more to play for.
A Floridian, Barbour had never cashed for six figures in a live poker tournament, neither did she have this good of a shot at winning a bracelet. Two hands into the fourth day of play, Wenlong Jin was knocked out. It was Barbour who woke up with pocket jacks, and Jin's king-three of hearts was no match. Barbour chipped up to 4.9 million, and her rail erupted as her chances of winning increased substantially.
Another two hands later, it was one of the most feared players, former European Poker Tour Berlin winner Kevin MacPhee, who got knocked out. It looked like Barbour was untouchable on Day 4, as she crushed MacPhee's
suited by rivering a straight with
.
"I thought I was going to get heads up a lot faster after those first couple of hands, but when I lost some chips there was a chance I would get third," Barbour said after about going from five down to three players in just four hands.
During three-handed play, it was short-stacked Paul Ephremsen who mounted an impressive comeback, and Barbour's face showed signs of frustration as he doubled up four times.
Barbour's rail swelled up with every orbit that went by, and she was soon joined by Brian Hastings, Jon Turner, and Shaun Deeb's. With all of this support and experience behind her, Barbour was in great shape.
"Let's go!" Mercier yelled from the stands when Barbour managed to win another pot.
The smile on Barbour's face showed that her boyfriend's encouraging words were helpful, and both he and Kornuth continued to talk strategy on the rail.
Every now and then, Barbour ran over to them frequently to catch up some of their latest findings.
"I was very calm and super confident," Barbour said, as Ephremsen ultimately busted in third place for $196,986. "The people on my rail were all very good players and they were giving me tips and helping me out. So I felt really confident coming into the heads-up match."
Barbour didn"t get her preferred heads-up opponent, as she confessed to have rather played against Ephremsen than Zamani.
Zamani and Barbour were guaranteed $284,911 at this point, and there was an additional $175,729 left to play for. Zamani started with 7.1 million chips versus Barbour's 6.7 million, and a long and winding battle was expected between these two players going for their first WSOP gold.
But six hands later it was all over.
"How does he have an ace when there's two aces on the board?" Barbour laughed sheepishly after getting knocked out.
Barbour had just risked her tournament life on a complete bluff, and she was drawing dead when Zamani called her shove. The board read
, and Barbour pushed holding
off suit into Zamani's
.
Zamani was victorious, but while he tried to sneak out of the Amazon Room it was Barbour who stuck around while her friends consoled her.
When we asked Barbour whether losing hurt more with the final table picture being prepared right in front of her, she smiled and said, "It actually doesn't. I'm happy with the way I played, but I'm not too happy with the last hand because I had a bad read on him."
Barbour remained calm, kept her cool, and emphasized the positive takeaways from this deep run.
"I'm very excited to have won money for a bunch of people, as I sold some action for a big package," she said. "They believed in me, and now we all win, so I'm very happy for them and for myself.
"The last six months especially I spent around some really great players. I learned a lot and coming into the Series this year I felt a lot more confident than I usually am."
With surprising ease, Barbour seemed to brush off her second-place finish, and half jokingly she said, "I actually might jump in the PLO now," about the $1,000 Pot-Limit Omaha tournament that was ongoing.
Then Marshy, her dog, was squeezed into a long hug between Mercier and Barbour. The two spoke for a while as the main stage inside the Amazon Room slowly cleared out. We caught up with Mercier right after.
"Being on the rail is way more stressful than being at the table, and I said to Chance while that last hand was going on, 'This is the most nervous I've ever been in a hand of poker,'" he said. "When you're very close to someone, it just ads so much more to it. It's not tough at all though. She played great, and I'm happy for her."
Mercier added, "She almost didn't event play this event, so it's awesome to see her get second and have a big score. She was heads up for a bracelet, so you can't really ask for anything more."
Throughout the final table, Mercier supplied Barbour with advice, but in the grand scheme of things he said that what he said was no direct poker advice.
"I just told her to keep doing what she was doing," he said. "She was playing great the whole way through and I told her to trust her reads. I also told her to not make a big mistake and factor in ICM, because coming into the final table she was second in chips."
According to Mercier, Barbour's strength is that she's capable of pretty much everything, and her big bluff at the end was a confirmation of that. This big score will allow Barbour to play even more events this summer, and Mercier hopes she will "continue to crush."
Besides the fact that winning a bracelet would mean a lot for Barbour's poker career, it would also inspire lots of women who are trying to make it as poker pros.
Jessica Dawley, who has seven WSOP cashes under her belt, spoke with admiration about Barbour's play.
"She's very aggressive," Dawley said. "A lot more aggressive than I am, and you can see that the way she plays makes her a lot more profitable, especially in tournaments. And at this final table, she played phenomenal.
"This is amazing for her career, and first of all being a female sets her aside a little bit since there are not that many of us in the community. So for her, to have that big run at a final table, after beating a field this big, is fantastic."
Samantha Abernathy, who's been looking for a breakthrough run as well, added to Dawley's sentiment right away.
"I definitely think that playing aggressive works well for female players," she said. "Especially because many men expect us to play an ABC style. It definitely throws them off when you're being aggressive or play with a different style."
Abernathy, who seemed to be taking it all in seeing one of her friends do well, added, "I think this big run by Natasha will 100 percent have a big impact on other females, and it's even inspiring to me."
After a brief pause, Dawley said, "For me as well, definitely."
"She just inspires everyone," Abernathy replied, before Barbour overheard the two ladies talk about her.
"The ten-nine off inspired you?" Barbour laughed, but we all know that someone who's willing to risk it all on a big bluff is capable of very big things. Barbour is, and it's only a matter of time before she will be receive poker's top prize.
Want to stay atop all the latest from the 2015 WSOP? If so, make sure to get PokerNews updates on your social media outlets. Follow us on Twitter and find us on both Facebook and Google+!