Broke Living: Jean-Robert Bellande Dishes on Summer Plans & Becoming a Home Owner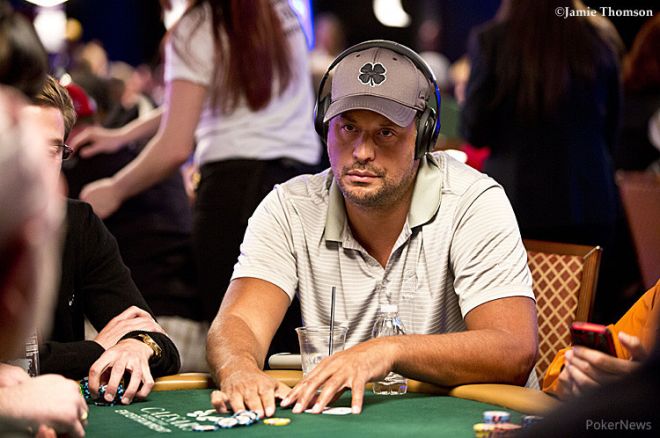 Jean-Robert Bellande possesses one of the most charismatic personalities in the poker world. His "busto to robusto" and back again swings are the stuff of legend. He's fired Day 1 of Event #29: $10,000 No-Limit 2-7 Draw Championship, where he sat with fellow stars Phil Galfond and Daniel Negreanu.
The former Survivor contestant, who has nearly $1.4 million in lifetime tournament cashes, agreed to chat with PokerNews for a few minutes on a break and give us the scoop on what's in store for him this summer.
PokerNews: We haven't seen you around the Rio much. How many tournaments have you played so far?
JRB: This is my fifth tournament. I haven't lasted more than two levels in any event so far. I busted quickly out of the heads-up tournament, the $1,500 No-Limit 2-7, the 2-7 Triple Draw, and the Omaha Hi-Lo.
Two of your five tournaments have been no-limit 2-7. Is that a game you look forward to more than most?
I enjoy all of the variations of poker, I really do. I'm playing a lot of cash games this summer, so it's hard for me to break away and actually play an event, especially on Saturday night. But tonight, I was able to get away and do a late entry. I'm excited to play, hopefully I can put together a stack for tomorrow.
How much of your summer is going to be devoted to tournament play compared to cash games?
Cash games are the priority. There are a few events that I really would like to play. I wanted to play this one, the $50K, and I want to play the Main Event. Outside of that, whatever I can do, I will.
Any plans to participate in the One Drop this year?
I don't think I'm going to play the One Drop this year. I'm going to probably play the $500K at Aria. I can't believe how many business guys are playing this event. There might be 50-60 players playing this thing, it's going to be really exciting. It's televised as well. And $500K with no juice, how do you beat that?
You seem excited for that event. Is that the thing you're most looking forward to this summer?
The number one thing I'm looking forward to is building myself a bankroll in the cash games. Last year, I had a terrible summer. I got completely annihilated. Normally, the WSOP is money time. Last year, it was brutal but this year, we're off to a decent start in the cash games.
You've yet to win a bracelet at the WSOP. Playing a lighter tournament schedule, it seems like that might not be a huge priority for you. How motivated are you to get that first bracelet?
Yeah, I don't have a bracelet. I was really close, I was a 19-1 chip leader against Matt Graham in the $1,500 Limit Hold'em Shootout in 2008]. I would love to get a bracelet, but when you're only playing 7-8 events, it's a lot tougher to do.
You have a huge Twitter following. Anything else in your life you want to let the fans know about right now?
I'm actually a first-time home owner. I bought a place in the Mandarin and I'm building the unit right now. I bought it as a gray shell, completely empty, bare wall-to-wall. Watching it develop is a really exciting thing for me. I'm 44 years old and it's the first time I've ever owned my own place. Having a pad in the Mandarin is really, really cool. That's big time.
Want to stay atop all the latest from the 2015 WSOP? If so, make sure to get PokerNews updates on your social media outlets. Follow us on Twitter and find us on both Facebook and Google+!