Getting The Monkey Off His Back: Dan O'Brien Seeks WSOP Glory in the $5,000 8-Handed Final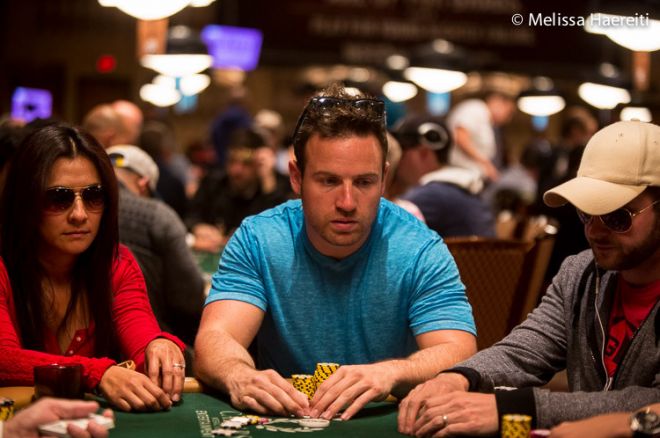 When the final table of Event #25: $5,000 No-Limit Hold'em 8-Handed at the 2015 World Series of Poker goes down Saturday, at least one player will be looking to get a rather large monkey off his back.
Dan O'Brien, who gave up a career on Wall Street to pursue poker, has been at the precipice of glory in major tournaments more times than most, but has yet to win the big one. He has finished runner-up in two WSOP Europe events, made two other WSOP final tables booking a third and fourth-place finish, and bubbled another, finishing seventh in a WSOP $5,000 Six-Handed event.
Outside of the WSOP, there has been more of the same. O'Brien boasts $2,734,169 in career tournament earnings, $954,028 at the WSOP alone, but the big win has still eluded him. He bubbled the six-handed final table of the World Poker Tour L.A. Poker Classic in 2014, finished fourth at the final table of the Partouche Poker Tour Grand Final in 2012, fifth in the Heartland Poker Tour Las Vegas stop the same year and third in the WPT Bay 101 Shooting Stars two years prior.
"It is really hard when you keep getting deep and losing in these things," he said. "But I'm very happy to be here, fortunate to be in this spot and as long as I play well tomorrow, I'll be OK.
"I'm a competitive person and I really want to win the tournament. But with 493 people entering, only one person is going to be happy at the end. It's kind of sick. It's really a sick aspect of tournament poker that it always ends up that way. I'd really like to be that guy who has all the chips, wins all the money and doesn't have some amount left on the table, but it's hard to do. I'm a numbers guy and I realize that, so I'm not going to stress about it. I'm just going to play my game, do my best tomorrow and not let all that stuff get to me."
When the final table kicks off Saturday at 1 p.m. with a WSOP bracelet and a $567,724 first-place prize on the line, 2014 WSOP Bracelet winner Pierre Milan will start with a healthy chip lead as the only player over the three-million chip mark. He'll be directly on O'Brien's left, and as if that weren't tough enough, the final table will also also feature a bevy of poker superstars, including WPT Season XIII Player of the Year Anthony Zinno, WPT Season VI Player of the Year Jonathan Little, three-time WSOP bracelet winner Dominik Nitsche and 2014 WPT Montreal Champion Jonathan Jaffe.
O'Brien will actually come in fifth in chips with a little over one million, and having been so close so many times, he admits there's a danger he could get down on himself if things don't go as well as planned, feeling like this final table will end like so many others have for him.
"I think pretty much everyone is subject to that," he said. "It's easy to forget all your good luck and start thinking you're cursed, especially in a game like this.
"There's always going to be a few guys who are crushing it and you think, 'fuck, that guy's lucky. I'd really like to be like that guy.' But really, you need to take a step back, put things in perspective and realize just how lucky you are to be here, doing what you want to do. For me, being where I am, not only in poker as a career, but in this individual tournament where I've already beat out 484 really good players for the most part. It doesn't matter if you're the best in the world, or me, who is just pretty decent - It's really hard to do. You have to get really fortunate to do it. I think I've played really well in this tournament, but a lot of guys have played really well and they are on the rail now. Even if I get really unlucky tomorrow, I'll feel really fortunate to have gotten this far. But of course, I'd like some big money."
In fact, the psychological effect of having been this close to poker glory so many times before but never winning the big one almost reared it's ugly head Friday, when O'Brien came into play second in chips of the 23 players remaining.
"I felt really good coming into today and things went really poorly from the start," he said. "I got really unlucky against the chip leader and then lost a couple more pots and had to make a really big fold. Those kind of things really kind of wear on you when you come in second of 23 and feeling like you're going to just roll and then everything goes against you and you suddenly have half your stack.
"You just feel like you're fucked and you have to find a way to control those emotions. Fortunately I was able to, but if I hadn't and it all fell apart and I was out 17th or something, you may have never seen me again. I may have disappeared like Kevin Spacey in The Usual Suspects. Underground. 'What happened to that guy? I don't know.' That definitely could have been me. Fortunately we made the final table. I endured a rough day, and although I'll be disappointed if I bust early tomorrow, I won't be looking for a bridge."
In the end, O'Brien says he plays poker for the money more than the glory, and although he'd like to win a WSOP bracelet as a way to validate his decision to leave Wall Street for poker and prove anyone who doubted him wrong, he feels like being on a list among the best players and top earners without one is far from the worst place a poker player can be.
"If I take a brutal beat and go out seventh or something, give me a couple hours to chill, maybe even a full day," he laughed. "But as long as I play well I'll be fine. If I don't win tomorrow, or if things don't go well, you'll still see me around. I'm not going anywhere. It'll be rough if I finish sixth or worse, but shit happens and I'm just going to come in here and keep trying to do my best."
Want to stay atop all the latest from the 2015 WSOP? If so, make sure to get PokerNews updates on your social media outlets. Follow us on Twitter and find us on both Facebook and Google+!