Adrian "Pile Driver" Buckley Comes Back from Dead Last to Take Down Millionaire Maker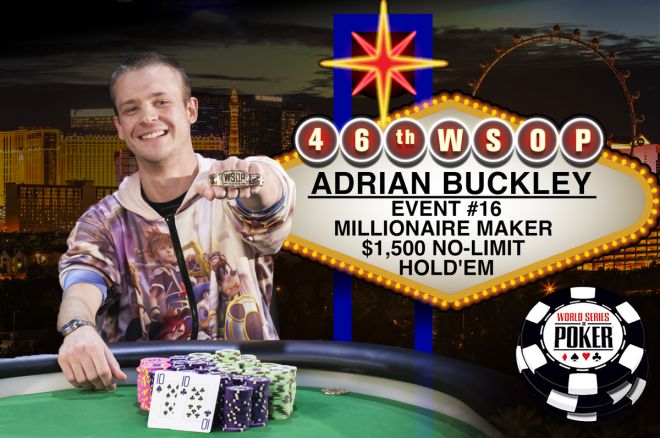 Five days ago, 27-year-old Adrian Buckley was an unknown face among the 7,275 entrants that took part in the third annual $1,500 buy-in Millionaire Maker. The 2015 World Series of Poker edition created a prize pool of $9,821,250, with $1,277,193 going to the eventual winner. Little did Buckley know, he'd be taking that back home to Colorado.
"It's completely 100% surreal, it makes no sense to me so far," Buckley said immediately after defeating Spain's Javier Zarco in heads-up play. "I don't even know what's going on yet. I feel extremely lucky … I fought through it. It's been crazy. It's been the run of the century, I don't see how it could ever happen. It doesn't make sense, especially to a guy for his first cash. So excited, beyond belief."
Indeed, Buckley's "run of the century" came after he flirted with elimination numerous times. On Day 2, he bagged just 80,000, which made him the third-shortest stack among the 142 survivors. He somehow managed to survive Day 3, albeit dead last in chips among the final 17 players, which included a murderer's row of pros including Andrew "Lucky Chewy" Lichtenberger, Mike Sexton, Erick Lindgren, and Olivier Busquet.
By the end of Day 4, Buckley, who had started with 1.27 million in chips, sat with $1.27 million in cold hard cash.
"I came here this year with a limited bankroll, and I told myself I'm going to play in 10 events and see how I do," said Buckley, who graduated from the University of Colorado and is now an electrical engineer for Lockheed Martin. "I've been trying every once in awhile, because I've been a young kid just trying to get through school, and I've never really had the bankroll to actually play poker. I've done really well in cash games and stuff. I've been a cash game grinder for a long time, but never had the money to play in some big events."
Buckley now has the bankroll to play in tournaments he'd only dreamed of, and he intends to take advantage.
"I'm definitely playing the Main, I might play the PPC ($50,000 Poker Players' Championship)," Buckley admitted. "I'm going to be in the poker community more often now, which is a great thing because I think I'll be a great face to the game. I have a really good time, I like to pile drive, but I don't know what the plan is. I'll pay off some student loans, which is huge. I'll get myself out of debt and I'll be able to start playing poker more, which is what I love to do."
Speaking of "pile drive," that became Buckley's calling card of sorts at the final table. The term originated in Buckley's home game when his friend, Travis, made it tantamount to saying "all in."
"I went into Day 3 super short on chips," Buckley explained. "I decided I was going to make a name for it. I was just going to make it known that this is my stack, nobody mess with it, so every single time I went all in it was 'pile driver.' It caught on and pile driver couldn't be beat. It'll catch on. One day it'll be verbally binding."
Buckley's road to the final table on Day 4 wasn't easy. He watched Lichtenberger bow out in 17th, and then Sexton followed him out the door a bit later on in ninth. From there, the last three bracelet winners in the field – Justin Pechie, Lindgren, and David Miscikowski – exited in eighth through sixth respectively.
When play reached three handed, Buckley found himself up against one of his heroes.
"When I used to play online, I played heads-up hypers, and Olivier was one of my practical idols because he's a heads up genius," said Buckley. "He's a god, and I was enamored just to sit next to the guy let alone play with him and have the opportunity to cripple him and get him knocked out of the tournament. It's beyond understanding how I could even be at the same table as someone like that."
Busquet actually held the chip lead at one point during three-handed play, but ultimately fell in third place for $589,569, his 24th WSOP cash that brought his earnings up to more than $1.2 million. From there, Zarco and Buckley battled heads up for 93 hands, during which time the lead switched several times.
"He is a fantastic heads-up player," Buckley explained. "He's extremely aggressive. It's really hard to put him on any hand at all. He's three-betting and four-betting light. We're seeing a lot of flops, and he plays post-flop way better than I do … it was just back and forth. We exchanged the lead three or four times at least, and I just told myself at the end, you just need to make the best move I know at the exact moment and time. If it works it works, if it doesn't I did my best."
In what would be the final hand of the tournament, which happened in Level 41 (500,000/1,000,000/150,000), Buckley opened with a min-raise and then called when Zarco shoved for 17 million.
Buckley:

Zarco:
Zarco's pocket pair was dominated, and he watched helplessly as the board ran out
. With that, Zarco had to settle for second place and a $791,690 consolation prize while Buckley's friends burst into cheers.
"I just stayed focus," Buckley concluded. "I didn't concentrate on my rail, I didn't talk to my rail at all when I was heads up because I was just playing my game, I was playing in the moment, I was hand by hand trying to make the best decisions I could."
2015 Millionaire Maker Final Table Results
| Place | Player | Hometown | Prize |
| --- | --- | --- | --- |
| 1 | Adrian Buckley | Westminster, CO | $1,277,193 |
| 2 | Javier Zarco | Madrid, Spain | $791,690 |
| 3 | Olivier Busquet | Katonah, NY | $589,569 |
| 4 | Randy Pfeifer | Lancaster, NY | $441,465 |
| 5 | Mohammad Siddiqui | Pembroke Pines, FL | $333,038 |
| 6 | David Miscikowski | San Diego, CA | $253,093 |
| 7 | Erick Lindgren | Las Vegas, NV | $193,675 |
| 8 | Justin Pechie | Thompson, CT | $149,238 |
| 9 | Mike Sexton | Las Vegas, NV | $115,890 |
Want to stay atop all the latest in the poker world? If so, make sure to get PokerNews updates on your social media outlets. Follow us on Twitter and find us on both Facebook and Google+!