From Greg Merson to Event #55 of the 2015 Schedule: DraftKings Making Its Mark On WSOP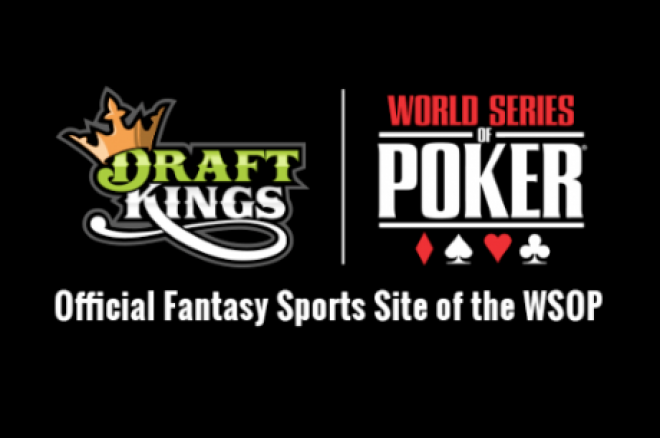 Scroll through the 2015 World Series of Poker schedule and one event looks quite different from the rest: Event #55: $1,500 DraftKings 50/50 No-Limit Hold'em.
How did a sponsored event come to be on the WSOP schedule? Matt Kalish has the answer. A co-founder and now Chief Revenue Office of what has become a Daily Fantasy Sports (DFS) monstrosity, Kalish said DraftKings' braintrust has always seen a partnership with the WSOP as natural.
"I think the biggest reason why is there's something that people have in common who are attracted by strategy or skill games," he said. "Anything that has depth and complexity and isn't easily solved."
Things began humbly enough in 2012 for the company, which was still in its infancy as a start-up under Kalish and fellow co-founders Jason Robins and Paul Liberman. Having launched in early 2012 with the help of $1.4 million in venture capital — a huge amount in a mostly unexplored market at the time — DraftKings sought some mainstream exposure. The company decided to sponsor a guy named Greg Merson, who was heading to the Main Event final table third in chips. Of course, he went on to win the whole thing for $8.5 million, the start of a fruitful relationship between DraftKings and the WSOP.
"Now, you really can't turn a corner at the WSOP without seeing something DraftKings," Kalish said proudly.
Indeed, one can find DraftKings logos planted squarely in the middle of each green stretch of felt at the WSOP. DraftKings banners hang from the rafters of the Amazon Room and pepper the ad boards surrounding "the mothership," where final and featured tables are filmed, streamed, and broadcast worldwide.
Most significant though, was the addition of a sponsored event in 2015. The "50/50" — a popular format in the DFS world in which half of the field gets paid roughly double the entry fee and the other half goes home empty-handed — has been attempted in poker before without much success or staying power. For Event #55, DraftKings and the WSOP have devised a hybrid payout structure in which half of the field gets paid out $1,000, 25 percent get $1,500, and the top 10 percent get paid based on a standard curved tournament prize distribution.
Kalish credited Jon Aguiar with getting the event off the ground. Aguiar had a successful career as a professional poker player, amassing more than $1.6 million in live cashes and nearly another $1 million online, as well as collecting a WSOP bracelet in Europe in 2012. Now, he works for DraftKings and plays poker recreationally.
"Jon's a huge nit so he definitely wants to get his money back a lot," Kalish said with a laugh. "He planted the seed [with the WSOP] that, 'Hey we could do something cool with the format that's different than anything else.'"
Aguiar pushed for another big splash at the 2015 WSOP: the DraftKings Lounge. Located on the stage in the Pavilion, the lounge offers a place to relax and get free drinks — up to a $600 daily budget — for DraftKings players with at least $25 in their accounts. That's all part of an effort to make it a VIP experience at the WSOP for DraftKings customers.
"I want people who are not DraftKings guys to be jealous of the guys who are," Kalish said.
Through a long-running satellite partnership, DraftKings qualified 10-15 players for Event #55 and roughly another 100 hundred for this year's Main Event. Kalish said it would be nice if someone they have patched makes a deep run in the Main Event, but the main goal is for everyone who qualifies to have a great time.
That's something Kalish had playing the $1,500 Dealer's Choice tournament, which he fired in against the advice of Aguiar. Kalish has been playing poker since college in 2001 and figured he knew enough not to embarrass himself, having already played a few big tournaments, including the 2006 Main Event.
"Jon was trying to talk me out of it," Kalish said. "He was right, I definitely sucked and lost. But it was a fun tournament."
Despite a WSOP history in which he's come up only empty-handed, Kalish credits some of his massive success in helping build a multi-billion dollar company to the formative experiences he gained in poker.
"It conditioned me for a lot of s*** that happens in life when you need to suck it up and move on," he said. "When you first start playing poker and get bad beat and lose a pot, you whine and complain. But at some point, you realize you can't let that faze you. It's a cool game that makes most people better for having spent time playing it."
Kalish and Aguiar are firing in the 50/50. Cashing would be gravy for Kalish, as this has already been a successful summer for him in regards to the WSOP.
"What they've given us this year is an awesome package," he said. "Hopefully, next year is even better."
Want to stay atop all the latest from the 2015 WSOP? If so, make sure to get PokerNews updates on your social media outlets. Follow us on Twitter and find us on both Facebook and Google+!