Inside Gaming: Graham Reintroduces RAWA to Senate, Big May for Nevada, DraftKings Partners with ESPN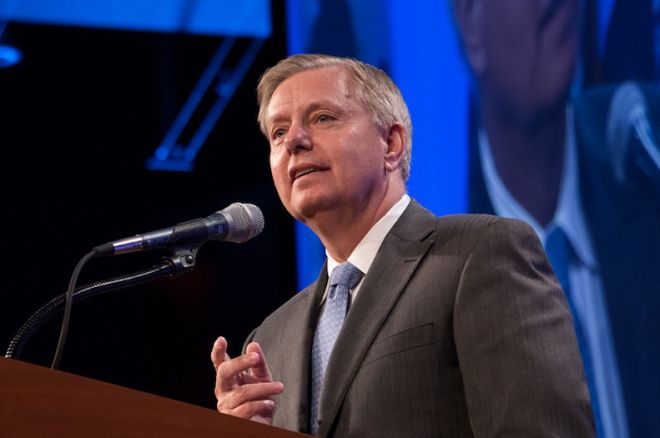 This week's installment of Inside Gaming reports on the reintroduction of an anti-online gambling bill into the U.S. Senate, a big month for Nevada casinos, the AGA's plan to conduct a check that casinos are complying with anti-money laundering requirements, and a big new partnership for the daily fantasy sports site, DraftKings.
Graham Introduces Senate Version of Anti-Online Gambling Bill
As he had previously announced he would do, this week Sen. Lindsey Graham (R-SC) reintroduced into the U.S. Senate a version of the Restoration of American's Wire Act (RAWA), the bill designed to prohibit nearly all forms of online gambling (including poker) throughout the U.S.
The Senate bill (available here) largely resembles the one introduced in the House earlier this year by Rep. Jason Chaffetz (R-UT). The bill has been heavily lobbied for by billionaire Sheldon Adelson, chairman and CEO of the Las Vegas Sands Corporation and chief donor to GOP campaigns.
Sen. Marco Rubio (R-FL) is a co-sponsor of the senate bill along with Graham. In April, Rubio announced his intention to run for president in 2016, while Graham similarly launched his presidential campaign earlier this month.
John Pappas, Executive Director of the Poker Players Alliance, responded negatively both to the bill and to the South Carolina senator's timing for introducing it in the wake of the horrific mass shooting at the Emanuel African Methodist Episcopal Church in Charleston.
"As the eyes of the nation are focused on South Carolina following the recent tragic event, I think I speak for most Americans when I express profound disappointment in Senator Graham for choosing this time to advance a bill for the sole benefit of a billionaire political donor," said Pappas.
For more on RAWA and connections between Adelson and its sponsors, head over to the NationalJournal.
Big Month for Nevada, Exceeds $1 Billion Gaming Revenue for May
May was a big month for casinos in Nevada, the first time in two-and-a-half years the Silver State took in over $1 billion in gaming revenue, as the Las Vegas Review-Journal reports this morning.
According to the Nevada Gaming Control Board's monthly gaming revenue report, casinos in Nevada took in $1.003 billion in revenue during May, up 3.3% year-over-year, the first 10-figure revenue month for Nevada since December 2013. Casinos on the Strip also last month enjoyed an increase of 1.4% over May 2014, earning $601.2 million in revenue.
Breaking down the numbers further, Howard Stutz notes how the increases were mostly the result of increased play at table games and slots and not via the high-stakes baccarat games, with the latter actually showing a decline in revenue of 36.1% in May.
The Floyd Mayweather-Manny Pacquiao welterweight title fight kicked the month off well for its host, the MGM Grand, and other casinos up and down the strip. The Rock in Rio music festival that took place over two weekends on the Strip also helped boost casinos' patronage.
For more number-crunching regarding Nevada's May uptick, visit the LVRJ.
AGA Calls for Industry Compliance Audit of U.S. Casinos
The Wall Street Journal reported this week that the American Gaming Association will be conducting "a sector-wide assessment to see how gambling houses are rooting out money launderers."
The AGA has commissioned an outside auditor to produce the assessment in anticipation of an international evaluation to be conducted in 2016 by the Financial Action Task Force (FATF), an intergovernmental body charged with setting standards and promoting implementation of measures to combat money laundering, terrorist financing, and other threats to the international financial system.
The assessment, says the AGA, will "calculate vulnerability and risk related to casinos — and develop a compelling way to contextualize the money laundering risk presented by the casino sector through comparison to other regulated industries."
Writing for the WSJ's "Risk & Compliance Journal" blog, Joel Schectman notes how "in FATF's last report on U.S. anti-money laundering efforts in 2006, evaluators called on the U.S. to toughen its [anti-money laundering] compliance requirements on casinos," calling in particular for all casinos "to conduct customer due diligence" in addition to checking for identification.
As reported here in February, Trump Entertainment agreed to pay a $10 million civil penalty assessed by the U.S. Treasury Department's Financial Crimes Enforcement Network after the Trump Taj Mahal admitted to having willfully violated federally-mandated requirements for reporting and record-keeping between 2010 and 2012.
Find out more about the AGA's requested audit at the WSJ.
DraftKings Lands Exclusive Marketing Deal with ESPN
On Saturday the World Series of Poker will be kicking off another new event, Event #55: $1,500 DraftKings 50/50 No-Limit Hold'em, a tournament that will be unique for the WSOP in two ways. For one, 50% of those who enter the tournament will be cashing in it. Secondly, as the name suggests, the event is sponsored by DraftKings, Inc., the fast-growing daily fantasy sports company whose prominence has grown considerably of late, including having established a heavy presence at the WSOP this summer.
This week came news of another big marketing deal for the Boston-based company. On Wednesday it was announced that DraftKings and ESPN have reached an exclusive agreement to make DraftKings "the official daily fantasy sports offering across ESPN's platforms."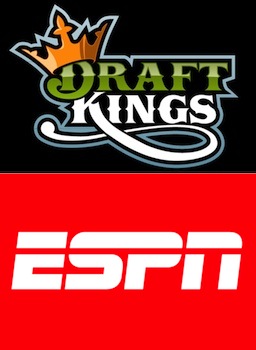 "ESPN and DraftKings share a history of innovating and advancing fantasy sports to serve this passionate fan base," said ESPN President and Co-Chairman of Disney Media Networks John Skipper in a press release about the agreement. "DraftKings is a dynamic company — deeply connected to its fans — and we're excited to have them on board as our official daily fantasy sports offering."
DraftKings CEO Jason Robins was similiarly enthusiastic. "We are thrilled to be working closely with ESPN," said Robins. "Together we will provide fans with the most robust, diverse and comprehensive fantasy sports experience."
As Skipper notes, ESPN has been involved in providing a wide variety of fantasy sports-related content dating back two decades to the mid-1990s (not long after the launch of its website). Meanwhile DraftKings launched in 2012 and within three years has begun to challenge industry-leader FanDuel, Inc. (launched in 2009) in the daily fantasy sports market.
The DraftKings-ESPN agreement did not include an investment from Disney Co., parent company of ESPN, reports betaBoston, who quotes "a person familiar with the matter" telling how DraftKings "is still negotiating to raise about $250 million from investors... in the same ballpark as the amount Disney had discussed pumping into DraftKings" according to a Wall Street Journal report. However, Adam Krejcik, a digital games analyst, is quoted confirming "there's no shortage of willing investors" in DraftKings at the moment.
Read more about the new partnership and potential affect the agreement will have at betaBoston.
Photo: iprimages, Creative Commons Attribution-NoDerivs 2.0 Generic.
Want to stay atop all the latest in the poker world? If so, make sure to get PokerNews updates on your social media outlets. Follow us on Twitter and find us on both Facebook and Google+!