Inside Gaming: Caesars Ruled Against in Bankruptcy Battle, NJ Looks Beyond Atlantic City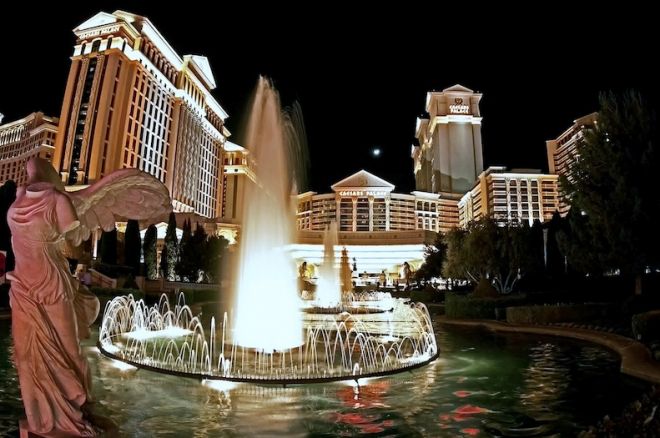 This week's Inside Gaming catches up on the latest regarding Caesars Entertainment Corp.'s largest division's bankruptcy filing and how creditors' court success has negatively affected the company's stock, considers how Macau's slide is affecting Wynn Resorts, and looks at the possibility of New Jersey expanding casino gambling outside of Atlantic City.
Caesars Stock Falls (Again) as Court Battles Continue
While the 2015 World Series of Poker continues at the Rio All-Suite Hotel and Casino, there has been more news over the past week regarding Caesars Entertainment Corp.'s ongoing efforts to manage its industry-leading debt, including its Chapter 11 bankruptcy filing on its largest operating division, Caesars Entertainment Operation Co. (CEOC).
Just about one year ago Caesars restructured by separating into three divisions, a move then described as having been made in order to avoid having to file for bankruptcy.
Following that restructuring, the largest and most debt-ridden of the three divisions was Caesars Entertainment Operation Co., the one including more than 40 properties including Caesars Palace in Las Vegas and Caesars Atlantic City. The other two divisions are Caesars Entertainment Resorts Properties and Caesars Growth Properties.
It should be noted that both the World Series of Poker and WSOP.com are part of the separate Caesars Interactive Entertainment and thus not part of the CEOC division. Neither is the Rio among the 18 total properties involved in the bankruptcy filing.
The filing has produced numerous lawsuits from creditors alleging that the company's pre-bankruptcy restructuring was designed to avoid paying debts they are owed. In one of the cases, a judge in Manhattan late last week ruled in favor of creditors looking to collect $750 million from the CEOC. Bloomberg Business reported that U.S. District Court Judge Shira Scheindlin said that a trustee representing the creditors "can ask her to rule on parts of the case without first holding a trial or having the parties exchange more documents."
While that ruling only affects a small part of the $18.4 billion worth of debt faced by the CEOC (the bulk of Caesars' overall debt of nearly $23 billion), it potentially bodes unfavorably for the company given how it opens the door to other creditors seeking to have their cases separately considered.
Meanwhile on Wednesday Caesars was back in court in Chicago hoping to convince U.S. Bankruptcy Judge Benjamin Goldgar to put the lawsuits on hold. There Jim Millstein of the financial advisory firm Millstein & Co, speaking for the CEOC, testified "that if the lawsuits were successful, the parent [company] would have to file for bankruptcy protection," as reported by Reuters.
Millstein used an analogy to describe the lawsuits, saying "that to let a thousand flowers bloom outside... is basically going to make this case very difficult to resolve." The trial in Chicago was expected to last at least through today.
Last week's ruling and the ongoing struggle have significantly affected Caesars Entertainment Corp. stock which immediately took a tumble with CZR shares falling on Monday to close $7.60 on the NASDAQ exchange. The trend has continued this week with shares this morning opening at $7.15 and trading at $6.09 (down about 14.5%) at 12 noon ET. The last time CZR shares had been below $7 was December 2012.
Read more about the potential impact of last week's ruling in Manhattan over at Bloomberg Business, then visit Reuters for more on this week's trial in bankruptcy court in Chicago.
Wynn Talks Vegas, But Macau the Concern
A less immediately dire but similar theme can be found in other industry news this week with regard to Wynn Resorts and the significant impact the continued slide in gaming revenue in Macau has had on that company.
An article by Howard Stutz appearing in the Las Vegas Review-Journal on Tuesday — "Macau in a free-fall and taking Wynn Resorts with it" — begins with a comment from Wynn Resorts Ltd. Chairman Steve Wynn anticipating near-term struggles for Las Vegas.
"What will the second quarter look like in Las Vegas?" Wynn asks. "Weak.... So I'm trying to lower expectations here. This notion of a big recovery is a complete dream. I don't think Las Vegas is experiencing a great recovery."
But as Stutz points out, "The Strip is not the issue" for Wynn Resorts, which last year "drew 70 percent of its revenue from its two Macau casinos," with a third being set to open on the Cotai Strip next year.
As we've been noting here, all of Macau has experienced a steep decline in gaming revenue over the last year, with declines having been reported every month since June 2014 and expectations for the trend to continue.
Stutz wasn't the only one finding Wynn's comments focusing on Las Vegas "perplexing." He quotes Caesars' Gary Loveman — stepping down as CEO at the end of this month though continuing to serve as chairman of Caesars Entertainment and the CEOC division — saying "I'm not really sure what drives Steve to say that" amid more optimistic statements regarding the Strip in 2015.
Read more about why despite his comments, Macau should matter to Wynn in the LVRJ.
New Jersey Bill Proposes New Casinos Outside Atlantic City
Finally it was earlier this week that lawmakers in New Jersey introduced a bill inviting voters to decide whether or not to allow the construction of three new casinos not in Atlantic City, but elsewhere in the state.
It was nearly four decades ago when voters in the Garden State approved a referendum to allow casinos in Atlantic City only, with the first opening in 1978. But as ABC News reports, efforts to expand casino gambling beyond Atlantic City have gained momentum thanks to recent struggles on the Boardwalk where four of the 12 casinos there closed during 2014.
"Part of the tax revenue generated by the new casinos would be earmarked to help Atlantic City recover," ABC reports. However such details remain to be hammered out, meaning AC casinos "fear competition within the state's own borders could decimate much of its remaining casino industry."
The bill will need to be approved by the state's legislature prior to August 3 in order for a referendum to be included on the November ballot. Such a referendum would ask voters to decide on whether or not to allow the building of up to three casinos in Bergen, Essex, and Sussex counties, all located in the northern part of the state. (Atlantic City is in south NJ, near Delaware.)
Governor Chris Christie has already voiced his support for the bill, contingent on the resulting revenue from the new casinos being used to aid in the Atlantic City casinos' recovery.
"The business has changed," said NJ Assemblyman Ralph Caputo, one of the bill's sponsors. "To survive in anything, you have to adapt. If you don't adapt, you become extinct."
Find out more about the prospects of the bill and the three new NJ casinos at ABC News.
Photo: "Caesars," Ron Reiring. Creative Commons Attribution 2.0 Generic.
Get all the latest PokerNews updates on your social media outlets. Follow us on Twitter and find us on both Facebook and Google+!