Jennifer Tilly Says She's Got Nothing to Prove, Defends Antonius Poker After Dark Hand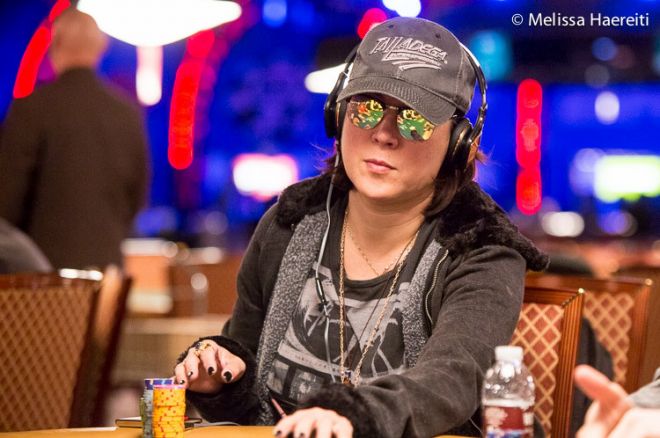 Jennifer Tilly has nothing to prove. Moments before busting 14th in the 2015 World Series of Poker Event #32: $5,000 No-Limit Hold'em 6-Handed, the Academy Award nominated actress and 2005 WSOP Ladies' Event bracelet winner told PokerNews her latest deep run in one of the World Series' toughest events only goes to show she's got game.
"I don't really feel like I've got anything to prove," she said. "I actually think I'm a very good player. I've got a lot of cashes, almost a million in tournament earnings and I'm like number 30 on the Women's All-Time Money list. I feel like I'm a good player and if I have something to prove it's only to myself. I've had a lot of deep runs in open events and I think a lot of people don't know me or know my game and its easy to make assumptions."
Tilly says she once read a bio written about her on an online poker site that said she'd only won once, only plays celebrity tournaments, and is famous mostly because her boyfriend is poker pro Phil Laak.
"Well, hello, there's something called the Hendon Mob and you can go and check out my stats," she said. "I think its really easy to pile on when you see an actress who is Bride of Chucky playing poker and I think, yes, because I'm high profile I get a lot more flack than most people. I think a lot of people don't understand my sense of humor. When I started doing TV poker I thought I would play that up, play up the movie starlet aspect and you would see me on TV wearing a low cut dress and telling a lot of jokes. Kill me. I was just trying to make good entertainment."
Tilly certainly gets trolled on poker forums more than most. She's been ripped for years for a hand she played heads up with Patrik Antonius on NBC's Poker After Dark. The blinds were 200/400 and Tilly raised it up from the button to 1,200 holding pocket jacks. Antonius called with
and check-called another bet on a
flop. The
turn saw checks from both and after Antonius also checked the
river, Tilly checked behind with her full house. The Internet flaming began when she said she thought Antonius might have pocket kings.
"It was one hand that I misplayed in a real spectacular fashion. Phil said I should never defend this hand, but I'm going to defend it," she said. "First off, it was a Sit and Go. Winner takes all. Not like a regular cash game where you can reload. I wasn't sure. It was one of my first times on TV, it was really early on and if I bet and he raised me all in, I probably would have folded. I was pretty sure I had the best hand, but I didn't want to take that chance. I was being careful. There was only one winner in the Sit and Go, so survival is essential, and when I said 'You may have had pocket kings' it was a joke. Everybody thinks that I actually thought that, but it was a joke. There were some hands that may have beaten me there and I was just being cautious."
Cautious was something she certainly was not making her deep run in the 2015 WSOP $5,000 Six-Max over the past three days.
"It's a tough field, but I prefer it that way," she said. "Six-max is one of my favorites because there is a lot of maneuvering and bluffing. It's not like nine-handed where you can sit around and wait for a hand. You really have to get in there and mix it up. It really works for me because I always think everybody is bluffing and I'd say in the six-max there's a lot more bluffing than in a full-ring game.
"It ups my game to play with a really tough field. Some people say they like to plow through a really soft field and that can be fun too, but its not as challenging. I really like a challenge and six-max has definitely been a challenge."
Headed towards an immediate future with another $25,022 added to Tilly's bankroll from the $5,000 No-Limit Hold'em Six-Handed event, more of the same can be expected.
"I'm really happy that I've gone as far as I have and if I bust out, I'm going to jump right in the $10,000 six-max that starts at 4 p.m. today."
Want to stay atop all the latest from the 2015 WSOP? If so, make sure to get PokerNews updates on your social media outlets. Follow us on Twitter and find us on both Facebook and Google+!