Pro Talk: No-Limit Hold'em Schedule at 2015 WSOP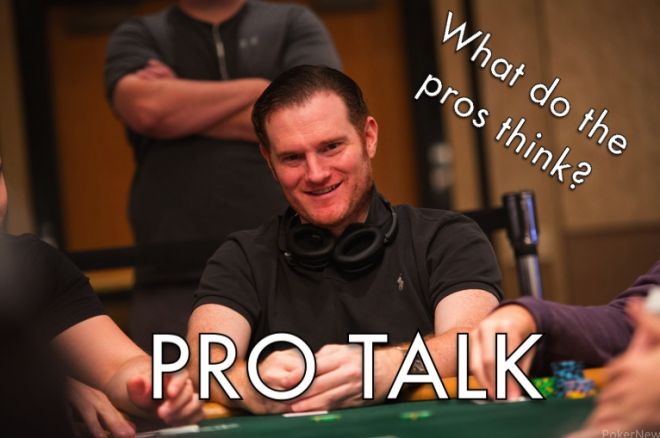 The World Series of Poker offers the biggest live tournament schedule of the year when it comes to buy-ins and variation, but there is always room for improvement. Today and tomorrow you can read all about what some of the pros think, as we asked them their thoughts on the no-limit hold'em offerings this summer.
First up: split hold'em, the absence of four-max and other formats.
The $1,500 Split Format Hold'em felt like the perfect opportunity to get opinions on the wide range of hold'em events, and in general players were very positive about what's available. However, the four-max hold'em event is sorely missed, and many players would like to see it back on the schedule.
Missing the Four-Max
"The four-max tournament not being on the schedule is unfortunate, but I can imagine that it's probably one of the most expensive tournaments to run," WSOP bracelet winner Andy Frankenberger said. "You need so many more tables and dealers, but it's such a fun format. It's almost like hold'em on crack and and such an intense experience, and even though I didn't do too well in it, it's very exciting."
Shannon Shorr shares the sentiment of four-max being a bit crazy, but that's also part of the fun.
"Four-max was fun, but that is of course extremely volatile and you're basically in there gambling," Shorr said with a big smile.
The $2,500 Four-Max in 2012 was the first four-handed event in the history of the WSOP, and Timothy Adams won it for $392,476 after beating a field of 750 players. Adams obviously wouldn't mind seeing it back on the schedule; "I'm also all for things like four-max and more six-max events."
Belgian pro Matthias De Meulder said, "It surprises me that there's not a four-max event this year, I played it last year and it was a lot of fun. I didn't do too well, but there's so much action and we all love that. A four-max deep stacked tournament with a decent structure, but not too slow, that would be great."
It's clear that poker pros love the short-handed action, and Global Poker Masters MVP Giuliano Bendinelli supports the cause of having more of those events. Bendinelli's currently playing the split-format hold'em event, and it seems he's eager to make the second day.
"I think the mixed-max format is one of the best tournaments, and I love it because you have to know a lot of different formats. Personally I like six-handed more than nine-handed, so I'm trying to survive now and make Day 2, because I have a bigger edge tomorrow when we play six-max."
Ante Only, Bounty and the DraftKings 50/50
Besides your regular $1,000 and $1,500 no-limit hold'em events there are always some tournaments that stand out. This year that's the $1,500 Bounty Event and the DraftKings 50/50, and players gave their take on what they're looking forward to and what they'd like to see go.
Blair Hinkle, winner of a $2,000 no-limit hold'em tournament at the 2008 WSOP and Seminole Hard Rock Poker Open champion from 2013 for $1.7 million, said that he doesn't need any more events on the schedule.
"Right now I would say, do not add anymore tournaments because I'm getting worn down, but I really enjoy the new events they have come up with that have caused these monster fields to come out every weekend."
Hinkle did like the Ante Only tournament, but it helped a lot that he finished fourth in it back in 2013 for $59,375. According to Hinkle, the success of the bounty tournament and the DraftKings event will be based on the turnout.
"We'll see how the DraftKings event will play out, but if it has a big field I'm happy with that one as well. The Ante Only had a small field, but if it brings out a big crowd I'm all for new additions to the schedule."
Frankenberger appreciates the WSOP trying out new things, and he's all for playing in new formats: "I didn't play the ante-up tournament, but I heard it was a lot of fun. I do like bounty tournaments, and I think a nice change every now and then is good. It's great that they [the WSOP] experiment with different things, and work to get the formula right."
Shorr and Adams aren't big fans of Ante Only, but in the former's case that could partly be due to being inexperienced in the format.
"In the Ante Only I never seem to know what I'm doing, but people seem to love bounty tournaments," Shorr said with a laugh. "So I think that's a good idea, to have an event like that, and besides that I'm all for changing things up so we don't end up playing the same stuff all the time."
Adams added, "Personally I'm not a big fan of the Ante Only, but I actually really liked the $10k pot-limit hold'em because it plays very much like a cash game. A lot of people seem to dislike it, but I'm a fan of it."
Many people called for scratching the pot-limit hold'em from the schedule entirely, and this goes to show that a true tournament schedule is never really finished.
The no-limit hold'em offerings at the WSOP will be explored in more detail tomorrow when we focus on the need for bigger buy-in events, and the special events that drew a huge crowd this year. Be sure to check back then.
Want to stay atop all the latest from the 2015 WSOP? If so, make sure to get PokerNews updates on your social media outlets. Follow us on Twitter and find us on both Facebook and Google+!