NBA Champion Earl Barron Cashes Millionaire Maker, Talks Love for Poker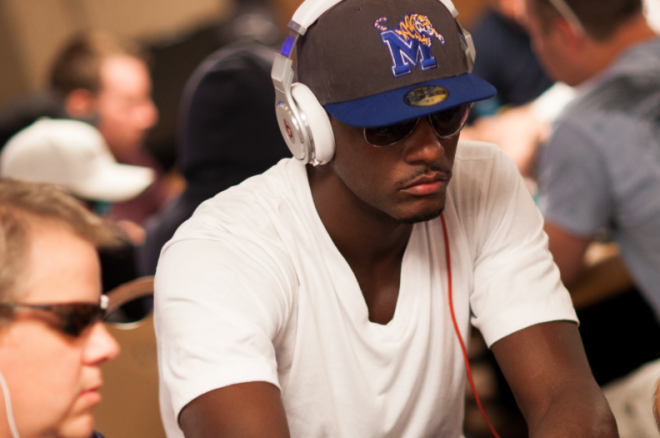 His seven-foot frame makes him a presence on a basketball court, but Earl Barron can mix it up on the felt, too.
Barron played Event #16: Millionaire Maker $1,500 No-Limit Hold'em at the2015 World Series of Poker and spent his Day 2 grinding a short stack of about 10 big blinds during the time PokerNews sweated him. He wasn't able to find a spot to double up, but ultimately outlasted enough players to sneak into the money with a 613th-place finish worth $3,044.
"I got in with jack-nine of hearts," said a slightly disappointed Barron, who was clad in a jacket representing his alma mater, the Memphis Tigers. "I had an over, but the flop didn't hit me."
He said a poorly played Day 1 hand proved costly when he chose to slowplay a set on the flop and someone caught him with a flush draw. Still, the cash brings Barron's WSOP earnings to $10,148. He also cashed in last year's Little One for One Drop and $1,500 events in 2013 and 2011.
"This is the only time I get to play poker for the whole year, so I try to take advantage of it and get as many tournaments in as I can," he said, adding that he's been in Las Vegas for about a week grinding stuff like the Planet Hollywood PHamous Poker Series Goliath and other events around town. "I've been playing and running pretty good."
His vacation will be over soon, however, as he plans to get back to training for the next NBA season, when he hopes he'll find his way to an NBA roster. A well-traveled big man, Barron has been on seven NBA teams over a 10-year pro career. As a rookie in Miami, he won an NBA championship in 2006.
This past season, he appeared in 16 games for the Phoenix Suns, who were hurting for workable bigs with starter Alex Len often injured. He named Phoenix as one of the places he's been able to find teammates to play poker with, along with Milwaukee and Miami.
"Poker is slowly growing [in the NBA] just like everywhere else," he said. "The more guys pick it up, the more they see how fun and exciting it is."
Asked if he is the resident shark in the NBA home games, he laughed.
"I'm more experienced, let's put it like that," he said. "I play more than most of those guys."
His toughest opponent? Another, much shorter Earl.
"Earl Boykins is a pretty good player," he said of the five-foot, five-inch point guard who last played in the NBA in 2011-12 with Houston.
The mental aspects of poker draw Barron to the game. He said he saw a player at his table recently get personal with an opponent and end up tilting in with two nines against his rival's aces and bust out. That's a mindset Barron steers clear of, as keeping your cool when things are getting frustrating is key to him. Generally speaking, he likes to keep things snug and play relatively tight, sticking to the old big pot-big hand adage.
He'll try to employ that style when he returns to Las Vegas at the end of the month for another stint on the felt. He plans to try to satellite into the Main Event and play another $1,500 event. Until then, he'll try to find time to work on his game between workouts.
"I talk to some pros, read a little bit, watch a lot of videos," he said. "It's like anything else, practice makes perfect."
Want to stay atop all the latest from the 2015 WSOP? If so, make sure to get PokerNews updates on your social media outlets. Follow us on Twitter and find us on both Facebook and Google+!