The Colossus: Circuit Grinder Garcia Wins Poker's Biggest Event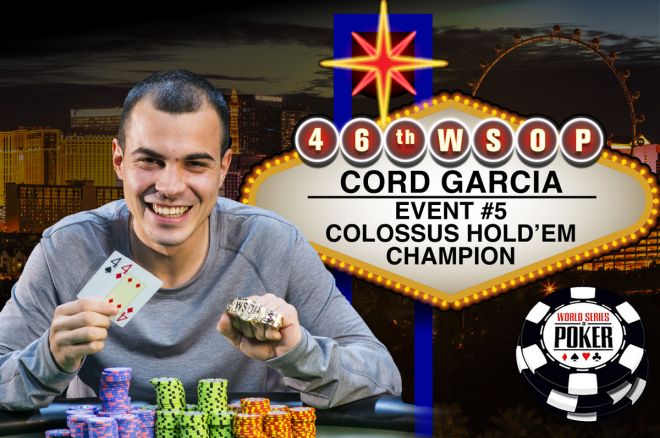 Dreams can come true at the World Series of Poker, and they did Wednesday when a relatively small-time circuit grinder from Houston, Texas won the biggest tournament in live poker history. Just after 6 p.m. local time in Las Vegas, Cord Garcia took down the 2015 World Series of Poker Event #5: THE COLOSSUS $565 No-Limit Hold'em, outlasting a record-breaking 22,373 others to collect his first WSOP bracelet and a $638,880 first-place prize.
"I feel accomplished. I feel satisfied. Obviously, you can't ever picture winning a 22,000 person tournament," he said. "It is my breakthrough, but at the same time I know I'm capable of doing as good, better or bigger things."
Before Wednesday, Garcia's poker résumé was littered with small scores from tournaments across the country with buy-ins of mostly $1,000 or less. His biggest payday and the only other time he got on the verge of something this big, was the $83,640 he earned for a 7th-place finish in the 2012 The River $2,000 Main Event at the Winstar Casino in Oklahama, won by Midwest pro Aaron Massey for $651,559.
"It was a really big opportunity and I've thought about it everyday since," he said.
Garcia fired two bullets into the event before finally bagging chips on his third, giving him the first indication that anything like this was at all possible.
"I bagged like 20 starting stacks," he explained. "I knew it was very far away, but at the same time I knew I had 20 starting stacks going into Day 2 and there was only going to be about 5,000 people left. Somebody was going to get those chips and I thought I had a really good shot. My strategy after that was just to try and maintain the stack, get to the next day, then get to the next day and so on."
Some controversy surrounded the payout structure in the event as many players felt the 5.7 percent of the prize pool reserved for first should have been higher. Garcia isn't necessarily in that camp.
"Everybody seemed to think it should be a lot more," he said. "I think for the overall best interest of the game (the existing payout structure) is definitely good. A lot of people got paid a lot of money. You get 10th place in this tournament and you get over $50k, that's pretty good.
"Yeah. I did just beat 22,000 people so it feels like I should win a lot more money, but I was OK with the structure and the payouts. I'm not complaining the least bit, I'm very blessed."
Along with the relatively flat payout structure that paid 2,241 spots, the WSOP also released a number of statistics Wednesday aimed at showing how good for poker THE COLOSSUS has been. The event actually drew 14,284 unique entries with 5,664 of them buying into a World Series of Poker event for the very first time. While the overwhelming majority of participants were from the United States, players from 98 different countries did take part, marking yet another WSOP record for a single-event.
Not surprisingly, Garcia agreed the event should be considered a good one for the game.
"It was good for poker," he said. "There's something to this. Market a tournament well and get more people outside of poker into poker and its always good for the game. I was really impressed with the turnout, and the fact there was a lot of average, normal people taking a shot at a poker tournament. That's what its all about. That's what keeps this game alive."
Garcia had planned to celebrate a little Wednesday night, but was still considering jumping in the WSOP's Event #14: $1,500 No-Limit Hold'em Shootout starting at 12 p.m. Thursday. He also said he plans to pull a bunch of his winnings out of poker, but will still play the relatively heavy schedule he had planned for the summer with an eye on making another deep run and taking a shot at WSOP Player of the Year.
"Everyone wants to win a lot of money, but no one really plans for it," he said. "It's cool now to be able to actually make some of my dreams become a reality."
Want to stay atop all the latest from the 2015 WSOP? If so, make sure to get PokerNews updates on your social media outlets. Follow us on Twitter and find us on both Facebook and Google+!