Cheating Allegations in WSOP $10,000 Heads-Up Championship Spark Investigation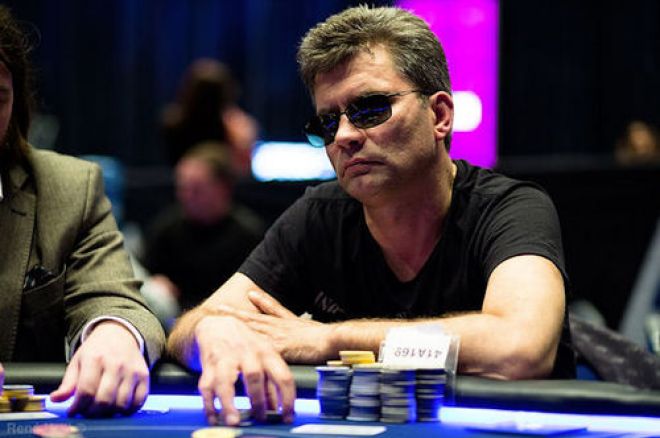 Players in the 2015 World Series of Poker $10,000 Heads-Up Championship have suspected an opponent of cheating his way to a fifth-place finish in the event and both a Prague reporter and former casino manager said the player in question has a history of marking cards that has seen him banned from casinos across the Czech Republic.
Valeriu Coca from Moldova beat Matt Marafioti, Pratyush Buddiga, Aaron Mermelstein, Connor Drinan, and Byron Kaverman before losing to Keith Lehr in the Round of 8. Lehr ultimately took down the event after beating Paul Volpe in the final round on Thursday.
Drinan played against Coca in the money round of the tournament, and told PokerNews he found the match to be strange right from the start. Coca played very slow, double-checked his cards numerous times, and Drinan alleged this might have been part of his process of marking cards.
Drinan said that he felt Coca played absolutely perfect against him — folded when he had it and applied pressure when he didn't. Coca took very strange lines during the match, according to Drinan, and asked to see his chips time and time again. Drinan said he started to get more and more paranoid, especially when he noticed that Coca never looked at his own cards before Drinan looked at his.
After a while, Drinan decided to wait before looking at his cards.
"He still seemed to be waiting for me to look at my cards, and when he realized I wasn't going to, he seemed flustered by it," Drinan said. "He then looked at his hand and folded from the button."
Even though Drinan's table was in a spot where those on the rail could not follow the match, the pro said that he looked over his shoulder to make sure nobody was signaling his cards to Coca.
"That made him very uncomfortable, and he folded his button in that hand, too," Drinan said.
Drinan ultimately lost the match and said he spoke with others that Coca played against, including Mermelstein, According to Drinan, Mermelstein gave an example of a similar hand that appeared strange to him as well.
Drinan told Mermelstein he shoved holding pocket threes for 20 big blinds from the button and Coca snap-called him with king-five off suit. Mermelstein told Drinan he shoved from the big blind for 20 big blinds after Coca had limped on the button, but he wasn't as quick to call.
"The guy tanked for a while, looked around, and asked to see [Mermelstein's] chips," he said. "After tanking for a long time, he called with ace-ten. Given a guy who just flings it in with king-five off, it doesn't make sense for him to tank this long with ace-ten for the same amount of blinds, unless he knew that Aaron had an ace."
Drinan added that the other four players echoed these feelings. According to Drinan, some of Coca's opponents, namely Lehr and Kaverman, began taking precautions in their matches against Coca, blocking his vision of their cards.
PokerNews was unable to contact Coca in regards to this story.
Through Kaverman, Coca's accusers reached out to WSOP Tournament Director Jack Effel, who said officials would investigate.
"Apparently they had the cameras on him, and they were checking the decks, but they say that they haven't found anything yet," Drinan said.
WSOP Vice President of Corporate Communications Seth Palansky confirmed the WSOP is investigating.
"We take these types of allegations very seriously and an investigation began immediately upon learning them," Palansky told PokerNews. "It is ongoing. Preliminary testing of the cards show no markings or use of any foreign solution.
"We will have no further comments until our investigation is complete. We must ensure we don't divulge anything that has ramifications on any of our security measures."
Effel echoed similar sentiments on Twitter.
"We are aware, monitoring very closely with all resources at our disposal," Effel wrote. "Those include surveillance, security, and forensic examination of cards. We take integrity very seriously, as evidenced by our lifetime bans, and would enjoy nothing more than catching a cheater in our midst."
WSOP Executive Director Ty Stewart added the WSOP is doing everything it can to investigate and resolve the situation.
"We would love to catch cheat(s) and hand out justice," he said on Twitter. "We were pretty on top of this situation with every measure we have in our bag of tricks, which is not good to disclose and it's important for players that we don't tell the cheats some of the ways we have to catch them, but let's be clear, if we have evidence of a cheat in action, we're going to act very swiftly. Our team would like nothing more."
Lehr, Buddiga, and Drinan all spoke to Effel on Thursday. Lehr, who beat Coca, had some strong words for the situation, according to Drinan. He said that Lehr seemed very convinced that Coca was up to something, speaking to Coca's changing actions and handling of the cards.
"I'm angry," Drinan said. "I had to beat three tough opponents to get to him, and then I lose to this guy on the money bubble. If I win, I'm in the final 16 with a good shot at a bracelet, and I worked hard all day to get there, so I'm very disappointed about all of this."
Coca's Bans from Prague Casinos
In order to understand the full scope of the allegations towards Coca, PokerNews was in contact with Prague-based poker writer Martin Kuchařík, who had commented on TwoPlusTwo right after Drinan posted his statement.
"During this past EPT Grand Final festival in Monte Carlo, Coca's name showed up as the overnight chip leader in the French Poker Series Main Event, and this is where the ball started rolling on his reputation," said Kuchařík, who was reiterating the story that appeared on PokerZive.cz. "Immediately, I got a call from my friend Tony Felfel, the former manager of the Ambassador Casino, and he told me, 'Coca is a cheater.'
"At first, I didn't believe him, as I thought this was not possible, but then he went on to explain the whole story to me. Here is what he told me: 'Coca visited the Ambassador Casino in Prague in March and April of 2014 where he played everything from 10/20 to 50/100 Czech Crowns. He made around €10,000 in one month playing like an idiot gambler on the lower limits, so people always wanted to join him, and this created very long waiting lists for the games that he was in, before moving to the higher limits. That's where he started to play his own game.'
"Whenever he showed up, things went the same way. He needed some time at the beginning to mark his cards, but after that he started to play very loose and aggressive. He ultimately got a ban from the Ambassador, and Felfel called the other major casinos in Prague, where Coca was blacklisted as well.
"It was not only Tony who thought he was suspicious. Other floor men and players noticed as well, and this accumulated into him finally being caught and banned.
"Obviously, people wanted to play him at the higher limits, and this is where he started to bend the corners of all the aces and kings in the deck, so eight cards in total. His marking was so inconspicuous and carefully done. He always made sure to fully cover his own cards, and it was just a millimeter small imprint on the card's corner, that it was very hard to catch."
Kuchařík said the situation described by Drinan sounded very familiar.
"Just like [Drinan] said in his post on TwoPlusTwo, Coca always asked to see people's chips for a chip count," Kuchařík said.
Ultimately, Coca got banned from casinos in Prague when a dealer found visibly-marked cards, confirming the staff's long-held suspicions.
Felfel confirmed this.
"One day after having the suspicion, again the floor staff pulled the deck out of the game and in private they turned over all the marked cards," he told PokerNews. "They were all aces and kings, but they needed real proof that it was Coca doing it. Ultimately, in three completely different games where Coca was playing they changed the decks and found the aces and kings to be marked.
"After the third time of it happening, he was immediately thrown out of the casino, even though they never saw anything on camera. I'm also pretty sure the WSOP won't see anything on camera, and I'm skeptical about what will happen with this situation.
"People right now are discussing invisible ink, and we tested for that as well. We tested every time we pulled a deck from his game, but we never found anything. He was just marking the cards by bending them very slightly. He could have, of course, improved his cheats, since this is from one year ago, but we didn't find any ink on the cards."
In the period after Coca was banned from Prague, a long string of tournament results appear on his Hendon Mob profile, mostly in Cyprus. Coca took down the Russian Poker Tour Main Event for $41,300, and he won two side events outright during the World Poker Tour Merit Cyprus Classic. On April 7, 2015, Coca won the WPT Spring Open in Montenegro for €50,100, after which he went to Monte Carlo for the Grand Final of the EPT.
Kuchařík and Felfel informed the EPT tournament staff about Coca after he grabbed the chip lead in the FPS Main Event and were informed officials would pay close attention to his actions. Coca finished 73rd in that event for €2,250, only to finish second in a €2,000 side event two days later for €70,568.
No cheating allegations were levied against him at the EPT.
*Image courtesy of the EPT.
Want to stay atop all the latest from the 2015 WSOP? If so, make sure to get PokerNews updates on your social media outlets. Follow us on Twitter and find us on both Facebook and Google+!