BlogNews Weekly: Team PokerStars Pro André Akkari is a Man With a Plan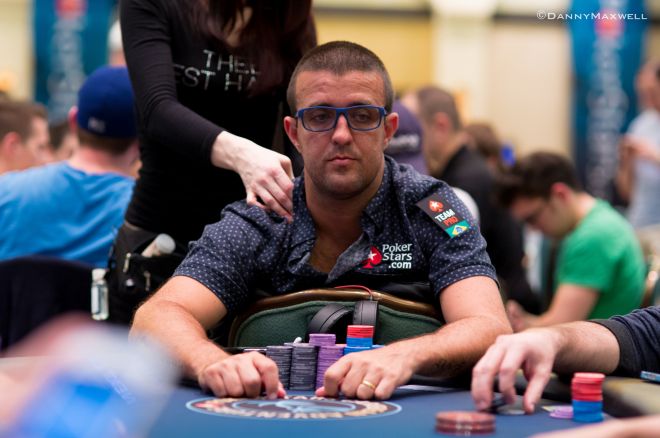 Each week, PokerNews brings you insight into the happenings at the major poker sites. Featuring the most popular blog posts, BlogNews Weekly is your one-stop shop for all your poker blog highlights.
This week, we bring you highlights from the latest PokerStars, Full Tilt, and 888poker blogs.
André Akkari Says 'More Poker, Less Business'
Brazil's André Akkari is one of those players everyone should play with at least once in their life. A reflective and experienced member of the Team PokerStars Pro, Akkari is one of the few poker players who always has something interesting to say - be it about strategy, politics, or how poker has helped Brazil's university students to become better at doing business.
This month, the PokerStars Blog features an interesting story about Akkari's decision to focus more on his family and his life than on his work. In a post titled WSOP 2015: What has happened to Andre Akkari?, the Brazilian poker pro talks about his business ventures - which apparently include a hotel for dogs and a Japanese restaurant - and explains how his commitment to business made him realize that he did not have the time he wanted to take care of his family and play poker.
"I did some good business that are still running in Brazil," Akkari said. However, as he admitted, he left everything in the hands of his partners so that he could dedicate himself to what he enjoys the most: his family and poker.
Check out the PokerStars blog to learn more about what happened to Akkari.
A Beginner's Approach to The WSOP
While the 2015 World Series of Poker (WSOP) Main Event is searching for this year's November Nine, Dan Royle took to the Full Tilt Blog to talk about his debut at the WSOP and how the action at his table proved to be far less scary than he imagined.
Am I going to be taken to school by the pros? How will I handle the pressure? Will I bring the family name into disrepute?
"It's late April 2014 and the loyalty points target that guarantees me a spot at the WSOP $1k Event #33 has been surpassed," Royle writes. "Over the next two months, aside from the inevitable visualisations of being heads-up for a bracelet, I began to have less fantastical thoughts, which must also have inhabited the mind of fellow amateur WSOP debutants: am I going to be taken to school by the pros? How will I handle the pressure? Will I bring the family name into disrepute?"
In his post, Royle explains that the WSOP was not as terrifying as he imagined, and also talks about one hand he played - and won - against 2004 WSOP Main Event champ Greg "Fossilman" Raymer.
Learn more on the Full Tilt blog about Royle's experience as a first timer at the WSOP.
888poker Pays You to Blog For Them
If you don't want to just read poker blogs and feel you have something to say, the 888poker blog is giving you the chance to do just that, while at the same time pad your bankroll with a share of $400.
In July, the 888poker blog is hosting a blogging competition that asks 888poker players to write a post of (at least) 300 words on a very specific subject: 'What does my poker game say about me?'
"There are many different variations of the game of poker, and many different ways to play each of those variations," the 888poker blog writes. "What we want to know is what games have you tried? Which ones have you disliked and which style/pace is your favourite? Do you play certain games depending on your mood or circumstances? Why? Are you after a chill time or a buzz? Do you think certain personalities are drawn to or more suited to a particular type or form of the game?"
Write about what your favourite style says about you and try to bring home the $200 top prize!
If you're ready to tell everyone what your favorite style says about you, head to the 888poker blog, check out the rules of this month's blogging competition, and do your best to take down the $200 top prize.
Note: You need to be registered at 888poker to join the challenge. If you don't have an account at 888poker yet, we suggest you to open one thought this link - as this will earn you a handy $88 no-deposit bonus.
Want to stay atop all the latest from the 2015 WSOP? If so, make sure to get PokerNews updates on your social media outlets. Follow us on Twitter and find us on both Facebook and Google+!