Excited As Ever, Norman Chad Is Back at the WSOP, Looking for the Needle in a Haystack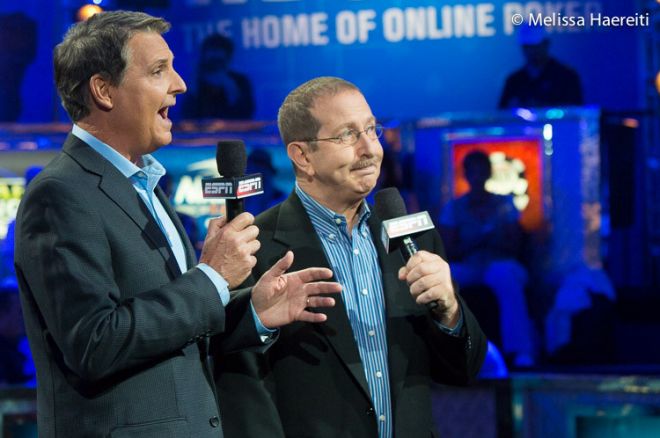 Since the poker boom, televised poker and Norman Chad go hand in hand. For the 13th consecutive year, the man who's been the color commentator for the World Series of Poker on ESPN will be back in the booth, and he's never been more excited.
During Day 3 of the 2015 WSOP Main Event, PokerNews caught up with Chad, who spoke about missing the coverage of the early days of the event, the excitement of discovering who the next champion will be, and wanting to see Scotty Nguyen go deep again.
"As usual, I'm excited to find that needle in a haystack as early as possible, of who's going to be the Main Event champion," Chad said. "It's next to impossible to do, with 6,420 players in the tournament, and even with a day like today that started with over 1,700, which is twice as many as the total amount of entries the year that Chris Moneymaker won, where we had no idea who was going to win. Back then we said, 'How do you find a winner out of 839 players?' And you don't, and you're certainly not going to find one out of the 6,000-plus that started this year."
Chad explains how the telecast this year will be the same as last year; the only difference is that filming starts on Day 4 instead of on Day 3. Every week during September and October leading up to the November Nine, there will be a two-hour telecast.
Over the year, poker fans got very familiar with watching the buildup towards the ultimate final table, but for now it looks like that journey is out of the window. ESPN switched to filming on the later days to cut costs, and just like many poker fans out there, Chad isn't a fan.
"I'm not in charge, but if I was we'd still be filming it from Day 1 onwards," Chad said. "I much prefer starting from Day 1 from every standpoint, including following the story from the very beginning. And if you start from Day 1, you actually have the celebrities and the unusual people here who are going to fade away. Having them on the early days is great, and as you get to Day 3 and 4 you start focusing more and more on the big stacks. I miss the fact that we lose the whole carnival of Day 1 and 2.
"Starting on Day 4 is hard for me, because it's like coming into a football game late in the third quarter when the score is 21-14 and they pick up the game from there. We do the best we can with it, but I did prefer when it when we started filming on Day 1, no question about it."
Chad finds it harder to connect with the stories of the people in the tournament and said, "Ninety-nine percent of the people walking into this room are people I did not know before they walked into this room, in any given year. Before I would get to know some of them on Day 1 and Day 2, and most of them would then be gone on Day 3 and 4, but now I feel bad being here on the first two or three days, because they are going to be gone before we're on television. They are going to be dead before we're alive, and that makes it much harder to connect with people."
While Day 1 always holds something special for a broadcaster like Chad, who's looking for the crazy stories and most colorful characters, the last day of the summer is still his favorite.
"The tension in the room when we get down to below 100 players, when they can all taste the final table, is just great," Chad said. "You can feel it from the players, you can feel it from the rail, and that is one of my favorite days of the Main Event. The best day, though, is the day when we play from 27 down to nine. You get to see some big hands that become memorable, and lives change on that day, because you can't have your life changed unless you make the final nine."
The third day of play started with six former Main Event champions still in the hunt, four of which Chad commentated on during past ESPN broadcasts. However, when asked who he would like to see go back and win another title, his answer was Scotty Nguyen.
The winner of the 1998 Main Event meant a lot for the popularity of poker in the early 2000s, and Chad recognizes that it would be great to see Nguyen's antics out in full force again on the ESPN broadcast.
"Before I ever came here I saw the 1998 World Series of Poker and him saying, 'If you call now it's gonna be all over baby,' or whatever his exact words were, that was just priceless," Chad said. "You can't script that any better, and Scotty meant so much for poker in the early days. I'd like Scotty to win again, even though it's near impossible for someone to repeat as a winner."
While ESPN doesn't start taping until Day 4, many of the storylines are already being shaped on the felt. Chad will be in the middle of it all, as he will roam the tournament floor looking for the best stories every day until the November Nine is set.
Want to stay atop all the latest from the 2015 WSOP? If so, make sure to get PokerNews updates on your social media outlets. Follow us on Twitter and find us on both Facebook and Google+!