The Commissioner: Ben Keeline Organizes Big WSOP Last Longer Pools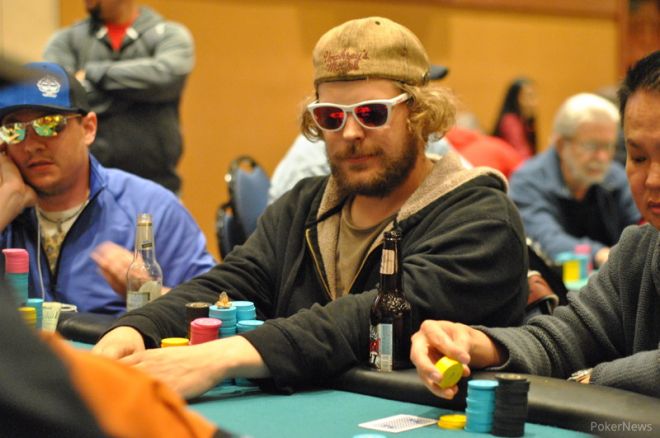 "Last longer" side bets are about as old as poker tournaments themselves.
Last longers involve two or more people throwing an agreed upon sum into a pot, which will be won by the player who is the last one standing. In some cases, the amount wagered can exceed the buy-in of the actual tournament, with huge sums being collected by a player who would otherwise be unhappy with a late elimination.
Ben Keeline has made it his mission to organize huge last longers in recent tournaments in which he's participated, and they've proved quite popular. For the 2015 World Series of Poker Main Event, Keeline collected $500 apiece from 78 entrants for the winner-take-all last longer. Some of the notables firing include David "Doc" Sands, Dominik Nitsche, Isaac Baron, Keven Stammen, and Bryan Devonshire. The $39,000 awarded to the winner should slightly ease the considerable pain of busting out, a day which many poker players refer to as "the worst day of the year."
Keeline, who hails from Colorado, also organized a $250 last longer for the Colorado Poker Championships Main Event. Kane Lai won the tournament for $51,000 and shipped the last longer in the process.
"It just seemed fun," Keeline said of his reasoning for organizing the last longer.
It proved popular enough to encourage Keeline to keep running them at the WSOP. He set the price at $250 again for The Colossus, and using his Twitter account and word of mouth to generate interest, got nearly 100 entries. Just like in Colorado, the eventual champion, Cord Garcia, walked away with the last longer pool on top of the first-place prize.
Keeline had planned to keep running them for the bigger events of the series, but he decided to wait for the Main Event. Similar to being the unappreciated commissioner of a fantasy football league, it was all work and little reward for Keeline, who takes nothing from the pot and invests time and effort to collect dues and update spreadsheets.
"I caught some flack from my girlfriend and backer for taking on so much stress with no return," Keeline said.
He did note that Aditya Prasetyo helped run the pools, and Kevin "KevMath" Mathers aided with Twitter promotion.
Of course, holding onto so many players' money means Keeline must have the trust of many in the poker world, a world constantly fighting perceptions of shadiness and dishonesty. Many are wary of being scammed, and Keeline appreciates the trust he's gained.
"A lot of guys didn't know me, so they didn't feel all that comfortable," Keeline said. "Then, after finding out who all was involved, the fact [people] already trusted me helped me gain others' trust."
Having unfortunately busted the Main Event, Keeline is now free to fulfill his commissioner obligations and pay out the eventual winner. Thanks to his efforts, "the worst day of the year" will have a $39,000 silver lining for one player.
PokerNews will be sure to keep an eye on Keeline's famed 2015 WSOP Main Event last longer bet.
Want to stay atop all the latest from the 2015 WSOP? If so, make sure to get PokerNews updates on your social media outlets. Follow us on Twitter and find us on both Facebook and Google+!