From Beating Cancer to Crushing Spin and Go Tournaments: This Is Anna Duxbury's Story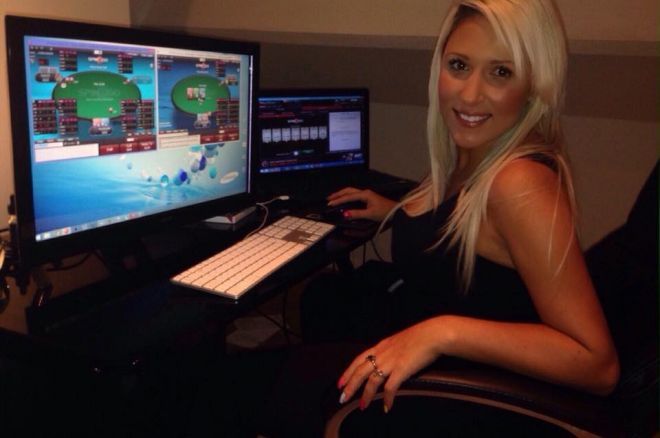 Having worked in the poker industry for the best part of the past eight years, it is safe to say that I have seen a lot when it comes to this game. Rags-to-riches stories are commonplace, incredible tournament runs like those enjoyed by Erik Seidel and Daniel Colman in recent years are always on display, and even the occasional scandal rears its ugly little head from time to time.
A couple of weeks ago, while browsing on Facebook, I saw an update from Leon Louis, who online poker aficionados will know better as "Flippetyflop", a high-stakes heads-up sit-and-go player. Louis linked to a thread on the TwoPlusTwo poker forum that his friend had started — a blog of sorts, and one depicting her progress in PokerStars Spin & Go tournaments.
With the poker world being mostly made up of men, the fact Louis' friend was a female made the thread stand out, but after reading her opening post, which included her beating cancer twice, I had to reach out to Anna "DuckRatMe" Duxbury to find out more about her. Thankfully, she agreed to speak with me and we chatted for an hour. I'm glad we did.
Often when you chat to poker players, you're greeted with a relatively closed book. It's almost as if they don't want to give too much away or let you into their personal lives, but not Duxbury. From the second we started speaking to one another until our Skype call ended, she was open, honest, and frank.
Yorkshire Born and Bred
Duxbury was born and raised in York, but moved to Manchester in her 20s. One day, Duxbury collapsed at work and was taken to a hospital. The doctors ran a number of tests while they attempted to diagnose what the cause of the collapse was and discovered that she was four-months pregnant.
"I said I couldn't be pregnant, but they took me for a scan and there was a baby sat cross-legged and sucking its thumb!" she said.
Despite the massive shock and the fact plans to go travelling for six months were scuppered, Duxbury took her new situation in stride, and a few months later, after returning home to York, gave birth to a baby girl named Olivia.
Three years later, Anna became a mother again when Isla came into the world and all was rosy, although her relationship with her partner broke down, resulting in Duxbury becoming a single parent. Determined to provide the best for her young family, Duxbury held a number of different jobs before she received some frightening and life-changing news when a routine check-up at the doctors revealed that she had cancer.
Devastating News
Duxbury had to undergo surgery and was under the watchful eye of specialists who monitored her situation. Six months after the surgery, the cancer returned. Thankfully, extensive chemotherapy and radiotherapy worked and the cancer hasn't returned for a third time.
"I'm so unlucky when it comes to health," said Duxbury, "but I'm still here!"
Before her battle with cancer, Duxbury was already playing online poker after watching some of her friends playing home games and some televised poker on Channel 4.
"A few years ago, some of my mates had home games and I was always a bit of a tomboy when I was younger, but that was one of the things that I never got involved in and never got invited to because I didn't know how to play poker," Duxbury said. "I saw it on Channel 4, then watched it the week after then kind of got hooked!
"Then I started playing on Zynga, played for play money, and really got the bug. I loved it. Then when I looked into it a bit more, I discovered people were actually making money from poker and it's not just pure gambling; there is a skill edge as well."
After depositing on PokerStars, Duxbury began playing cash games and multi-table tournaments (MTTs) before discovering hyper-turbo head-up sit-and-gos (HUSNG). The fact that the games were over quickly appealed to Duxbury, as she could fit in playing around her work and kids, plus the fact that she seemed to have a penchant for them. When the Spin & Gos launched, she switched to those and hasn't looked back.
Before the cancer returned, Duxbury had a job but had to leave after only two months so was only receiving statutory sick pay, which anyone from the UK who has had the misfortune of having to rely on will attest to it being a pittance. Grinding Spin & Gos seemed like a good way to supplement her low income and a solid win rate in the $7 buy-in games over a 3,000-plus sample size confirmed that she was a solid, winning player.
A Developing Poker Talent
Duxbury reached out to a talented player and coach known as "Cog Dissonance" for coaching, but her second battle with cancer cut that short. After making a full recovery, she enlisted the services of him once again and continued crushing the games.
"I was trying to build a bankroll with my own money, but it was difficult because I kept dipping into it to pay for things and, obviously, when playing lower stakes it takes a lot longer to build up a bankroll," she said. "He offered to stake and coach me, and I agreed."
After looking at Duxbury's results and watching her play, Cog put Anna into the $15 buy-in Spin & Gos and she quickly progressed to the $30 buy-ins. She now has aspirations of moving up even higher and is continually receiving coaching and putting in time away from the tables in order to fulfil her goals.
Should she make it to the $100 buy-in level, she may come across her boyfriend, "Wubblepig," who is often found plying his trade there. Judging by the feedback from some of the game's top talent, it's going to be a case of when not if Duxbury progresses to the top of the pile.
Before the interview ended, Duxbury and I chatted about the poker world so it was no surprise that poker's Mecca came up in our conversation. A surprise 30th birthday present, a trip to Las Vegas, ranks up there as one of Duxbury's best-ever holidays.
"I loved Vegas," she said. "I'd love to go back."
All signs point to Duxbury heading back to Vegas as a much more talented and respected poker player, in addition to being one of the game's amazing characters.
Get all the latest PokerNews updates on your social media outlets. Follow us on Twitter and find us on both Facebook and Google+!