Inside Gaming: Skill-Based Slots to NV, Fantasy Sports Talk, Debating Trump's Casino History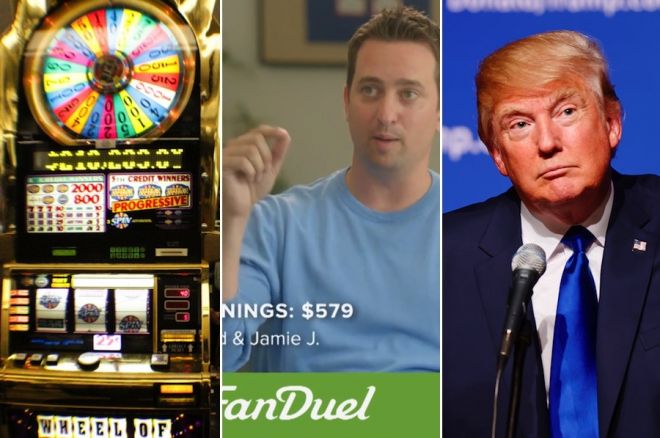 This week's installment of Inside Gaming shares news from yesterday's meeting of Nevada regulators during which the way was paved for skill-based slots while a fine to Caesars was approved, considers a few topics swirling about the much-discussed explosion of daily fantasy sports, and looks in on this week's GOP debate where Donald Trump's history with casinos was brought up more than once.
Nevada Regulators Approve Manufacture of Skill-Based Slots
Among several items of business at yesterday's meeting of the Nevada Gaming Commission came the approval of regulation changes to allow slot-machine makers to begin incorporating skill-based elements into new games, the Las-Vegas Review Journal reports.
According to the LVRJ, some manufacturers are already on the verge of rolling out some of the new games, with representatives indicating an intention to reveal them in a couple of weeks at the Global Gaming Expo at the Sands Expo and Convention Center in Las Vegas. The hope of both the regulators and those in the industry is to have the games on casino floors by the end of the calendar year.
In May the Association of Gaming Equipment Manufacturers (AGEM) proposed a bill asking the Nevada Gaming Control Board to create regulations allowing for technology to be developed to create new slot games incorporating skill-based elements. The bill passed both state houses unanimously, and was signed into law shortly thereafter by Governor Brian Sandoval.
The new games have been described as a kind of slots-video hybrid that integrate arcade-style games with traditional lever-pull or button-push slots. Performing well at the video game component will improve a player's chances of winning money at the slots component.
Industry insiders believe the new games will help provide a boost to declining slots revenue while also attracting a younger demographic of players weaned on video games. Speaking with ArsTechnica in May for the American Gaming Association, Chris Moyer noted he "wouldn't be surprised to see some video game partnership licensing deals" emerge in the wake of the newly-approved regulations.
Read more about the dawning of a new era for Las Vegas slots at the LVRJ.
Caesars' Money Laundering Fine Also Approved
Also approved by Nevada regulators yesterday was another fine to Caesars Entertainment Corp., this one for $1.5 million for failure to defend itself adequately against allegations of money laundering at Caesars Palace.
This approval follows last week's announcement by the U.S. Treasury Department's Financial Crimes Enforcement Network (FinCEN) that Caesars would be forced to pay an $8 million federal penalty. The additional $1.5 million represents a fine by the state, with both connected to what the agency described as the company's "willful and repeated violations of the Bank Secrecy Act."
According to FinCEN, Caesars was found to be guilty of "systemic and severe AML compliance deficiencies," including hosting "private gaming salons... reserved for Caesars' wealthiest clientele... [to] gamble millions of dollars in a single visit, and which openly allowed patrons to gamble anonymously." As such, Caesars' failure to monitor such activity permitted what FinCEN deems as "some of the most lucrative and riskiest financial transations to go unreported."
The total amount of the fine is negligible next to the industry-leading $23 billion-plus long-term debt the company currently owes.
In May 2014 Caesars restructured itself into three separate units: Caesars Entertainment Resorts, Caesars Growth Properties, and Caesars Entertainment Operation Co.. The majority of its debt was taken on by the CEOC, which in January 2015 filed for bankruptcy.
Then in July a U.S. bankruptcy judge ruled that Caesars would be obliged to face lawsuits brought by creditors alleging that the restructuring was designed unfairly, the news of which caused the company's stock to fall precipitously amid speculation that Caesars Entertainment Corporation may face having to file bankruptcy.
At yesterday's meeting, attorney Mark Clayton told commissioners Caesars has now taken "extensive measures" to comply with the law, including hiring an executive devoted to ensuring their compliance with anti-money laundering efforts, as reported by VegasINC.
Head over to VegasINC for more about how Nevada regulators' reasons for agreeing to the fine.
Legislator Curious to Examine Relationship of Daily Fantasy Sports to Gambling
Are daily fantasy sports gambling? Such has become a hot topic this week thanks in large part to the advertising blitz of DraftKings and FanDuel coinciding with the start of a new National Football League season.
The suddenly conspicuous growth of DFS in the U.S. has provoked a number of reactions not just in the gambling industry but elsewhere. Many outlets, among them The New York Times, have been reporting on the millions being spent on television ads by both DraftKings and FanDuel. Meanwhile a column from last week in Bloomberg Business provocatively titled "You Aren't Good Enough to Win Money Playing Daily Fantasy Football" spurred much debate both for and against the position represented.
Questions about the relative skill and luck in fantasy sports have encouraged Rep. Frank Pallone (D-NJ) to request that the House Energy and Commerce Committee hold a hearing to examine whether or not fantasy sports — currently allowed for by the Unlawful Internet Gambling Enforcement Act of 2006 — constitute gambling and thus should be subject to federal laws prohibiting such.
As The Washington Post reports, Pallone "wants to scrutinize the difference in gambling on sports and playing fantasy sports and to examine the close ties between professional sports leagues and teams and the fantasy sports industry, including daily fantasy titans DraftKings and FanDuel."
Read more about Pallone's call for a hearing, responses from DFS industry, and the interesting history of fantasy sports-related legislation at The Washington Post.
Donald Trump's Casino Ventures Discussed During GOP Debate
Finally, those watching Wednesday night's Republican presidential debates might have noticed amid the many hours of back-and-forthing a reference made by former former governor of Florida Jeb Bush to fellow candidate Donald Trump's earlier desire to bring casino gambling to the Sunshine State.
Trump denied ever having such an interest, although the Associated Press (and others) reported afterwards how the real estate mogul and television personality indeed pursued the possibility before and during Bush's 1999-2007 tenure as governor.
Former Florida House Speaker John Thrasher (now president of Florida State University) confirmed to the AP that "Trump was interested in casino gambling in Florida, I can tell you that for a fact," describing two meetings he attended during the early 2000s at which "Trump pushed for Florida to sign a compact with the Seminole Tribe of Florida to allow casino gambling."
Bush, meanwhile, opposed gambling and proved a roadblack to any such compact. Bush's successor, Charlie Crist, who served as governor from 2007-2011, would sign such an agreement with the Seminoles in 2007.
Another topic much discussed here at "Inside Gaming" — the decline of gaming revenue in Atlantic City — also came up during the debate in relation to Trump, in particular when candidate Carly Fiorina charged Trump had been "forced to file for bankruptcy... four times."
Trump responded that he never had filed for bankruptcy, which as NPR clarifies is true insofar as "he never filed for personal bankruptcy." However "Trump corporations turned to bankruptcy court four different times to reorganize debts," with most of those filings connected to Trump casinos in Atlantic City.
Learn more about the story of gambling in Florida and the involvement of Trump and Bush at CDC Gaming Reports.
Photos: Michael Vadon, Creative Commons Attribution ShareAlike 2.0 Generic; FanDuel.com; Steven Depolo, Creative Commons Attribution ShareAlike 2.0 Generic.
Want to stay atop all the latest in the poker world? If so, make sure to get PokerNews updates on your social media outlets. Follow us on Twitter and find us on both Facebook and Google+!