Inside Gaming: Caesars' Stock Swoons After Failure to Halt Bankruptcy Lawsuits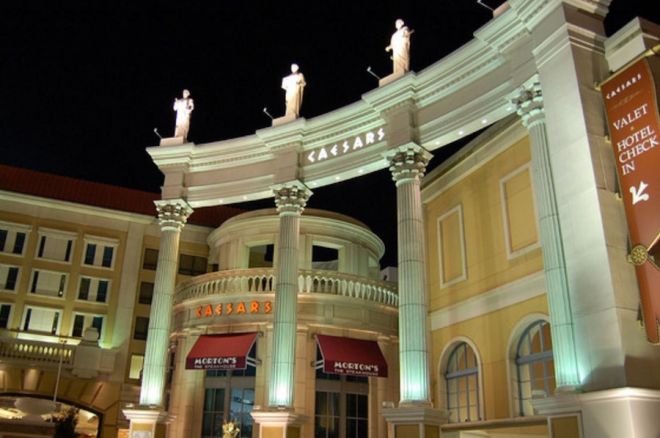 This week's Inside Gaming reports on another huge hit to Caesars' stock following a court ruling that could presage the parent company eventually having to file for bankruptcy, a deal for GLPI to acquire Pinnacle's real estate being agreed upon, and the rising costs of lawsuits' surrounding Wynn Resorts being awarded a license in Massachussetts.
Bankruptcy Judge Rules Creditors May Proceed with Lawsuits Against Caesars, Stock Drops Sharply
Another unfavorable ruling against Caesars Entertainment Corp. in its ongoing struggle to manage its industry-leading debt caused shares of CZR to plunge dramatically this week on the NASDAQ exchange. The ruling could also mean the parent company might have to follow the course taken by its largest operating unit, Caesars Entertainment Operating Co. (CEOC), and file bankruptcy.
U.S. Bankruptcy Judge Benjamin Goldgar ruled Wednesday in Chicago that Caesars will be obligated to face lawsuits from several creditors alleging that the company's restructuring last year into three operating divisions — after which most of its $22 billion-plus debt was moved into one (the CEOC) — was designed unfairly. The lawsuits collectively seek approximately $11 billion from Caesars.
Shares of CZR swiftly fell in response to the ruling, falling from an opening price of $7.69 on Wednesday all of the way to $3.30 per share before closing at $4.76. The drop was so precipitous that trading was briefly halted for a time Wednesday afternoon, with a whopping 12.63 million shares having been traded during the day (up from the typical ~1 million). At noon ET today the price was $4.78 per share.
Bloomberg Business reports that "if the creditors prevail in [just] one of the cases, Caesars [i.e., the parent company] might be compelled to cover the unit's debts [i.e., the CEOC]." If that were to occur, the parent company will likely be forced to file bankruptcy as well, as a spokesperson for the company has already testified.
The CEOC had "argued that temporarily halting the lawsuits would permit it to keep negotiating with creditors in hopes of winning enough support for a plan that would allow it to exit Chapter 11." But Judge Goldgar ruled otherwise, "citing a list of legal precedents that he said argued against extending any protection to the parent."
In April shares of CZR slipped below the $10 mark following news that CEOC had requested more time to file its reorganization proposal in the same U.S. Bankruptcy Court. Companies filing for bankruptcy normally are given 120 days to start their case, although extension requests are common. The request asked to extend the deadline for proposing a restructuring plan from May 15 to November 15 and was made amid creditors' opposition to the extension. On April 29 Judge Goldgar allowed an extension through May 27, then on that date allowed the further extension to November.
Then in early June came a ruling out of Manhattan by U.S. District Court Judge Shira Scheindlin on one case against Caesars in which Scheindlin ruled in favor of a group of creditors' being allowed to proceed with a lawsuit seeking $750 million owed to them by the CEOC. The ruling was then considered potentially troubling for Caesars as a possible precedent to other, similar suits — an analysis that has borne out — and CZR took a tumble yet again falling below $7 per share for the first time in two-and-a-half years.
It was then that Jim Millstein when testifying for the CEOC stated "if the lawsuits were successful, the parent [company] would have to file for bankruptcy protection."
It was in early May 2014 that Caesars announced its new restructuring plan that saw the company divide itself into three separate units: Caesars Entertainment Resorts, Caesars Growth Properties, and Caesars Entertainment Operation Co.
The latter — which includes more than 40 properties including Caesars Palace, Caesars Atlantic City and others — took on approximately $18.4 billion worth of Caesars' overall debt. The CEOC filed for bankruptcy in January of this year. (Note: the World Series of Poker and WSOP.com are part of the separate Caesars Interactive Entertainment — i.e., not part of the CEOC unit.)
It has proven a challenging start for new Caesars CEO Mark Frissora who officially took over the role on July 1, signaling the end of Gary Loveman's 12-year tenure in the position.
Here's a look CZR share prices over the last 18 months:
| Date | Price per share at close |
| --- | --- |
| Feb. 28, 2014 | $25.96 |
| Mar. 31, 2014 | $19.01 |
| Apr. 30, 2014 | $18.47 |
| May 30, 2014 | $18.23 |
| June 30, 2014 | $18.08 |
| July 31, 2014 | $16.00 |
| Aug. 29, 2014 | $13.44 |
| Sept. 30, 2014 | $12.58 |
| Oct. 31, 2014 | $12.19 |
| Nov. 28, 2014 | $16.96 |
| Dec. 31, 2014 | $15.69 |
| Jan. 31, 2015 | $10.89 |
| Feb. 27, 2015 | $10.60 |
| Mar. 31, 2015 | $10.53 |
| Apr. 30, 2015 | $9.49 |
| May 29, 2015 | $9.36 |
| June 30, 2015 | $6.12 |
| July 23, 2015 | $5.14 |
For more on this week's ruling and possible future for Caesars, see the analysis at Bloomberg Business.
Pinnacle & GLPI Finalize Merger Agreement
Two weeks ago we reported how the real estate investment company Gaming and Leisure Properties Inc. (GLPI) had increased its bid to purchase Pinnacle Entertainment's real estate assets which include 15 different gaming properties in eight states. This week that deal was consummated, with Pinnacle at last accepting GLPI's purchase offer after several months of negotations.
The Las Vegas Review-Journal reports GLPI will acquire Pinnacle's real estate "for $4.75 billion in an all-stock transaction and lease the casinos back to the Las Vegas-based" Pinnacle. The deal still requires approval from shareholders and regulators, and is anticipated to close by early next year.
"Pinnacle'€™s proven track record of continued improving operating performance will make GLPI even stronger as we pursue long-term growth," said Peter Carlino, CEO and Chairman of GLPI. Pinnacle's CEO Anthony Sanfilippo echoed those sentiments, noting how his company retains the ability to grow "in a thoughtful and strategic manner."
For more on the deal and its implications, visit the LVRJ.
Cost Mounting in Cities' Lawsuits vs. Massachussetts Gaming Commission
Finally, one other quick addendum to last week's story about the city of Boston's lawsuit against the Massachussets Gaming Commission for its decision to award a gambling license to Wynn Resorts late last year.
In fact three different Massachussetts cities have filed lawsuits — Boston, Revere, and Somerville — and CDC Gaming reports that between the three more than $1.4 billion has already been spent on the suits, with that price tag destined to go much higher should the cases be allowed to proceed.
About half of that amount has been spent by Boston. Wynn Resorts plans to build a new casino in Everett, and the three cities have filed their lawsuits based on allegations of misconduct by Wynn that affected competition for the license. The Massachussetts Gaming Commission has until the end of this month to file motions to have the lawsuits dismissed.
For more on the suits and their rising costs, see the CDC.
Photo: "Caesars," David Brooks. Creative Commons Attribution 2.0 Generic.
Want to stay atop all the latest in the poker world? If so, make sure to get PokerNews updates on your social media outlets. Follow us on Twitter and find us on both Facebook and Google+!