Inside Gaming: Trump Plaza To Stay Closed, GLPI Increases Pinnacle Bid, Gaming Grief in Greece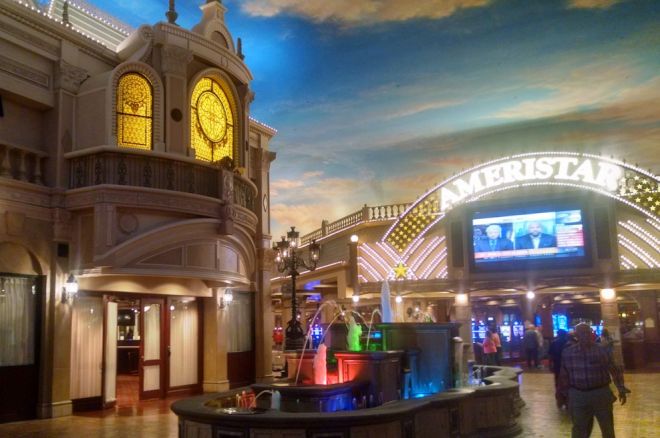 This week's installment of Inside Gaming reports on a deed restriction ensuring the Trump Plaza won't be reopening any time soon (at least as a gambling establishment), a potential buyout of Pinnacle Entertainment's real estate, and how a conflict in Greece over gaming regulations is affecting a couple of Nevada-based companies.
Deed Restriction to Keep Trump Plaza Closed for a Decade
While businessman and media personality Donald Trump remains in the news thanks to controversial comments and his recent announcement of his presidential candidacy, one of the Atlantic City casinos with which he is associated will continue to remain closed after shutting its doors last fall — and likely stay closed for a long time to come.
The Asbury Park Press reports that Delaware bankruptcy court Judge Kevin Gross yesterday approved Trump Entertainment Resorts' request for a deed restriction on the Trump Plaza, thus preventing anyone from being able to reopen the property as a casino for the next 10 years. The court filing indicates that Billionaire Carl Icahn, currently involved with trying to buy Trump Entertainment Resorts out of bankruptcy, has approved of the restriction.
The move was made as a preventative measure in anticipation of new legislation in New Jersey affecting casinos' tax liabilities. Meanwhile the property could be reopened for non-gambling purposes by a buyer, and it could also be reopened as a casino if the buyer agrees to pay Trump Entertainment Resorts a release fee to cancel the restriction.
The Trump Plaza first opened in May 1984, and enjoyed a few prosperous years while hosting early Wrestlemania events. However the casino fell on hard times more recently, and in 2009 Trump Entertainment Resorts filed bankruptcy. The closure of the Trump Plaza last September — the fourth Atlantic City casino to close during 2014 — left 1,300 employees out of work.
Last August, Donald Trump filed a lawsuit to have his name removed from both the Trump Plaza and the Trump Taj Mahal, basing his claim on the fact that he no longer runs Trump Entertainment Resorts although does still have a 10 percent stake in the company. He won a favorable ruling in the case in March, resulting in the Trump name indeed being almost entirely stripped from the Trump Plaza, although an agreement made then has kept the name on the Trump Taj Mahal.
Despite the lawsuit, the closed casino will no doubt continue to be known and generally referred to as the Trump Plaza. According to The Business Insider's report on that spring ruling, "The agreement... requires Trump Entertainment Resorts to remove 'any and all vestiges' of the name from the facade of the shuttered Trump Plaza casino. The Trump Plaza sign was removed, but the name is still outlined in dirt or rust in many spots."
For more on why no one will likely be gambling at the Trump Plaza for the next decade, visit the Asbury Park Press.
GLPI Ups Ante in Potential Pinnacle Entertainment Buyout
Gaming and Leisure Properties Inc., a real estate investment company, has been interested in purchasing Pinnacle Entertainment's real estate for a while now, and this week upped its offer even further in an effort to finalize the merger.
The newest bid by GLPI values Pinnacle's real estate assets at $5 billion, a not insignificant increase from the last bid of $4.1 billion. As Reuters reports, the new offer is being characterized by GLPI as a "final bid" in what has been a lengthy, at times contentious negotiation between the two entities.
Originally founded way back in 1938 by movie mogul Jack L. Warner, Pinnacle Entertainment currently operates 15 different gaming properties in eight different states. Pinnacle's properties include several Ameristar Casinos obtained back in 2013, such as the Ameristar Casino Hotel Kansas City (pictured above).
It was in March of this year that GLPI went public with its offer to purchase Pinnacle's real-estate assets, a move that came subsquent to the companies having reached an impasse in their negotations. The WSJ explains how the "deal would boost GLPI's portfolio, which included 21 gambling and related facilities as of March 30," including "property associated 18 facilities operated by Penn National Gaming Inc., which the company separated from in its own REIT split."
Many industry observers believe the deal will be made. Response to GLPI's statement on Tuesday included an increase in Pinnacle's stock to $40.70 per share (a record-high). The new offer by GLPI values Pinnacle at $47.50 per share.
"Pinnacle, which has not publicly rejected any of GLPI's overtures so far, said on Tuesday that it had received the proposal and that its board would respond after reviewing it," Reuters reports.
Read more about GLPI's new offer at the WSJ.
Greek Lottery Operators' Battle with Regulators Affects Nevada Companies
The effects of the ongoing government-debt crisis in Greece extend well beyond the country's borders, with many around the world watching developments anxiously amid a very uncertain future for the European nation. Within the gaming world, it appeared that perhaps two of Nevada's largest slot machine manufacturers with an interest in Greece were also affected by the crisis, but as the Las Vegas Review Journal reports, the timing was just coincidental.
Both International Game Technology (IGT) and Scientific Games Corp. are having to endure the loss of "millions of dollars in revenue and cash flow" thanks to a conflict having arisen between those who regulate the Greek lottery industry and the country's lottery operator with whom the Nevada companies are in business.
Following the announcement of new regulations for Greece's lottery industry by the Hellenic Gaming Commission, the Greek Organisation of Football Prognostics S.A. (also known as OPAP), operators of the nation's lottery, "implemented what one analyst called 'a hard-nosed negotiation tactic' to extract more favorable terms" from the commission.
To be specific, "OPAP suspended the deployment of some 16,500 lottery terminals countrywide after Greek lottery regulators lowered jackpot levels, instituted daily loss limits, and reduced the amount of time gamblers can play a machine," the LVRJ reports. The shutting down of video lottery terminals [VLT] hurts both IGT and Scientific Games, as both companies had been previously awarded vendor contracts by OPAP.
Todd Eilers of Eilers Research, a research firm focusing on the global gaming industry, discussed the situation with the LVRJ, stating his belief that the disagreement between OPAP and regulators will be overcome and a compromise reached. "We still believe the VLT market will move forward and it represents a sizable growth opportunity for vendors," judged Eilers.
Even so, the larger crisis surrounding the Greek banking system and the potential for the country to leave the European Union will no doubt have its affect on citizens' eagerness to play the lottery.
Find out more about this interesting gaming-related crisis in Greece within the country's larger financial crisis at the LVRJ.
Photo: "KC Ameristar Hotel and Casino," Brian Whitmarsh. Creative Commons Attribution 2.0 Generic.
Want to stay atop all the latest in the poker world? If so, make sure to get PokerNews updates on your social media outlets. Follow us on Twitter and find us on both Facebook and Google+!