2015 WSOP Europe 888 Hand of the Day: Scott Davies Starts Fast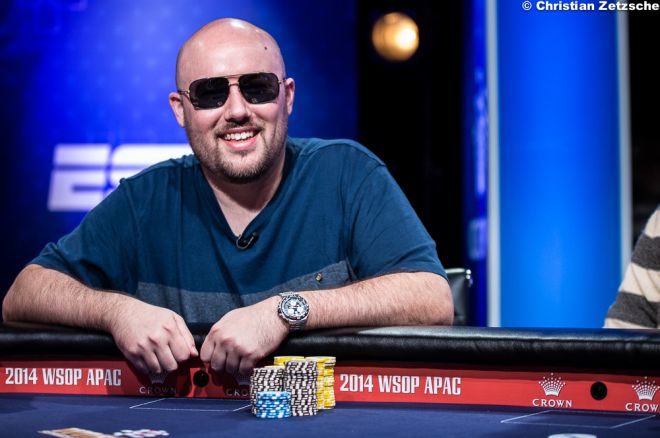 The 2015 World Series of Poker Europe continued in Berlin, Germany, Friday with the second of 10 scheduled gold bracelet events kicking off, Event #2: €550 "Oktoberfest" No-Limit Hold'em that is featuring four starting flights over the next two days.
PokerNews was on hand for the kickoff and will be in Berlin for the duration of the 17-day series. As a part of our coverage, that is brought to you by 888poker, we will be bringing readers a special "888 Hand of the Day" every single day throughout the entire WSOP Europe schedule.
On Friday, 2014 WSOP Asia-Pacific Main Event champion Scott Davies decided to make the evening flight his first event at the Spielbank Berlin casino this year, and got off to a hot start, chipping up to close to four times the starting stack in just the first few levels.
This, of course, was all according to Davies' plan going in.
"The structure is pretty fast," he told PokerNews. "It's really a turbo. We're not very deep, so I think it's important to try and jump out early.
"There are also a lot of people that are playing their first or second WSOP event ever, and they don't want to mess up early. They don't want to come back with the story of their first WSOP event being that they check-called three streets with third pair and lost."
Davie's early aggression appeared to work, and a bluff he pulled off in Level 3 to chip up is our 888 Hand of the Day.
The blinds were at 75/150 and it folded to Davies in the cutoff seat. He raised to 325 with
off suit. The big blind defended and checked when the
rainbow flop rolled out. Davies bet 275.
"I bet pretty small on the flop because I thought he was just going to give up a lot," he explained. "He was kind of a tighter player. But he thought for a while and made the call."
The turn was a
and Davies' opponent checked again.
"I have a no-equity hand here and I could just give up, but I don't really like giving up, especially since I don't think he has a lot of kings there," said Davies. "Unless he's made two pair or had an open-ender and hit the king.
"I bet 450 on the turn. Not too big again because I felt like he'd still fold a lot of stuff. He tanked for about a minute and a half and made the call, but I just got the sense he didn't really feel too great about his hand."
The river was an
and the big blind checked a third time with a little over 3,000 behind.
"I either have to give up or just bomb the river," said Davies. "So I bet 1,875 on the river. I didn't really think he had a hand in his range there that he could call with. He tanked for another minute and threw it away.
"Really, I have no show down value when he's calling two streets there," Davies said. "I'm just going bombs away because I don't think he wants to end up crippled in this spot. I just didn't think he had a hand strong enough to call on the river."
Davies' plan worked to perfection and in addition to giving him the 888 Hand of the Day it also gave him more chips to play with in the early going — what he says is an important factor in a tournament with a speedy structure.
"It's a lot easier to play when you have chips," he said. "It's easier to make those preflop calls, get into flips and go after people. You also set up a dynamic when the other players at the table get deep with you, so it's definitely an advantage to get chips early in these things."
It has been a wild ride since Davies booked a win the last time the WSOP left Las Vegas as he's traveled to events finding even more success around the globe. Now he's just hoping to keep the ball rolling here in Berlin.
"It has given me the opportunity to see the World," he said of his 2014 WSOP Asia-Pacific Main Event win. "I have a much bigger bankroll because of it and it has kind of snowballed. I've had a good year. I've always wanted to see the World and that's always been the dream with poker. Now I'm living it."
As the 2015 WSOP Europe rolls on, be sure to stay tuned to PokerNews for continued coverage, including regular 888 Hand of the Day articles.
Want to stay atop all the latest in the poker world? If so, make sure to get PokerNews updates on your social media outlets. Follow us on Twitter and find us on both Facebook and Google+!