Inside Gaming: Nevada Revenue Down as Strip Slides, Skill-Based Games at G2E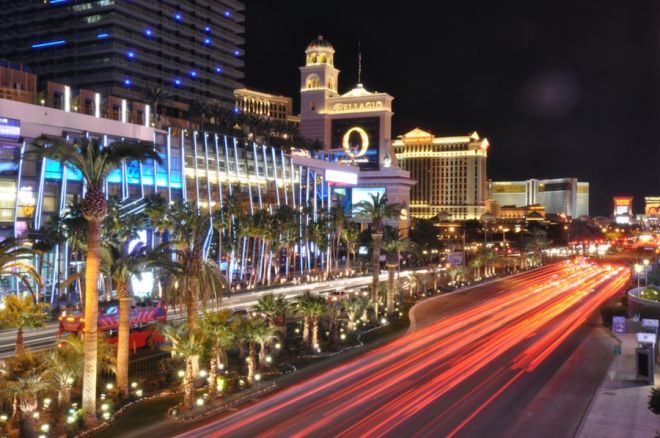 This week's installment of Inside Gaming focuses on Nevada where the Strip endured a third-straight month of declining revenue while the state overall was down as well. Meanwhile the annual Global Gaming Expo in Las Vegas took place this week where industry representatives discussed numerous issues while companies showcased their latest wares.
Strip Down Sharply as Nevada Gaming Revenues Decline
This week the Nevada Gaming Control Board released updated gaming revenue information for the Silver State, with the report showing a decline in overall revenue in August year-over-year of 1.39%. Nevada casinos took in just over $908.2 million in August 2015, down from the almost $920.3 million win amount reported for August 2014.
More notable, however, was the decline in revenue among casinos located on the Strip where the total gaming win was just under $527.4 million, a decline of 4.66% from the almost $553.2 million from August 2014. That marks three straight months of decline for the Strip, a period during which several other areas of the state have held steady or increased revenue.
Speaking to the Las Vegas Review-Journal, gaming analyst Steven Wieczynski of the brokerage firm Stifel Nicolaus characterized the August numbers as "uninspiring," adding that "given the swirling macroeconomic uncertainties in China, we expect the Strip baccarat business to remain under pressure indefinitely."
Indeed, the Strip's baccarat tables saw a considerable downturn for the month, earning just over $126.5 million — a more than 24% decline from a year ago. Over the last three months baccarat has been down more than 33% from the same period in 2014.
It may not seem obvious to some how China's economy directly impacts Las Vegas casino revenue, but it does. As we've been reporting over the last year-plus, Macau's gaming revenue has declined every month since June 2014, with recent monthly drops even exceeding 35% year-over-year. Recent news of a theft from a gambling junket operating inside Wynn Macau hasn't helped either, prompting declines in the stocks of parent companies with casinos in Macau.
Several factors have contributed to Macau's steep slide, including China president Xi Jinping's campaign of reforms designed to eliminate money laundering and other forms of fraud having put pressure on junket operators' ability to facilitate the moving of money, the settling of debts, and the management of loans for high rollers wanting to travel from the mainland (where gambling is illegal) to the Special Administrative Region of Macau to gamble.
Meanwhile in late August China's stock market experienced a sudden crash affecting all Asian markets as well as other markets worldwide. While analysts continue to debate the significance of that bubble burst and what's next to come, economic uncertainty in the region no doubt affects gamblers and their discretionary income, thereby further contributing to a decline in the number of VIP patrons in Macau's casinos.
Baccarat is especially popular in Macau, and as Linette Lopez of Business Insider explains, the game "is used as a measure of Chinese traffic to Las Vegas." Speaking to Business Insider, analyst Cameron McKnight of Wells Fargo notes how "the weakness in Strip baccarat play is partly related to the anti-corruption initiative in China and the monitoring of Chinese visitors in Las Vegas." Thus is there often a correspondence between what is happening in Macau and declining baccarat numbers on the Strip, which in turn affects overall revenue totals.
For more on the latest revenue report including further discussion of causes for the Strip's recent downturn, head over to LVRJ.
Marketing, Security, and Skill-Based Games Among Topics at G2E
Yesterday the four-day Global Gaming Expo — a.k.a. the "G2E" — wrapped up at the Sands Expo & Convention Center in Las Vegas, the annual gathering that combines an international gaming trade show with a conference offering a chance for gaming executives, management, tribal leaders, and other interested parties opportunities to network and discuss the state of the industry.
As usual, the seminars covered a variety of topics of concern to the industry, including compliance issues, security and surveillance, and sports betting, as well as discussions of how to attract younger "millenials" as customers, online gaming, and more.
Among the keynote speakers was Geoff Freeman, President and CEO of the American Gaming Association whose "State of Gaming" address focused on legal issues as well as the public's perception of gaming and how it affects the industry as a whole.
Business strategist and one-time member of the famous MIT Blackjack Team Jeffrey Ma spoke about the importance of using analytics to those running gambling-based businesses. And Rahul Sood, formerly of Microsoft Ventures and now CEO of the gaming company Unikrn, gave a talk about the relatively new phenomenon of gambling on eSports.
Over on the trade show side of things where the latest and greatest industry innovations were showcased, a lot of attention was given to the new skill-based games that the Nevada legislature and the Nevada Gaming Commission gave the go-ahead to in mid-September.
New skill-based slots games combining traditional lever-pull (or button-push) slots and arcade-style video games with a skill component are expected to begin appearing on casino floors before the end of the calendar year. The games have been described as providing players a chance to improve their odds of winning money in the slots component by performing well at the video game component.
Though only a couple of weeks removed from the games being approved, Vegas INC reports how several groups were already able to give attendees a glimpse of such games. For example, a new Space Invaders slot machine game from Scientific Games Corp. invites players to spin reels in an effort to earn a bonus round which then gives them a choice between taking more spins or shooting down rows of approaching aliens as in the old classic arcade game.
For more on the new skill-based games including photos from the expo, check out Vegas INC.
Photo: "Las Vegas Strip at Night," Marco Verch. Creative Commons Attribution 2.0 Generic.
Want to stay atop all the latest in the poker world? If so, make sure to get PokerNews updates on your social media outlets. Follow us on Twitter and find us on both Facebook and Google+!