Inside Gaming: Wynn, Adelson Weigh in on Macau Decline in Quarterly Calls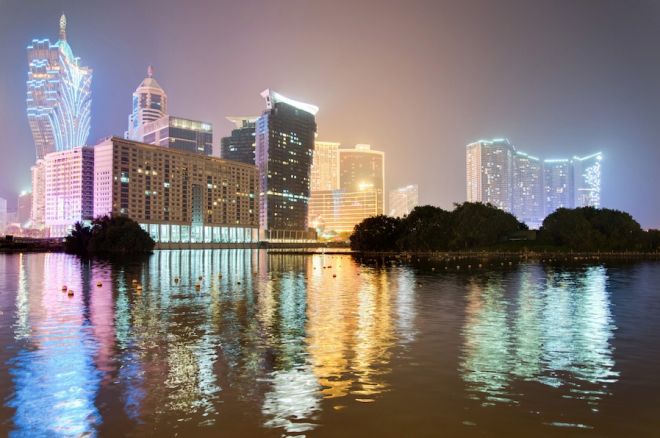 This week's installment of Inside Gaming looks at a couple of third-quarter conference calls in which gaming executives comment on ongoing industry struggles in Macau, a lawsuit filed in Illinois over video gambling, and a sports-betting scandal in Japan.
Wynn Complains About Slowness from Chinese Officials, Government Responds
Among the gaming news over the last week were reports of Wynn Resorts Ltd. Chairman and CEO Steve Wynn criticizing government officials overseeing the development of casinos in Macau, and a response in kind by those officials insisting Wynn and all other operators understand the need to comply with their regulations.
Late last week Bloomberg Business reported Wynn's charge that Chinese officials had yet to inform him how many gaming tables the company would be able to have in the new Wynn Palace casino scheduled to open in late March 2016.
"None of us are really clear on what our environment is going to be like going forward, and it makes planning and adjusting almost a mystical process" explained Wynn. The complaint came during a conference call in which the company's third quarter revenue was reported as falling below the estimates predicted by industry analysts.
Macau, that Special Administrative Region of the People's Republic of China in which regulated gambling is permitted, has endured a nearly year-and-a-half-long decline in gaming revenue. The slide has had significant impact on Wynn, as Macau "accounts for more than half of Wynn Resorts' revenue." Bloomberg reports of Wynn Resorts that "revenue fell 27 percent to $996.3 million as results in Macau shrank by more than a third. Analysts had been expecting $1.03 billion."
"The stock is down 58 percent the past year," adds Bloomberg, "cutting the value of Wynn's personal stake in the company by over $1 billion."
A couple of days later government officials responded to Wynn's complaints, including calling a meeting last Sunday with representatives of Wynn Macau Ltd. to reiterate the necessity for casino operators to comply with government-instituted rules limiting gaming tables and other matters.
A statement from the government regarding the meeting noted how Macau had "no plan to make any changes lightly" and would continue to insist upon "clear understanding and full compliance" from operators.
Read more about Wynn's gripes and the government's rejoinder at Bloomberg.
Sands Also Down for Quarter, Adelson Calls Macau "Challenging"
On a related note, Las Vegas Sands Corp. had its 3Q call this week as well, likewise reporting earnings and revenue as having declined in large part thanks to the situation in Macau. Meanwhile chairman and CEO Sheldon Adelson characterized the situation in east Asia as "challenging," as reported by the Las Vegas Review-Journal.
"Las Vegas Sands said its profits for the quarter that ended Sept. 30 fell 22.7 percent to $519.4 million," reports the LVRJ, as "overall revenue fell 18.1 percent to $2.89 billion." Meanwhile revenue for the Sands' Macau casinos "fell 28.8 percent to $1.66 billion."
In contrast to Wynn, Adelson spoke during Wednesday's call less pointedly about regulations and external constraints imposed upon Macau casinos, instead describing the ability to have a license to operate in the SAR as "a privilege and not a right," and perhaps not incidentally adding "we have always been respectful of the Macau government's desires."
Visit the LVRJ for more on the Sands call.
Strip Mall Sues Illinois Gaming Board for Not Allowing "Video Gaming Malls"
A strip mall developer filed a lawsuit this week against the Illinois Gaming Board for its decision to deny video gambling licenses to the mall's businesses.
According to The Chicago Tribune, the lawsuit was filed on behalf of the Hometown Plaza and two video gambling cafes that had signed leases with the mall. It alleges that a September ruling by the IGB rejecting applications for video gambling licenses was inconsistent with earlier decisions by the board, was "not based on the merits of the individual applications," and also was the result of "political pressure and the negative publicity campaign generated by groups hoping to avoid competition."
That latter claim refers to "lobbying campaigns launched by the casino industry and an organization representing other video gambling parlors in an effort to prevent a new form of competition," namely the mall-based "cafes" that Hometown Plaza hoped to introduce, explains the Tribune.
That the rejection of the applications in September didn't follow earlier rulings had been earlier explained by the Illinois Gaming Board who "openly admitted" to have followed "a brand new policy — purportedly based on the 'spirit' of the Video Gaming Act... [to prohibit] what it called 'video gaming malls.'"
The lawsuit hopes to overturn the IGB's ruling, contending "that the Video Gaming Act only places restrictions on video gambling near horse racing tracks, riverboat casinos or places of worship."
Find out more about the new lawsuit and the IGB's earlier ruling in The Chicago Tribune.
Japan Baseball Players Confess to Gambling on Games
Finally, as the start of the World Series draws closer here in North America, Japan's professional baseball league has been rocked by a huge gambling-related scandal just ahead of the start of its championship series involving players for one of its most popular teams, the Yomiuri Giants.
Two weeks ago one of the Yomiuri pitchers, Satoshi Fukuda, admitted to gambling on games involving the Giants as well as Major League Baseball games, both strictly forbidden by the Nippon Professional Baseball league. Then on Wednesday it was announced two more Giants pitchers, Shoki Kasahara and Ryuya Matsumoto have also admitted to betting on games.
None of the players was charged with any instances of game-fixing, reports ESPN, adding that "the Giants have launched an investigation and consulted with police on the matter as gambling on pro sports is illegal."
The NPB's Japan Championship Series begins tomorrow with the Yakult Swallows taking on the SoftBack Hawks in a best-of-seven series.
Read more about this giant scandal involving the Giants over at ESPN.
Photo: "Skyline," Tristan Schmurr. Creative Commons Attribution 2.0 Generic.
Want to stay atop all the latest in the poker world? If so, make sure to get PokerNews updates on your social media outlets. Follow us on Twitter and find us on both Facebook and Google+!