Inside Gaming: Sports Betting Back on Table in New Jersey, Nevada Rules on DFS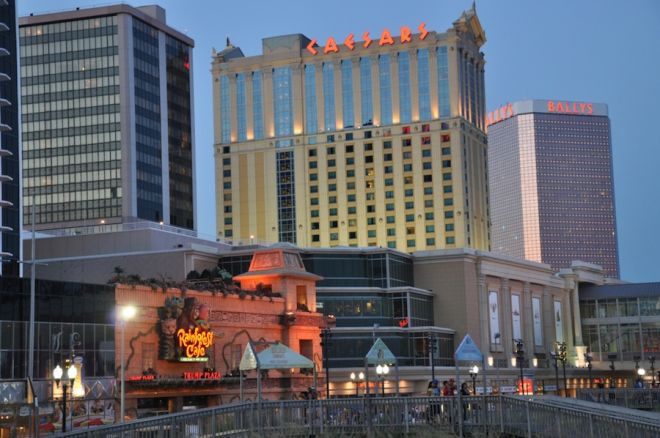 This week's Inside Gaming shares recent news regarding the possibility of sports betting coming to New Jersey, the latest daily fantasy sports news headlines, and the bankruptcy filing of a Fresno casino.
Ruling Against New Jersey Sports Betting Vacated, Case to Be Heard Once More
Supporters of sports betting in New Jersey enjoyed a victory on Wednesday when an appeals court voted to reconsider an earlier ruling striking down a law allowing sports betting at the state's casinos and racetracks.
ABC News reports that the ruling from August of this year that struck down the law to allow sports betting has now been vacated, meaning that the 3rd Circuit Court of Appeals in Philadelphia will hear the case anew.
In the state's petition, attorneys highlighted the fact that a dissenting judge in the August ruling noted how the two decisions by the 3rd Circuit — one for sports betting (from 2013), and the new one against it — were "precisely the opposite," thus underscoring the need for a rehearing. "The first held that New Jersey could repeal laws against sports betting without violating federal law," explains ABC, "while the second held that doing so would violate it."
In response to the news, New Jersey State Senator Ray Lesniak, a longtime proponent of sports betting in the state who sponsored the bill being considered, excitedly tweeted "YES! 3rd circuit vacates ruling v my sports betting bill," adding to "expect sports betting" in Atlantic City and at the Monmouth Racetrack "by Super Bowl."
Read more about the new development at ABC News.
Nevada Rules Daily Fantasy Sports Is Gambling and Subject to Licensing, Among Other DFS News
It was another week's worth of scrutiny upon daily fantasy sports, with mainstream media, industry observers, legislators, and others embroiled in discussions about the multi-billion dollar industry. Among the topics being debated are the relationship between DFS and gambling, the potential for regulation, and individual states' positions on whether or not to allow DFS games.
As noted here last week, an October 5 story in the The New York Times prompted by earlier rumblings in DFS forums and news sites drew attention to the current state of the industry, with both New York Attorney General Eric T. Schneiderman and other U.S. lawmakers subsequently calling for inquiries and hearings.
Among the latest DFS-related headlines is the report of a federal grand jury convening in Florida to consider the legality of daily fantasy sports, the Federal Bureau Investigation and U.S. Justice Department initiating a probe into the DFS business model, and regulators in Nevada ruling DFS to be gambling and thus subject to licensing in the state.
Last weekend Daniel Wallach, a gaming law attorney based in Fort Lauderdale, followed an earlier tweet by confirming in an interview with the Tampa Bay Times that a federal grand jury in Tampa was "looking into possible criminal violations involving the Illegal Gambling Business Act of 1970." That news prompted some (not all) DFS operators to leave the Sunshine State.
Then on Wednesday The Wall Street Journal reported the FBI and U.S. DOJ had entered into a "preliminary stage" of a probe into the business model of DFS sites, with the investigation including "FBI agents from the Boston office have been contacting customers of DraftKings Inc. to ask them about their experiences with the Boston-based company."
Finally late yesterday came word of the Nevada Gaming Commission's ruling that daily fantasy sports is gambling and thus subject to licensing procedures in order to operate within the state. That ruling was followed by a sequence of announcements by DFS sites they would abide by the ruling and not serve players in Nevada until securing a license to do so. In a report on the ruling, The New York Times quotes Nevada lawyer David Gzech stating that Nevada's decision "should give other states pause because if it's perceived as sports gambling here, no other state can offer it when it violates federal law."
Legal Sports Report has been updating a list of states in which DFS sites are not presently operating. Arizona, Iowa, Louisiana, Montana, and Washington are the only states that no sites currently serve; currently the two largest sites, DraftKings and FanDuel, are not available in those five plus Nevada.
For more on DFS being "under fire" and the relevance that story to the poker community, check out Mo Nuwwarah's "Five Thoughts" commentary.
Fresno's Club One Casino Files for Bankruptcy
Finally, on Wednesday the ownership group for the Club One casino and restaurant located in downtown Fresno, California filed for Chapter 11 bankruptcy. The filing came a week after a ruling by a New York appellate judge that Club One Casino Inc. and Club One Acquisition Corp. (the two filing entities) "were improperly withholding money" from the club's former owners, The Fresno Bee reports.
The earlier ruling and this week's filing date back to the 2008 sale of Club One to Kyle Kirland, now president of Club One Casino Inc., and its CFO Dana Messina by primary owner Elaine Long and minority owner George Sarantos. The Fresno Bee reports the sale was for $27 million, with the buyers obtaining nearly $22.5 million in financing and Santaros and Long each receiving still unpaid notes for $2.5 million.
The appellate judge's ruling last week stated "through a series of subterfuges and evasions Club One Acquisition Corp. and its principals... succeeded in evading payment properly owed" to Santaros and Long. That ruling is being appealed by the current ownership group.
Club One's creditors (including others in addition to the former owners) are owed more than $9.5 million. Santaros and Long's lawyers say they are owed nearly $12 million.
There are no plans at present to close the casino and restaurant as bankruptcy proceedings begin. In a comment on the filing, Fresno City Manager Bruce Rudd stated that Kirland and Messina assured him "a year from now Club One will be in downtown" and generating the same taxes or more for the city.
In recent years the Club One Casino has played host to the Heartland Poker Tour as well as the Central Valley Poker Championships.
For more details about the filing, buzz over to The Fresno Bee.
Photo: "Caesers at Atlantic City, New Jersey," momentcaptured1. Creative Commons Attribution 2.0 Generic.
Want to stay atop all the latest in the poker world? If so, make sure to get PokerNews updates on your social media outlets. Follow us on Twitter and find us on both Facebook and Google+!