Inside Gaming: Daily Fantasy Sports in Spotlight, Million-Dollar Bellagio Craps Cheats in Court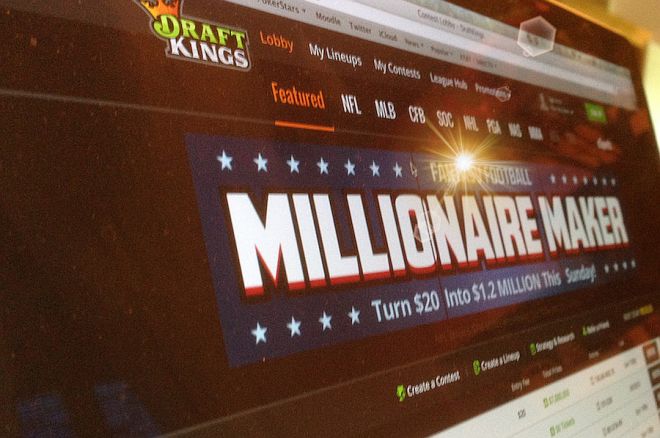 This week's Inside Gaming addresses the current tempest surrounding daily fantasy sports, reports on the case against the group accused of scamming over $1 million from the Bellagio craps tables, and shares news of a legal development in Wisconsin affecting video poker in the state.
Daily Fantasy Sports Earns Attention of Legislators, Media, Mainstream
It has been quite a turbulent week for daily fantasy sports in general and industry leaders DraftKings and FanDuel in particular.
Picking up on initial reports on forums and news sites devoted to DFS, a story in The New York Times on Monday with the eyebrow-raising headine "Scandal Erupts in Unregulated World of Fantasy Sports" provoked intense scrutiny of the fast-growing industry over subsequent days from many corners.
The initial reports and NYT story highlighted a DraftKings employee having mistakenly released data regarding player ownership in DraftKings' Week 3 contests, then told how that same employee went on to place second out of nearly 230,000 entries to win $350,000 in that week's NFL Sunday Million contest over on FanDuel.
The concurrence of those two events brought attention from many mainstream outlets regarding how daily fantasy sports contests work and the strategy involved with setting line-ups. It also revived discussions about the need and/or potential for regulation, the relationship between DFS and gambling, and other issues resulting from the suddenly conspicuous place of fantasy sports in the cultural landscape.
On Tuesday New York Attorney General Eric T. Schneiderman opened an inquiry into daily fantasy sports that included demanding both DraftKings and FanDuel provide "the names, job titles and descriptions of any employees who aggregate and compile a wide range of data that perhaps could be used to gain a personal advantage — including ownership percentages and pricing algorithms," as the The New York Times reported.
Meanwhile statements from DraftKings, FanDuel, and other DFS sites this week have been issued regarding game integrity, with both DraftKings and FanDuel additionally instituting prohibitions against their employees playing DFS on other sites. Other DFS sites also delivered statements about policies already in place regarding employees' ability to play on other sites.
Last month Rep. Frank Pallone (D-NJ) requested the House Energy and Commerce Committee hold a hearing to consider whether fantasy sports as currently allowed by the Unlawful Internet Gambling Enforcement Act of 2006 in fact constitutes gambling and should be subject to federal laws. Pallone reiterated that desire in the wake of this week's news, with his House colleague Rep. Dina Titus (D-NV) likewise calling for the House Energy and Commerce Committee to hold a hearing on the subject.
For more, check out Legal Sports Report's compilation of useful links to its own coverage and other reports on this fast-developing story.
Bellagio Dealer to Testify Against Co-Defendants in Million-Dollar Craps Cheating Scam
This week came reports from Clark County District Court in Las Vegas of progress having been made in cases against four men alleged to have worked together to scam the Bellagio casino out of more than $1 million in craps bets over the course of two years.
The swindle involved two Bellagio employees and two accomplices. The employees, Mark Branco and James Cooper, Jr., were both fired by the Bellagio after the thefts were discovered, with both arrested in July 2014. Earlier this month those two were named in a 60-count indictment along with two others, Anthony Granito and Branco's brother-in-law Jeffrey Martin.
As the Associated Press reports, Granito and Martin would play at craps tables manned by Branco and Cooper who would pay out to the other two men after the roll of the dice was already known, as well as paying them regardless of whether their bets had won.
The arrests and indictment followed a lengthy investigation by gaming regulators and fraud-control agents from MGM Resorts International (parent company to the Bellagio) that included hours reviewing security video, checks of the men's financial accounts, and interviews with co-workers and witnesses.
In court on Tuesday, Prosecutor Jay P. Raman characterized Branco as having been the chief organizer of the scheme, having originally enlisted the others. In their appearance in court on Tuesday, Branco and Martin each pleaded not guilty to the accusations against them. Meanwhile yesterday the AP reported that Cooper is expected to plead guilty next Tuesday in an agreement that will involve his testifying against the other three co-defendants.
Read more about how the perpetrators were caught and other details of the cases against them at the Las Vegas Sun.
Ho-Chunk Tribe Can Offer Video Poker in Wisconsin After U.S. Supreme Court Declines to Review Petition
In other legal news, earlier this week the U.S. Supreme Court declined to review a federal appeals court decision to allow the Ho-Chunk Nation to offer video poker at its Ho-Chunk Gaming Madison casino in Wisconsin. The state's Attorney General's office had filed a petition asking the U.S. Supreme Court to review the decision, but by the court declining to do so the tribe will be permitted to offer video poker going forward.
In 2014 U.S. District Judge Barbara Crabb had ruled the Ho-Chunk had to stop offering video poker as it violated the tribe's gambling compact with the state.
While the tribe argued video poker constituted a Class II card game (as defined by the federal Indian Gaming Regulatory Act) in which players play against one another (i.e., the game is not banked by the house), Crabb ruled it a Class III card game in which players play against the house or a machine. Since Class III card games are not permitted by the tribe's compact with the state, video poker was ruled to be prohibited.
But in April of this year the U.S. Court of Appeals for the Seventh Circuit overruled that decision, as reported by the Wisconsin State Journal. There it was determined that video poker is in fact a non-banked game and thus the state could not prevent the tribe from offering it.
Then in July state Attorney General Brad Schimel and Assistant Attorney General Clayton Kawski filed their petition to the U.S. Supreme Court asking that the case be heard again because "they said it represents an issue that will occur time and again in tribal gaming cases until resolved by the court."
The U.S. Supreme Court will not be reviewing the decision, however, with the petition one of approximately 1,600 different appeals they declined to review on Monday.
Read more about the decision and its consequences at the Wisconsin State Journal.
Want to stay atop all the latest in the poker world? If so, make sure to get PokerNews updates on your social media outlets. Follow us on Twitter and find us on both Facebook and Google+!