Top 10 Reasons To Play Fantasy Football On SkillDraft
Scott Brown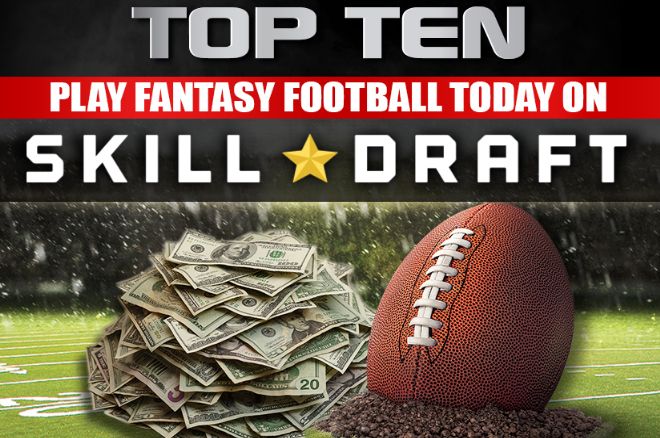 As most people know, there is a new growing sensation in football with these innovative daily fantasy sports sites. Fantasy football has been around for decades, so why are so many people jumping on the bandwagon now? It may have to do with the bundles of cash that you could win every week or just the fact that it is exceedingly entertaining and fun! Fantasy football was always based on a team you were stuck with for the entire season, but now with daily fantasy sports sites like SkillDraft.com you can change teams every week to increase your winnings.
There are several reasons why the time is right to join sites such as SkillDraft.com, but here are my top 10 reasons why you should.
10. Excitement of the Game
In my experience, betting on the sport has always been way better than just watching the game. Having that little bit of investment on the game boosts the excitement tenfold. Now when you spend $10, you have the possibility of earning thousands in just one week! The fact that you are also able to pick players from several teams gives you a wider range of excitement on multiple games.
9. Weekly Team Changes
Unlike original fantasy football leagues, where you pick at beginning of the season and are stuck with the entire year, daily fantasy sports allows you to change lineups every week. This is huge when players get hurt and are out for the season. Every week you can change your picks to adjust for injuries and subs. Not only is it helpful for injuries, but also matchups in teams and players that week.
8. Be the GM
I think everyone has wished that they could be the boss and pick a dream team. You cringe and moan over the players on your favorite team that keep getting beat by the matchups they are set in. Well, now you can pick your favorite players from any team with these daily fantasy sports sites. Every week you can select the best player matchups with the set budget you have. This way you are in charge of everything and bet on your skills.
7. Fast, Easy, and Straightforward
You may be thinking, "I know nothing about football and the players, how can I pick the best team?" Or, "I don't have time to research every player to make an educated pick."
That's exactly what I thought until I saw the set up SkillDraft.com has. After my first week of winning over $2,000 with just a $50 investment, I was a believer. I knew nothing about any team or players, but learned a lot very quickly with the stats of each player at my disposal. It took me less than 10 minutes to pick a winning team since the layout of the site was so simple to use. It is very easy to pick from the list of players for each position when all their stats, team matchups for that week, and pricing is available at your fingertips. You can simplify things as well with heads-up matches against random opponents or even your friends. Let me add that you can do all this from the comfort of your home. The only problem I have is watching all the games at once.
6. Women are on Board
Believe it or not, women are playing, too. With over 50 million people playing fantasy sports, around 33 percent are women. That means close to 20 million women are playing this as well. Probably because they are aware of the potential earnings you can make on sites like SkillDraft.com.
5. Play with Friends — Or Better Yet, Against Them
With so many people playing, it has really become a social phenomenon. Everyone knows about the guys' weekly poker game where you throw back a few brewskies and have a little fun. Now guys, and girls alike, are getting together to plan out their teams for next week. The competitiveness is still around since you can play heads up or against your friends in tournaments to see who really is the best GM. Plus, taking their money is a bonus — and let's be honest, talking trash is half the fun of playing with friends.
4. Timing
Why is the timing so perfect to join? Sites like SkillDraft.com are still growing their player base so tournaments are still easily winnable. Their tournaments are not completely filling up, which gives the edge to you for making big money. They also have massive guaranteed prize pools that leave an overlay of free cash. That's right, with smaller player bases but guaranteed prize pools now is the time to get in when there is free money being given away!
3. Brain Exercise
Truthfully, hobbies such as stamp collecting are not too stimulating to the brain, but the decisions you're faced with picking teams challenges the mind. The math analysis you must make between the player stats, price ranges, and team matchups keeps your mind active and young, all while having fun.
2. Entertainment
Why most of us watch and cheer on our favorite team or bet on games is because it is entertaining. The fun that comes with making money, watching football, and hanging with friends is priceless. There is not too many things in life where you can get all three so easily.
1. EASY MONEY
Now entertainment might be your favorite reason to join the sensation that's happening, but easy money falls in at number one! Most hobbies cost you money compared to this one; where it will put cash in your pocket for just a small amount of time picking teams. Like I said earlier, there are guaranteed prize pools that have an overlay of free winnings.
If this is still not enough of a reason for you, then the guaranteed winner tournament should be. Yes, they have a Guaranteed Winner Tournament that will pay every player double the entry no matter what place you come in. That is free money no matter what way you look at it.
Needless to say, the time is right, the cash winnings are enormous, and the fun is limitless! I would suggest trying out SkillDraft.com first since they have some huge overlays currently and it is an easy site to build your bankroll on.
Want to stay atop all the latest in the poker world? If so, make sure to get PokerNews updates on your social media outlets. Follow us on Twitter and find us on both Facebook and Google+!