An American Odyssey: Ashley Adams Completes 50-State Poker Tour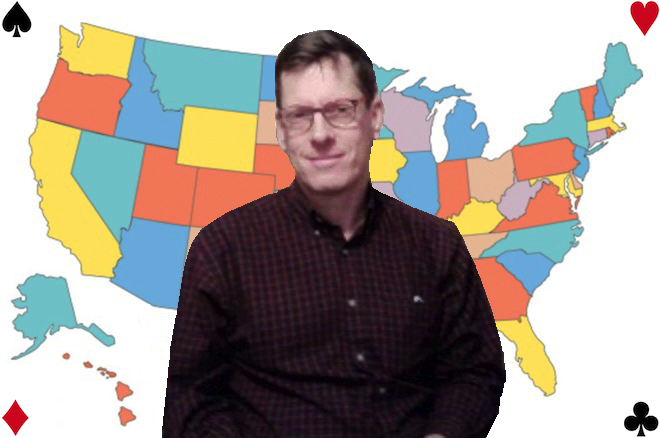 Earlier this month a poker record was established, as was a goal long sought after by poker player and author Ashley Adams of Boston. It was by playing in a small no-limit hold'em tournament at the Wildhorse Resort & Casino in Pendleton, Oregon that Adams had finally crossed the finish line in his own personal, cross-country "poker run."
After more than two decades' worth of traveling and playing around the U.S., Adams has now played poker in all 50 states.
The author of Winning 7-Card Stud (2003) and Winning No-Limit Hold'em (2012) first learned poker at the age of five from his grandfather, continuing to play through high school and college. Career and family intervened for a time, but later he found himself settled in the northeast when Foxwoods opened its card room in the 1990s, and it was there Adams renewed his interest in the game.
"I lost for the first year-and-a-half or so playing stud," Adams explains. "Finally I figured out a basic strategy that worked against typical casino players and started to win. Then it was not just fun, it was remunerative, and so I just wanted to play more and more."
Jobs with the American Federation of Television and Radio Artists (now SAG-AFTRA) and then the National Education Association required Adams to travel, and while on those work trips and various vacations he found himself seeking out other places to play America's favorite card game.
"Wherever I went, it was my mission to find a poker game," explains Adams, who is quick to point out he considers poker "a part-time job or a serious hobby."
"By 2005, I realized I had played in more than half the states."
It was around then the idea to try to play poker in all 50 states first occurred to Adams, a pursuit made more than a little bit challenging due to the fact that not every state features legal card rooms. But by employing the same ingenuity that helped him learn how to be a winning player, Adams discovered ways to overcome such obstacles.
"The most fun I've had is playing in home games, which I've probably done in 20 states or more," Adams explains. Especially during the 1990s and early 2000s, he notes that if you wanted to play poker outside of Nevada, California, and Washington state, you more likely than not would have to do so in a home game, although today that has changed considerably with more and more public rooms having opened across the country.
As he's shared with us before here at PokerNews, Adams used a variety of means to find games through various social networks, consulting with organizations and groups, researching areas he was visiting, or just asking locals for leads. He's even found a home game by inquiring at a synagogue.
"Poker is a common language, so to speak," says Adams. "It gives you a kind of currency that is good in any place."
Being a social game, poker also well serves a tourist who wants to get to know more about the people and culture of places he is visiting.
"In some places, the games are influenced a lot by the locale. It's not always the case, but when it happens that can be very enjoyable," says Adams.
"For example, in North Dakota I once found myself at a table full of North Dakotans talking about North Dakota things. One of the guys was a farmer who was very prosperous, and he was talking all about his crop. Another guy was the owner of the largest flock of geese outside of China, I believe — something like 900,000 geese — and he explained all about the various products that come from geese like the shells, the feathers, the down, the meat, and so on. So I got a little lesson in the culture, learning things I'd never have known about otherwise."
In Oklahoma, Adams met more farmers, as well as people from the oil industry and Native Americans sharing stories about life on the reservations. In Alabama he played in a home game situated in the middle of the woods — literally "off the beaten path." And he made it up to Alaska, too, where he reunited with a poker-playing acquaintance who had opened a bed-and-breakfast in Fairbanks — with a poker room conveniently attached.
"I have found something to love about every single poker room or home game I've ever visited," says Adams. "There's always something unique about even the dinkiest little card rooms. All of those little rooms in California, for instance — the Delta, the Cameo Club, the Comstock Card Room, the Lodi, the 99, the Napa Valley — there's something in all of them that makes them special. You know, like a 25-cent hot dog night, or you get an additional 10% added to the pot sometimes, or there's a beautiful view from the tables."
When asked further about regional differences, Adams explained how things have changed somewhat in that regard over recent years, with the televised poker "boom" having served to smooth out some of the more conspicuous distinctions between games from state to state.
"In a lot of places — no matter where I am — the focus today is so much on the poker," says Adams. "The game is much more homogenized now. You could pretty much pick up the room from New Mexico and transport it to Bangor, Maine, and it would be the same. The conversation is, 'Hey, I can't believe you played two pair like that' or the focus is on the rake or other things having to do with game play that apply no matter where the poker room is."
"It's kind of like what's happened to dialect with the migration of Americans all over the map," he continues. "Even a lot of home games are starting to resemble what you find in typical public poker rooms, because people's experiences come from the public poker room and that's what they want instead of all the wonderful quirks and idiosyncracies and regionalisms."
Having played in all 50 states, then, which does Adams list among his favorites?
"That's a hard question to answer, because it's a little like picking a favorite child. That said, I love Foxwoods where I play regularly. It's big, it's got a lot of game selection, I know a lot of the people, and I'm sort of a mini-celebrity there which is kind of cool," he chuckles.
"I also now love playing in the state of Oregon, because Oregon has legalized poker clubs and has made raking illegal," says Adams. "There are all these places to play in Portland, Eugene, Salem, and elsewhere that are not poker rooms per se, but "social poker clubs" that don't rake a pot. Some rooms charge you like $5 or $10 to be a member of the club and enter the room for the night, and some don't even do that."
"And I'll also list Wyoming as a state where I love to play, kind of for the same reason as Oregon. In Wyoming it is legal to play and it's illegal to rake, so they have rake-free games in Cheyenne and Gillette and I'm sure in other places as well."
Now that there are no more states left to be crossed off his list, the question has to be asked. Where does Adams go from here?
"The truth is it has taken a little bit of steam out of my interest to play in other places," Adams admits. "Although there are lots of other places — other countries, a few provinces in Canada I haven't been to, places in the Caribbean — where I'd still like to play."
"My next step, though, is to write a book — 'The 50 States of Poker' — and share all of the stories I've gathered."
Having had the patience and determination to realize the remarkable achievement of playing in every state, we think the odds are good Adams will be able to focus his energy on his next big goal of writing about his adventure. And we look forward to reading more about his amazing poker pilgrimage when he does.
Want to stay atop all the latest in the poker world? If so, make sure to get PokerNews updates on your social media outlets. Follow us on Twitter and find us on both Facebook and Google+!