Report: IRS Scores Nearly $8.5 Million from 2015 WSOP Main Event Final Table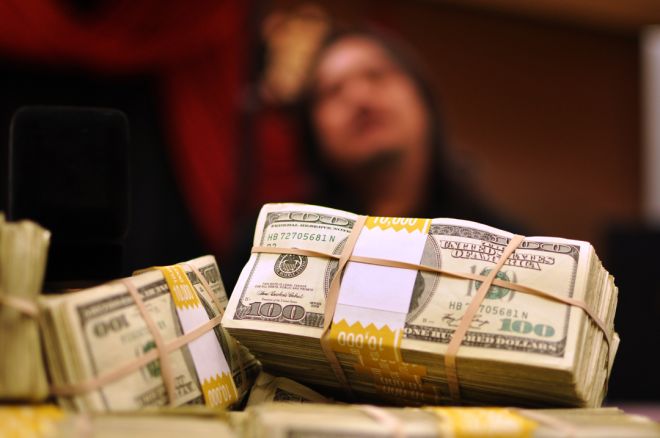 By now, everyone is very much aware of the mammoth victory earned by Joe McKeehen for topping the 2015 World Series of Poker Main Event. It was a dominating performance by McKeehen, and one that saw him earn $7,683,346 in first-place prize money. What everyone may not be aware of is who the real winner coming out of the final table was — the Internal Revenue Service (IRS).
According to a report published by Russ Fox on taxabletalk.com, the IRS walked away with $8,467,091 in its pockets. With $24,806,976 in prize money awarded to the November Nine, the money the IRS took amounted to 34.13 percent.
Fox wrote in his report that McKeehen will "owe self-employment tax along with his federal income tax ($3,073,240), Pennsylvania state income tax ($235,879), and the local township (North Wales Boro) earned income tax ($76,833), a total of $3,385,952 (44.07 percent). He'll get to keep an estimated $4,297,394 of his winnings."
Fox estimated that Josh Beckley and Neil Blumenfield, the two players to advance to the third day of the final table, will be subject to high tax rates because they are from New Jersey and California, respectively. On the other end, Fox estimated that Max Steinberg, the fourth-place finisher from Nevada, will face the lowest tax rate.
Let's see how the entire final table fared based on Fox's estimations:
| Place | Player | Prize Before Tax | Prize After Tax |
| --- | --- | --- | --- |
| 1 | Joe McKeehen | $7,683,346 | $4,297,394 |
| 2 | Josh Beckley | $4,470,896 | $2,389,177 |
| 3 | Neil Blumenfield | $3,398,298 | $1,805,764 |
| 4 | Max Steinberg | $2,615,361 | $1,543,306 |
| 5 | Ofer Zvi Stern | $1,911,423 | $1,011,317 |
| 6 | Thomas Cannuli | $1,426,283 | $785,996 |
| 7 | Pierre Neuville | $1,203,293 | $1,203,293 |
| 8 | Federico Butteroni | $1,097,056 | $571,566 |
| 9 | Patrick Chan | $1,001,020 | $545,614 |
As you can see, every member of the 2015 November Nine should lose money due to taxes, except for Pierre Neuville. The 72-year-old Belgian will benefit from the US-Belgium Tax Treaty that exempts gambling winnings from being taxed in the US.
"The US-Belgium Tax Treaty exempts gambling winnings from US taxation, so Mr. Neuville owes nothing to the IRS," Fox wrote. "Belgium doesn't tax gambling winnings of amateur gamblers, so he owes nothing to Belgium."
Last year, the IRS earned considerably less from the final table. Of the $28,485,673 awarded to the final nine, the IRS' take was estimated at $2,869,698 by Fox. That's just a blip over 10 percent.
Fox also estimated that the 2014 winner, Martin Jacobson, who earned the $10,000,000 guaranteed first-place prize, suffered no tax loss. In fact, the top three finishers should have suffered no tax losses because they resided in London. Although the trio are not necessarily from London, citizens of the European Union are allowed to move to other countries within the Union, so long as they adhere to the country's tax laws. To the benefit of the players, the UK does not tax gambling income.
Going back and taking a look at Fox's report from 2013, the numbers align closer to this year, with the IRS snatching up $8,626,311 of the $25,932,167 awarded at the WSOP Main Event final table — good for 33.26 percent.
For more information, you can read the full reports from Fox at taxabletalk.com.
Want to stay atop all the latest in the poker world? If so, make sure to get PokerNews updates on your social media outlets. Follow us on Twitter and find us on both Facebook and Google+!