PokerNews Staff Predictions for the 2015 World Series of Poker November Nine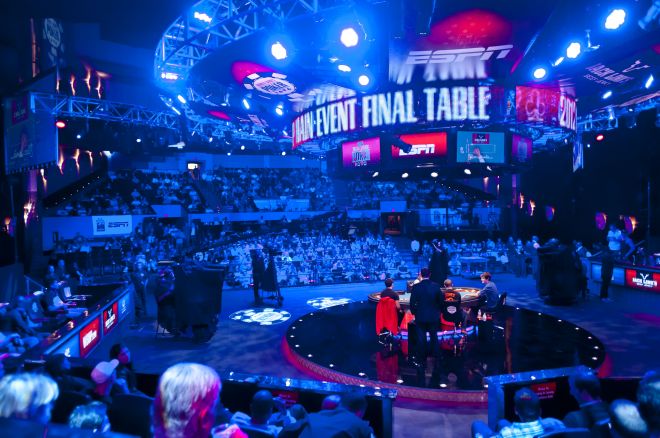 The 2015 World Series of Poker Main Event final table takes place tomorrow. On Sunday, Nov. 8, 2015, the final nine participants from a starting field of 6,420 players will compete for the biggest prize in all of poker and the ultimate golden place in the history of the game. Nearly $7.7 million will be awarded to the winner, plus the $250,000 championship gold bracelet and poker immortality.
Starting at 5 p.m. local time inside the Penn & Teller Theater at the Rio All-Suite Hotel & Casino in Las Vegas, Nevada, Joe McKeehen will take his massive chip lead into battle against eight other tough competitors. Guaranteed just over $1 million in prize money, it'll all be on the line once the first hand is dealt.
Thirty minutes after the cards are in the air, delayed coverage will be shown on ESPN, starting at 5:30 p.m.
PokerNews staff and contributors have come together to predict the final table. Those participating were asked 10 questions, and here's what they had to say:
1. What do you think is the best storyline at the final table that the audience should pay attention to?
Donnie Peters, Editor-in-Chief: For me, it's without a doubt the story of Pierre Neuville, who is the oldest member of the final table at 72 years of age. In a game that sees increasingly younger talent rise to the top, Neuville looks to be defying the odds. If you ask him, he's never felt younger, thanks large in part to all of the dedication he's given to his health.
Neuville is also an extremely friendly, likable gentleman, who wasn't always able to play poker because of his profession. After he left his job, Neuville was allowed to pursue his dream of playing poker, and he could cap it off in the most grandiose fashion there is by winning the "Granddaddy of Them All."
Chad Holloway, Managing Editor: To me, the best storylines are those of Neuville and Neil Blumenfield. They're the old guys at the final table, and it'll be interesting to see if they can overcome the competition to break the trend of young Main Event winners.
Martin Harris, Strategy Editor: I love that the 72-year-old Neuville made the final table. I had a chance to interview him at EPT Barcelona, and his enthusiasm for the game is utterly infectious. The deeper he gets, the more his story will become the focus of the "Neuvember Nine."
I'll add one other storyline worth keeping in mind when watching — the payouts. Strangely, the pay jumps from 11th to 10th (a difference of $230,119) and 10th to ninth ($244,123) were greater than what the first three jumps will be at the final table. And while everyone left is guaranteed $1 million, the first $2 million-plus winner won't come until the second night when someone finishes fourth. Here are the final table payouts:
| Place | Payout |
| --- | --- |
| 1 | $7,680,021 |
| 2 | $4,469,171 |
| 3 | $3,359,103 |
| 4 | $2,638,558 |
| 5 | $1,910,971 |
| 6 | $1,440,072 |
| 7 | $1,203,193 |
| 8 | $1,097,008 |
| 9 | $1,001,020 |
There's an interesting mix of players at the final table. The "relatively" smaller pay jumps early on will be meaningful to some, less so to others. It will be interesting to see how the small jumps early and huge ones late affect certain players.
Frank Op de Woerd, NL PokerNews Editor: Neuville is by far the oldest player at the table and has a remarkable story to tell. His entire life he dreamed of playing poker, but wasn't able to because of a clause in his contract forbidding him to have anything to do with gambling. At age 65, he retired and went straight to the PokerStars Caribbean Adventure to finally play some cards again. And look at his poker résumé ever since, he's had amazing results.
He might look like the old guy you find in many small-stakes cash games in Vegas check-calling and check-folding, but this Belgian retiree knows how to play like the best and won't be scared to check-raise on a bluff with a straight face.
Lane Anderson, CA PokerNews Editor: The Hasbro retiree with a lifetime interest in a game he couldn't play. It's not just Neuville's age (72) that makes his such a good story, it's his decades-long background in the toys and games industry — an industry poker has become from distant from, but could benefit from a stronger association, I think.
Jason Glatzer, Staff Writer: Whether Joe McKeehen can win the tournament after mounting the biggest lead to start the Main Event final table in recent memory is the story I'm most interested in.
Mo Nuwwarah, Staff Writer: The big storyline is whether McKeehen can maintain his commanding lead and ride that enormous stack to victory and how the other players will adjust to the unusual chip dynamics where one player has a massive lead and everyone else is constantly at risk.
2. Who do you think would make the best poker ambassador if he were to win?
Peters: Again, it's Neuville for me. The man just absolutely loves the game of poker, and I believe he'll do everything in his power to spark that same affection for the game on others. I remember when Neuville talked furiously and enthusiastically about his board game Poker Champ and handed out games to anyone and everyone a couple years ago on the EPT circuit. Knowing how joyful he was about that endeavor, I can only imagine the sparks in his eyes when he's able to stroll around the globe telling people about poker as the world champion.
Holloway: I think the best ambassador would be Max Steinberg. He's polite, put together, and consistently well-dressed. He cares about the game, and I think he'd be willing and able to take on the challenge of not only representing poker, but helping its advancement.
Harris: Hard to say, but I actually think McKeehen would be great. He's friendly at the tables, and a fun follow on Twitter.
"I've read some of his tweets," said Norman Chad during this week's WSOP episodes on ESPN. "McKeehen has a little playful devil in him."
In any case, he'd certainly continue playing (I think), which is something of a requisite for anyone thrust into the "ambassador" role.
Op de Woerd: Steinberg knows how to wear a suit and is well-spoken. He already has a bracelet and lots of experience, so he might look like the obvious choice. However, I do think that a player like that isn't going to be of much interest to lots of people. Martin Jacobson was the perfect player to win last year; already lots of experience, calm, collected, well-spoken... But the world has already seen many of such champions. I wouldn't invite him to my show if I were a talk show host, for example.
A player like Neuville (here I go again) with his age and interesting life story might be a better headline. He's played golf with Kevin Costner and was good friends with Michael Douglas, for example. How do you like that for a headline?
Anderson: By default, it has to be one of the three non-Americans. The North American market has plenty of great ambassadors, and one more can't make much difference. Because of his age, his charm, his background, and his recent Lifetime Achievement Award, Neuville stands out from what we're accustomed to seeing on this stage. He'd be a great ambassador for the game.
Glatzer: Steinberg would be the best poker ambassador in the US, due to his great composure and his willingness to dress up when on the big stage.
Federico Butteroni, however, would prove that anyone can win the Main Event, and I believe not only will he be a great poker ambassador to his home country of Italy, but also do a great job representing poker around the world. Plus, an epic comeback would create waves in the poker world.
Nuwwarah: Neuville has the attitude, the personality, and the backstory to represent the game in a positive way.
3. Who will be the first player eliminated and why?
Peters: I'm going to go with Thomas Cannuli, even though he'll enter the final table sixth in chips out of the final nine. I'm selecting Cannuli because I think he'll play the style of poker that will put him at the highest risk early on. For Cannuli, I think it's going to be guns blazing from the start, and that's going to result in his early demise.
Holloway: I think the first player eliminated will be Patrick Chan. He's a solid player and knows he needs to make moves sooner than later. I expect he'll come in firing in the hopes of running up a big stack, but there's a lot of risk involved in that.
Harris: I'll say Chan, just guessing he loses a flip with his short stack.
Op de Woerd: Butteroni. He's the shortest stack and he asked Phil Hellmuth to be his coach. If that was just for the publicity, then I can only applaud his wit, but if he really thought Hellmuth could teach him the best (short stack) strategy, I don't have high hopes for him.
Anderson: Chan. I'm just playing the numbers and I think he'll be more willing to take risks for a double up than Butteroni will be with his equally short stack. He'll get it in ahead and lose to one of the big stacks.
Glatzer: I believe Chan will be the first player out. With Chan and Butteroni both as the lowest stacks heading into the November Nine, it was just a toss up between the two. I wouldn't be surprised if both players also doubled early and were immediately in the mix with the rest of the pack outside of McKeehen.
Nuwwarah: Chan seems like the obvious candidate as he's essentially tied with Butteroni at the bottom of the counts, but Butteroni seemed like he was playing it pretty snug as the tournament wound down in July. Also, McKeehen is on his immediate right, so he'll probably have some good shoving spots that will put him at risk.
4. Who will win, and what is the main reason you believe this player will win?
Peters: While I said on Episode $342 of the PokerNews Podcast, in which Rich Ryan and I previewed that November Nine, that McKeehen would win a large majority of the time given his chip stack, I'm going to say this isn't one of those times. I'm all aboard the train to Belgium and think Neuville comes out on top.
Holloway: After watching the lead-up episodes on ESPN, not to mention seeing some of the players live in action, I think McKeehen will take it down. He's got a massive chip lead, he's a talented player, and he just took down the Wynn Fall Classic Main Event, which clearly shows he hasn't lost his touch.
Harris: McKeehen. Hardly a bold prediction, given his big chip lead and obvious talent, but I feel a little like I've seen this play out once before, having covered McKeehen's win in a World Series of Poker Circuit event at Caesars Atlantic City back in March 2013.
There, he similarly built a big stack on the penultimate day to carry a big chip lead to the final day, and as I recall never was threatened very much as he cruised to victory. At the time, that was McKeehen's biggest tournament score ($174,147). Since then, he's picked up several more wins and final tables, including a runner-up in the $1,500 No-Limit Hold'em "Monster Stack" at the 2014 WSOP that earned him $820,863. He also just won the Wynn Fall Classic Main Event as a "warm up."
By the way, for those wagering — a year ago I did pick Martin Jacobson to win (despite his starting the final table eighth in chips).
Op de Woerd: McKeehen. He's got the commanding chip lead, we could see him boss people around, and we know he's fundamentally strong. There's still lots of variance in a final table like this, of course, but he has by far the best shot at the title.
Anderson: I'm taking an underdog on this. I think Cannuli is going to be the best-prepared player when the November Nine begins. His circle of supporters include a bunch of the game's very best players. Plus, I like his cash-game experience for an edge on this table.
Glatzer: It would be hard to predict anyone outside of McKeehen to win the Main Event with his huge chip lead. I see him battling it out GI Joe style and never once relinquishing his chip lead throughout the final table. He has already proven he knows how to put pressure on players, and although the payout structure is flatter than last year, the jumps are still substantial enough where players will need to think twice before playing back at him.
Nuwwarah: It would be hard for a betting man to fade McKeehen. He has the chips, he has the game, and he has the experience. Still, chip leaders have faltered in recent years, so I expect McKeehen to have to work for it.
5. What will be the finishing order for the final table?
| Place | Peters | Holloway | Harris | Op de Woerd |
| --- | --- | --- | --- | --- |
| 1 | P. Neuville | J. McKeehen | J. McKeehen | J. McKeehen |
| 2 | J. McKeehen | T. Cannuli | M. Steinberg | O. Stern |
| 3 | M. Steinberg | M. Steinberg | P. Neuville | N. Blumenfield |
| 4 | O. Stern | P. Neuville | J. Beckley | P. Neuville |
| 5 | J. Beckley | O. Stern | T. Cannuli | M. Steinberg |
| 6 | N. Blumenfield | J. Beckley | F. Butteroni | T. Cannuli |
| 7 | F. Butteroni | N. Blumenfield | O. Stern | J. Beckley |
| 8 | P. Chan | F. Butteroni | N. Blumenfield | P. Chan |
| 9 | T. Cannuli | P. Chan | P. Chan | F. Butteroni |
| | | | | |
| | Anderson | Glatzer | Nuwwarah | |
| 1 | T. Cannuli | J. McKeehen | J. McKeehen | |
| 2 | M. Steinberg | N. Blumenfield | M. Steinberg | |
| 3 | J. McKeehen | O. Stern | P. Neuville | |
| 4 | O. Stern | M. Steinberg | T. Cannuli | |
| 5 | P. Neuville | P. Neuville | J. Beckley | |
| 6 | F. Butteroni | F. Butteroni | N. Blumenfield | |
| 7 | N. Blumenfield | T. Cannuli | F. Butteroni | |
| 8 | J. Beckley | J. Beckley | O. Stern | |
| 9 | P. Chan | P. Chan | P. Chan | |
6. Who will have the best rail?
Peters: It has to be Cannuli, right? With the likes of Antonio Esfandiari, Jeff Gross, Sorel Mizzi, and Brian Rast in his corner, I can only imagine they all share a similar group of friends that will lend itself to a strong, and notable, crowd of supporters.
Holloway: Cannuli. A lot of big name pros have a piece of him — I've also heard Olympian Michael Phelps has a piece — so rest assured they'll be out in force with beers in hand.
Harris: During the ESPN coverage, we saw Cannuli had Esfandiari, Gross, and Rast supporting him. If those guys are back, they may rally together a raucous bunch.
Op de Woerd: Steinberg if you look at poker wisdom I imagine, though I must admit I'm not really in the loop who everyone sold action to and who knows who from the November Nine. There's always a player that goes all out with his rail, cheering like crazy, like Bruno Politano last year. Not sure who that's going to be this year, but let's hope the atmosphere will be as great as last year.
Anderson: Cannuli. Are you kidding? A Jersey boy? For sure Cannuli.
Glatzer: I feel McKeehen's rail will be off the wall as he already has a chip lead with many hardcore fans in the poker world. However, if Steinberg is able to get some momentum, his rail could prove to be as strong.
Nuwwarah: I don't know how much of a sweat they will get since their player comes in with the shortest stack, but I'll go with Butteroni. The foreigners usually show out.
7. Who will be the most active player at the final table; who will be the tightest?
Peters: I'm going with Cannuli as the most active, although if my prediction turns out to be correct, he won't be the most active for too long, as I have him as the first player to be eliminated. After be busts, McKeehen should pick up the aggression, but I think it will be Neuville as the most active player at the end of it all. I have the Belgian winning, and in order to do so he's going to need to accumulate some chips and get very active. I don't think he'll be one to shy away from that.
As for the tightest, it's going to be Butteroni. He already showed his patient colors on Day 7, and I expect much more of the same as he hopes to ladder up the pay scale.
Holloway: McKeehen will be the most active. He has a huge chip lead and he knows how to use it. If it's either folded or checked to him, expect him to bet. On the flip side, I think Neuville will be the tightest. He's not afraid to make moves, but he chooses his spots carefully. I expect this to be doubly true at the most important final table of his life.
Harris: McKeehen will be the most active, especially at the start. Going off what we saw on ESPN, Blumenfield seems a likely candidate to be the tightest.
Op de Woerd: Most active I imagine will be McKeehen. He's already shown doing exactly that in the last stage back in July, and has the chips to put the pressure on everyone. The tightest might be Neuville. I know I said he can check-raise like the best, but I'm afraid he'll be a little bit too intimidated by the spotlights and a bit too aware of what's at stake and the fact everyone he knows is watching.
Anderson: The most active is going to be the man with all the chips, McKeehen. I don't know if it's the right strategy, but it's definitely a lot easier to get involved in plenty of pots when you have that big of a stack to play with. An aggressive approach has been working for him so far.
Butteroni is going to be playing a tight game and picking only the best spots to move up the ranks.
Glatzer: McKeehen should easily be the most active player with his chip lead and players wishing to move up position for pay jumps.
If Butteroni indeed received poker coaching from Hellmuth as was planned, I would expect him to be the tightest. Despite this, I am going out on a limb thinking he will not be one of the first three knocked out of the tournament.
Nuwwarah: McKeehen is the obvious choice for the most active, but things could change early on if he finds the table playing back at him with more vigor than he expects. If you take Cannuli at his word that he isn't coming in and playing to ladder up, he's another good candidate.
As for the tightest, I could see Blumenfield opening up with a pretty snug game. McKeehen will open a lot of pots in front of him, and the short stacks on his immediate right will be looking to shove and reshove.
8. How many hands will it take to complete the final table?
Peters: Not going to give you any rhyme or reason here, just going to guess 264.
Holloway: I have a feeling that this final table will be a quick affair, at least compared to recent WSOP Main Event final tables. I'll say it's all over by Hand #183.
Harris: If you're trying to guess the answers to this question and the next, here's what has happened at WSOP Main Event final tables since 2007:
I'll say 246 total hands this time — on the short side, compared to recent years.
Op de Woerd: There's so much variance involved in this kind of stuff, that I really couldn't tell you. I was wondering if there would be some sort of linear relationship between the percentage of chips for the chip leader at start of play, compared to the amount of hands a final table takes. As one might expect, on such a small sample size there isn't really one:
| Year | Entries | Chip in Play | Hands at FT | Starting Leader | Starting Chips | % of Chips in Play | Champion |
| --- | --- | --- | --- | --- | --- | --- | --- |
| 2007 | 6,358 | 127,415,000 | 205 | Philip Hilm | 22,070,000 | 17.32% | Jerry Yang |
| 2008 | 6,844 | 136,880,000 | 274 | Dennis Phillips | 26,295,000 | 19.21% | Peter Eastgate |
| 2009 | 6,494 | 194,820,000 | 364 | Darvin Moon | 58,930,000 | 30.25% | Joe Cada |
| 2010 | 7,319 | 219,570,000 | 262 | Jonathan Duhamel | 65,975,000 | 30.05% | Jonathan Duhamel |
| 2011 | 6,865 | 205,950,000 | 301 | Martin Staszko | 40,175,000 | 19.51% | Pius Heinz |
| 2012 | 6,598 | 197,970,000 | 399 | Jesse Sylvia | 43,875,000 | 22.16% | Greg Merson |
| 2013 | 6,352 | 190,675,000 | 261 | JC Tran | 38,000,000 | 19.93% | Ryan Riess |
| 2014 | 6,683 | 200,490,000 | 328 | Jorryt van Hoof | 38,375,000 | 19.14% | Martin Jacobson |
| 2015 | 6,420 | 192,600,000 | | Joe McKeehen | 63,100,000 | 32.76% | --TBD-- |
There's been twice in recent years that the chip leader had more than 30 percent of chips. The first time was when Darvin Moon brought 30.2 percent of the chips in play to the finale table and it took 364 hands. The second time was when Jonathan Duhamel brought 30 percent of chips in play and it took just 262 hands.
I think with the chip lead in the hands of McKeehen this year, it should be more comparable to Duhamel's final table than to Moon's showing. We really should look at the big blinds in play and take much larger sample, but for now I'll just go with 262 hands.
Anderson: This is mostly a shot in the dark, but the top-heavy chip counts should shorten it a bit. Let's say 207.
Glatzer: I predict the final table will be quicker than last year with McKeehen with such a huge lead and the payout structure being flatter. I predict the final table will least 215 hands, the lowest since 2007.
Nuwwarah: 341. Because, why not?
9. How many hands of heads-up play will there be?
Peters: Let's say 54 hands of heads-up play.
Holloway: I'll say there will be 33 hands of heads-up play. There's no rhyme nor reason to that number, just a pure guess.
Harris: I have McKeehen and Steinberg as my final two, and unless one is super short, I wouldn't expect either to be in a big hurry. I'll say 68 hands.
Op de Woerd: None. McKeehen knocks out three people at once (Neuville open shoves the
, McKeehen flats with the
, Blumenfield re-shoves with the
, Ofer Zvi Stern shoves with the
, and McKeehen calls. The board will come
and McKeehen will take it all down! There will be no third day of play and ESPN immediately cancels the WSOP for the upcoming years because a breach of contract by Caesars. Jack Effel tries to convince the players that it was a misdeal, but McKeehen was already taking a champagne shower, so the continuity would be off and he was declared the official champion anyway.
Anderson: Once McKeehen is eliminated in third, Steinberg will have a bit of a chip lead over Cannuli, but a quick double up will put Cannuli ahead and give him the win not long after. I'll say 19 hands.
Glatzer: Right now this is a huge guess, as if someone outside of McKeehen is able to amass some chips, it could be a long heads-up battle. I am going to assume that McKeehen will go into heads-up play with a huge advantage and it will be over relatively quickly in 25 hands.
Nuwwarah: 44.
10. What is your bold prediction for this year's final table?
Peters: A supporter of one of the November Niners will have had a little bit too much to drink and vomit on the feature table stage.
Holloway: My bold prediction for the final table is that Cannuli will put in a performance akin to Jacobson, where he works his short stack up through a series of well-timed shoves. I think the kid has a lot of talent, and I expect him to put it on display for our viewing pleasure.
Harris: On the final hand, the winning hand will be the
.
Op de Woerd: See No. 9.
Anderson: Someone in the audience will be holding a sign that says "Wish you were here, Kid Poker." They'll be wearing a shirt, sweater, or hat with a red maple leaf or "Canada" written on it.
Glatzer: This year's Main Event final table seems different than recent years, where I feel it is hard to go out on a limb to predict a winner outside of the chip leader. Butteroni finishing in sixth place isn't too difficult to picture if he doubles up right away. Just to tap into my bold side, I will predict that two people on the final table get knocked out by pocket deuces, both times holding over pairs.
Nuwwarah: McKeehen will lose his chip lead with four or more players left and fall under 30 big blinds, but come back to win anyway.
Want to stay atop all the latest in the poker world? If so, make sure to get PokerNews updates on your social media outlets. Follow us on Twitter and find us on both Facebook and Google+!