Antonio Esfandiari to Donate $50,000 from Lunge Prop Bet to Charity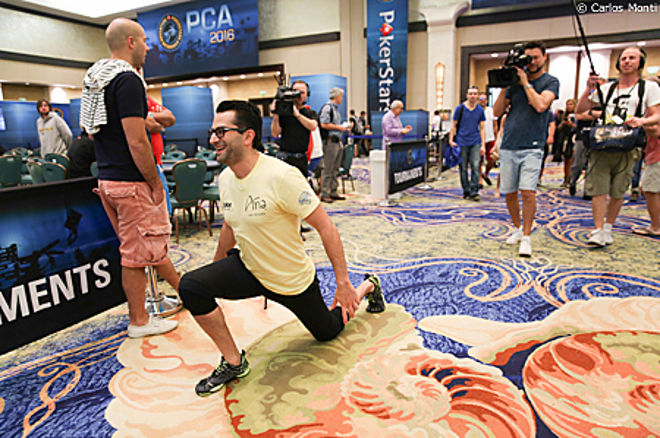 On Day 2 of the 2016 PokerStars Caribbean Adventure, an unprecedented disqualification occurred, one involving famed poker pro Antonio Esfandiari.
In a decision tied to a prop bet with Bill Perkins that required him to lunge everywhere he went for 48 hours, Esfandiari admitted to urinating in a container at the table during a break, a decision that stemmed from his inability to move due to muscle exhaustion.
He said that all of the lunging made it extremely painful to move, but believed he took things too far and that it was a lack of judgment on his behalf. At the time of the disqualification, which was attributed to a "breach of etiquette" at the table, Esfandiari had about 115,000 in chips.
I am embarrassed of the actions I took to win that bet.
His antics were met with a mix of amusement, disbelief, and disgust among the poker community, and almost immediately Esfandiari was accepting and apologetic for his actions, which you can see in his video interview with PokerNews at the end of this article.
Now, in an exclusive statement released to PokerNews, Esfandiari not only expresses his remorse, but also reveals he will be donating the entire $50,000 he won to charity. Here is Esfandiari's statement in full:
It makes me quite sad to write this. All the things you have heard are all true. I can sit here and try to explain and justify but at the end of the day my actions were completely unacceptable. What's done is done. All I can do is learn from my mistakes and grow from them. I have apologized to anyone and everyone who may have been affected and will continue to do so.
This happened because of a big prop bet I had with my buddy, Bill Perkins, that mandated I lunge everywhere for two days. I cannot explain the pain I felt in my legs. I did what I thought was the best play at the time. Looking back now I realize it was a terrible judgment call on my behalf. I am a new father now, and this is not the kind of example I want to set for my son.
I am embarrassed of the actions I took to win that bet. On paper I won, but in life I lost. No matter how much one loves a prop bet there is a limit to how far you should go, and in this case I failed.
Getting disqualified from the tournament is not something I contest. I believe PokerStars made the right call. I would do the same in their position. Knowing that I let people down is what hurts. Sometimes we as humans get caught up in the moment. I let this bet get the best of me.
I won the prop bet and $50,000, but I lost my way. It was a grueling two days, both emotionally and physically, but that is no excuse.
I have been mulling over how to have some good come from this sorry situation and to this end I have decided to donate the entire amount to charity.
$25,000 is going to One Drop, which provides drinking water to impoverished nations, and the other $25,000 to REG, a charity dedicated to reducing suffering in the world. Both are amazing organizations that I am passionate about. I believe in balance, and my life would not be in balance if I kept this money for myself.
Thank you all for taking the time to read this. Lesson learned.
Antonio Esfandiari
*Lead image courtesy of Carlos Monti/PokerStars.
Want to stay atop all the latest in the poker world? If so, make sure to get PokerNews updates on your social media outlets. Follow us on Twitter and find us on both Facebook and Google+!
Executive Editor US, PokerNews Podcast co-host & 2013 WSOP Bracelet Winner.