Former WSOP Main Event Champion Greg Raymer Sells His 2016 Poker Action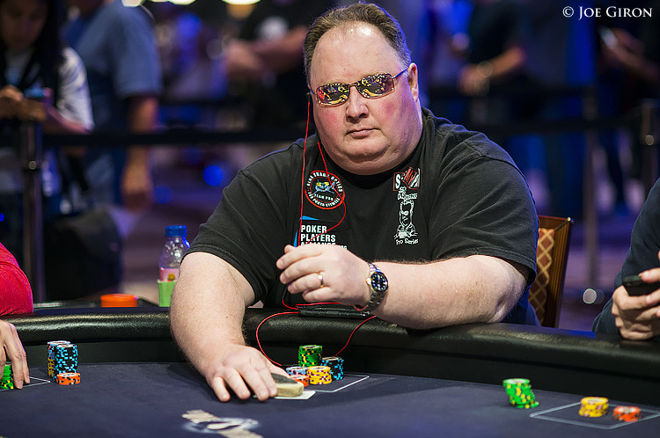 The 2004 World Series of Poker Main Event (WSOP) champion Greg "Fossilman" Raymer sold action to the public on the staking site YouStake for all of his 2016 poker tournaments, sit-and-gos, and ring games.
In total, Raymer attemped to raise at least $100,000 — or $105,000 when including the five-percent fee YouStake charges — of which Raymer himself is putting up $20,000 of his own money. He sold $64,680 of this amount by the time action was closed on Jan. 19, 2016.
Profit splits are 60 percent to the backers and 40 percent to the player. Raymer defends the larger-than-normal split due to this not being for just one event and it being for all his action throughout the year provided he doesn't bust the stake. He points out the heavy volume he played in previous years as an example of how much volume he plans to put in during 2016.
"In the last few years I have competed in about 75-100 different MTTs per year, as well as a dozen or so super-satellites, 2-3 dozen one-table satellites, and 2-3 dozen cash game sessions per year," Raymer states in notes describing the package on YouStake.
Raymer points out that his mix this year might be different since he is seeking a sponsorship with a casino whereby he would then play more ring game sessions. He still plans to play in many events during the World Series of Poker this summer regardless of whether or not he becomes a casino ambassador.
"I am talking to a few poker rooms around the country about relocating to live nearby, and being their full-time ambassador," Raymer explains. "If this happens, I will likely travel a bit less, and my schedule will consist of somewhat fewer MTTs of the WSOP-C/HPT/MSPT variety, more of the local daily tournaments wherever I end up, and a LOT more cash game sessions. I would still expect to spend all of the summer at the WSOP in Las Vegas, and to compete in 20-25 bracelet events."
Regardless of whether Raymer is sponsored by a local casino or not, it does appear he plans to put in some heavy volume. Raymer admits that this doesn't guarantee he will win, but does feel this offsets variance to some degree.
"While this is not (anywhere near) enough volume to guarantee a result consistent with long-term expectation, it is going to result in much less variance than the typical one-event or small package deals," says Raymer.
Raymer also justifies the profit split by stating he is not going to charge the stake with any expenses he incurs. As most poker players know, flights, hotels, meals, and entertainment all add up quickly when traveling to other venues away from home.
"The non-payment of expenses out of the bankroll is also part of the reason I have set the player share to 40%," Raymer explains. "As it is now, investors will be able to participate in tournaments and cash games played around the country at no extra expense above the buy-in."
Raymer plans to play only in events that are within his bankroll stating that, "This bankroll will be managed sensibly, but not in accordance with any exact rules. I will not play in larger buy-in cash games or tournaments if the bankroll is not large enough to justify doing so."
However, no matter what happens, investors will have a piece of Raymer in many WSOP games including the Main Event.
"Having said that, we will play in the $10K WSOP Main Event regardless of the size of the bankroll at the time," Raymer says. "And we will always play in games with buyins up to $2K, again no matter the size of the bankroll. However, unless the bankroll is sufficiently large at the time, we will not play in games with higher buy-ins."
Raymer discloses that he might play in some games outside the bankroll, but he would only put onto the stake a piece of the action selling the rest to outside investors. Additionally, any mark-up he charges for this will be given to the stake and not line his pockets.
"If there is a game with a higher buy-in that I wish to play, and the bankroll is not large enough to sensibly do so, I may choose to sell pieces in that event on behalf of the bankroll," Raymer explains.
If you are wondering why Raymer is selling action to begin with after winning $5 million in the 2004 WSOP Main Event, it is to offset variance and make his wife happy. Additionally, Raymer is no longer receiving a fixed income as a sponsored pro as he once was for PokerStars, and he sold more than half of his action the year he won the WSOP Main Event.
"Since I no longer receive a guaranteed source of income, my wife has become more nervous about poker," Raymer elaborates. "Although I have a 23-year track record of winning results in both tournaments and cash games, she is not a poker player, and is worried that I will start losing. And without a paycheck to immediately recoup any losses, she gets anxious. So, to make her happy, I have chosen to sell off a big piece of my bankroll, so that my downside risk is a lot more limited (and my upside potential, but try explaining that to her, lol). Even though this move is costing me EV, it is worth it because it provides marriage EV. Happy wife, happy life!"
More of Raymer's comments about the package and further details regarding it can be found on YouStake.
Want to stay atop all the latest in the poker world? If so, make sure to get PokerNews updates on your social media outlets. Follow us on Twitter and find us on both Facebook and Google+!