Tony Dunst Says Aussie Millions "Was Easier To Play" Having Only 15 Percent of Himself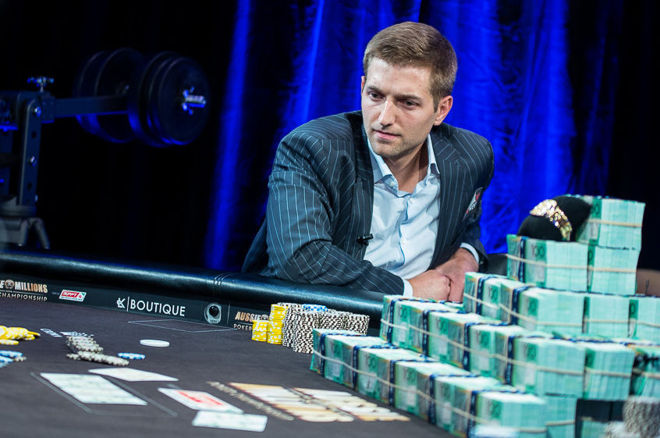 The 2016 Aussie Millions Poker Championship is in the books, with professional poker player Ari Engel taking home the Main Event title to the tune of AU$1.6 million. To earn the title, Engel had to battle his way through a field of 732 players, which included Tony Dunst, the man Engel faced last in heads-up play. Dunst finished second for AU$1 million, and after his win he spoke with PokerNews' Frank Op de Woerd.
"We had a lot of the short stacks bust out at the beginning," Dunst said about the speed of play, which saw the first five eliminations of the final table take 92 hands and then heads-up play take 123. "Both Ari and I, when we were the chip leaders, were kind of forcing the action on the shorter stacks. People just kind of fell out in succession relative to their stacks, and the next thing I knew, Ari and I were heads up."
Dunst entered heads-up play against Engel with the lead, but it wasn't a huge lead and both players had plenty of play with the deep stacks in front of them. Back and forth they went, with the two playing smart, controlled styles of poker.
"Ari played really well, he played tough today," Dunst said. "He was not afraid to play big pots despite the fact that he was gambling for higher stakes than I was. Credit to him."
The difference in stakes that Dunst alluded to was known to many and made the heads-up match a bit more interesting. According to Dunst, he had 15 percent of his own action, and Mike McDonald had the rest. That meant while Engel was playing heads up for an additional AU$600,000 as far as we know, Dunst was only playing for AU$90,000 of his own money. That's a great bump from the AU$150,000 he was already guaranteed (15 percent of AU$1 million), but still considerably less than what Engel had on the line.
"I thought [heads-up play] was easier to play because I know that the stakes were monstrous for him and normal-ish for me," Dunst later added. "I felt that was a nice advantage to have, where he was just under more pressure than me. That's just the reality of it."
The ease Dunst felt was something he said he's used to, as he normally sells action or is backed for the big events he plays in — commonplace for many players on the tournament circuit. Even so, only having 15 perfect of himself was unchartered waters for Dunst, as he couldn't recall a time he was playing for less of his own action.
"I normally play tournaments for about half of myself," Dunst said. "I don't think I've ever had this small of myself in any tournament before. It's just like, we'll just sling the chips in there, f*** it. If any situation was close, I usually called and looked at some cards, and that's how it ended."
For as much credit as he gave Engel, Dunst wasn't playing bad at all. A lot of the pots the two were involved in simply didn't go Dunst's way. He was put in a lot of tough spots, but many times found a correct fold to get away from giving away chips.
When the event is being live streamed like it was on a 30-minute delay with hole cards, the information from prior hands can be relayed to those at the table, so Dunst was able to eventually see that he was making the right folds. That alone can help boost one's confidence after it could take a kick or two to the gut from having to fold so much.
"I found out that the folds had been good, on dinner break or occasionally on my phone," Dunst said. "For the most part, it sounds like I was on the right side of the guessing game today."
As for the live stream itself, Dunst seemed to share a similar sentiment to the one Fabian Quoss had when Op de Woerd spoke to him after his $100,000 Challenge win. In that interview, Quoss said that he thought it was "foolish" to not check your phone during play to gain information from past hands, but he also thought it took away from the entertainment of the final table.
"I would suggest maybe finding a way for the players to hand in their cellphones before they play because I think it would be a little bit more entertaining if not everybody was on their phones constantly," Quoss said. "But I didn't mind. We all had the same information, but I think it would make for a little bit better entertainment if we didn't have that opportunity, and then every break we checked ourselves."
Along the same lines, here's what Dunst had to say.
"I think [playing with hole cards face-up half an hour later] is a little weird," Dunst said. "I don't think it's very good for final tables because you're face-down always checking your phone and you're always trying to assess what someone did relative to 30 minutes ago. It's interesting because you can make all these adjustments, but then you have to think they're going to readjust. Overall, for the spectacle of the final table, it's not great for it but I also understand why we do it. Obviously, I'm someone who does a fair bit of streams myself. I'm not sure whether we let people have their phones at the table on the WPT. I can't really remember, I think you probably can. It's tempting to just stare into your phone. It's one of those realities of 2016 poker."
Checking with the World Poker Tour, players at final tables of their events can't have phones at the table, but friends and family are allowed to hold them. WPT staff will also hold a player's phone if no one else is present to do so.
Want to stay atop all the latest in the poker world? If so, make sure to get PokerNews updates on your social media outlets. Follow us on Twitter and find us on both Facebook and Google+!