Devin Verstraelen Wins Winter Super Stack Main Event; Mike Smith Takes High Roller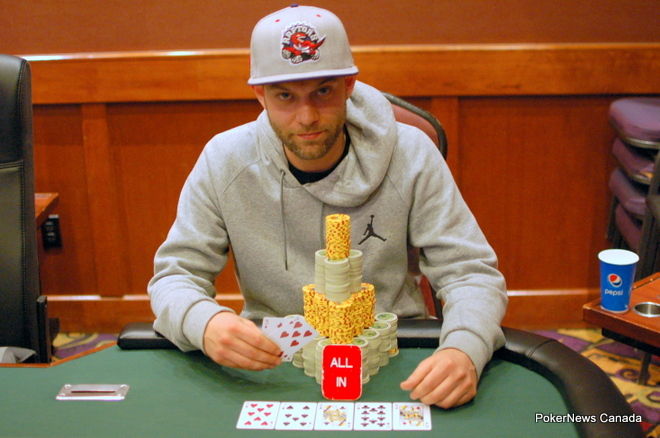 The annual Deerfoot Inn & Casino Winter Super Stack series has come to a close for another year. The final weekend featured the two marquee events of the series: the C$1,500 Main Event and the C$5,000 High Roller.
In a series that was already huge, the three-day Main Event set a record for the most registrations ever in a Main Event at Deerfoot, soaring past the 300 mark to a total of 305 entries. That topped out the prize pool at over C$405,000 which not only crushed the Main Event guarantee of C$200,000 but went on to more than cover the full series guarantee of C$330,000.
With three Day 1 starting flights, the Main Event started off modestly on Friday with Day 1a. By the time registration closed after the dinner break, 62 players had entered. Each Day 1 played a total of 10 one-hour levels and, by the time the first group was finished, just 15 players remained with chips. Phil Sousa and Thomas Taylor led the way as the only stacks over 200,000, but other notables to finish the day with chips included Bo Fric, Kris Steinbach, Scott McMorran, Steve Worr, Devin Verstraelen, and Jordan Cossette.
Day 1b was nearly twice the size of the first day, with 116 players getting their cash to the cage before the end of dinner. Thirty-nine players managed to complete the 10-level day. Chad Winnick sat atop the chip counts with 212,800 and the only player on Day 1b to crack 200,000. Other notables to get through Day 1b were Chris Bowers, Sal Haji, Ryan Smith, Mike Smith, Sheraz Nasir, Giulio Rosati, and James Sikora.
The third Day 1 flight was the biggest, topping out at 127 entries. Even with the extra field size over Day 1b, the same number of players, 39, remained at the end of 10 levels of play on Day 1c. Sol Begren was the player with the most chips at the end of the day with a stack of 275,000. Among those joining Bergren on Day 2 were his brother Robin Bergren as well as Dustin Centanni, Dilovan Hussein, Cindy Kerslake, and Shaun Hegarty.
Day 2 kicked off with 93 players all eager for a piece of the prize pool that topped C$400,000. The money was split 31 ways with C$92,000 posted as the first-place prize. Only a third of the players returning would share in that money, however, so most who came back for the start of Day 2 still went away empty-handed. Players battled through the early levels, whittling down the field, but the money bubble didn't burst until after the dinner break. In dramatic hand-for-hand action at the end of Level 17, Taylor was eliminated on the bubble in a three-way pot while tournament short stack Kory Stephenson survived with a triple-up on another table.
The plan for Day 2 was to decide on the final table, to be played out on Day 3. After nearly 15 grueling hours at the tables, the field was finally down to just nine players remaining. Some of those falling along the way to that final table included Centanni (22nd — C$4,100), Steinbach (14th — C$5,300), Smith (13th — C$5,700), Haji (11th — C$7,100), and the final-table bubble, Ravi Bedi, who collected C$8,150 for 10th place.
Leading the way onto the final table was a familiar face on the Calgary poker scene. With over C$250,000 in career tournament earnings, much of it on Calgary poker tables, it wasn't much of a surprise to find Fric at the top of the chip counts for the final day. Cindy Kerslake finished Day 2 in second spot — the only other player over 1,500,000 chips. With over C$150,000 in career earnings, Kerslake was a serious threat with a big stack. In addition to Fric and Kerslake, the final table included Sikora and Verstraelen, both of whom were very short-stacked, as well as Irish import Shaun Hegarty.
It came down to Hegarty and final table short stack Verstraelen heads-up for the title. After players made a deal three-handed, Fric finished in third for C$56,510. Hegarty, who showed quiet dominance at the table all through the tournament, and Verstraelen, who nursed the smallest stack at the start of the final table into a shot at the title, battled for about half an hour before Verstraelen cracked the Irishman's aces in a huge hand that decided the tournament. With only two wins under his belt in smaller Alberta events, Verstraelen still managed to amass well over C$150,000 in lifetime earnings. As per the deal arranged, Hegarty's second-place finish was worth a total of C$64,192 while Verstraelen pocketed C$71,798 for the win, bringing his lifetime earnings over C$200,000, and giving him his first win in a major Main Event.
Winter Super Stack C$1,500 Main Event Final Table Results
| Finish | Player | Prize |
| --- | --- | --- |
| 1 | Devin Verstraelen | C$71,798 |
| 2 | Shaun Hegarty | C$64,192 |
| 3 | Bo Fric | C$56,510 |
| 4 | Dilovan Hussein | C$32,500 |
| 5 | Rick Mask | C$24,300 |
| 6 | Brian Lee | C$18,500 |
| 7 | Giulio Rosati | C$14,200 |
| 8 | Cindy Kerslake | C$11,200 |
| 9 | James Sikora | C$9,500 |
Mike Smith Takes Down First C$5,000 High Roller
As the early levels of Day 2 of the Main Event were well underway and the start time for the unprecedented C$5,000 High Roller approached, the buzz around the poker room was whether the event would even run. Several players expressing interest were still playing in the Main Event, but firm commitments from payers to sit down at a table were initially hard to come by. With just a couple of confirmed players when the start time arrived, the tournament clock started running, but players opted to sit out, waiting for more entries. After almost a full level of no action, play started three-handed between Allen Butkovic, Davey Singh, and Gerry "Cash" Carter.
Once play began, it didn't take long to get fresh chips at the table. Before the second level was finished, John MacNaughton jumped into the action. Play continued four-handed for a couple levels, but by the time both tournaments were finished their dinner break, it was clear the High Roller would not only run, but be a decent success for such an expensive tournament. Two more entries during the dinner brought play to six-handed and another two before the end of the night brought total entries to eight by the close of play on Monday evening.
Registration remained open for three levels of Day 2, and there was even more action to come to the table. Carter came into Day 2 with the chip lead, but he'd face tough competition from Mike and Ryan Smith, among four new entries to start Day 2. Mike Smith was on a points hunt after finishing 13th in the Main Event, and jumped into the High Roller in hopes of securing the High Point Champion title.
Day 2 of the High Roller proceeded as the final table of the Main Event was playing down on the next table, and as players busted from there, some decided to put some of their Main Event winnings down on the high roller. Kerslake and Sikora both busted from the Main and bought right into the High Roller. By the end of the late registration, a whopping 15 entries were recorded (including two bullets fired by Umang "Ronnie" Dattani), making the first C$5,000 Alberta tournament in recent memory an unqualified success.
Carter, one of the original players to sit down at the start of Day 1, finally succumbed to the younger players in fourth place, leaving Kristof Slaski, Butkovic, and Mike Smith on a huge money bubble.
With third place paying nothing and second paying C$27,400, players started talking about a deal that might see some money cut out of first and second to pay third. Once the numbers were run based on stack sizes, the players were ultimately unable to reach a deal, and play continued three-handed.
It would take another hour of play before players started talking deal again, and with the stacks much closer in size, it was easier to reach an agreement. Butkovic locked up the most money, securing C$23,885, while Mike Smith locked up C$19,205 and Slaski banked C$18,470. The deal left C$6,840 to play for, so players agreed to an extra C$5,000 up top, with second getting an extra C$1,840 and third going home with only the previously banked amount.
After the deal was done, play proceeded quickly. Slaski was quickly the third-place finisher, and Butkovic and Smith got it in on a hand where Butkovic shoved a flopped open-ended straight draw and bricked the final two streets, sending his entire stack, the High Roller title, and the High Point Champion honours to Mike Smith's pair of kings.
Winter Super Stack C$5,000 High Roller Results
| Finish | Player | Prize |
| --- | --- | --- |
| 1 | Mike Smith | C$24,205 |
| 2 | Allen Butkovic | C$25,725 |
| 3 | Kristof Slaski | C$18,470 |
Want to stay atop all the latest in the poker world? If so, make sure to get PokerNews updates on your social media outlets. Follow us on Twitter and find us on both Facebook and Google+!