Betting Fever: March Madness Wagering Reaching New Heights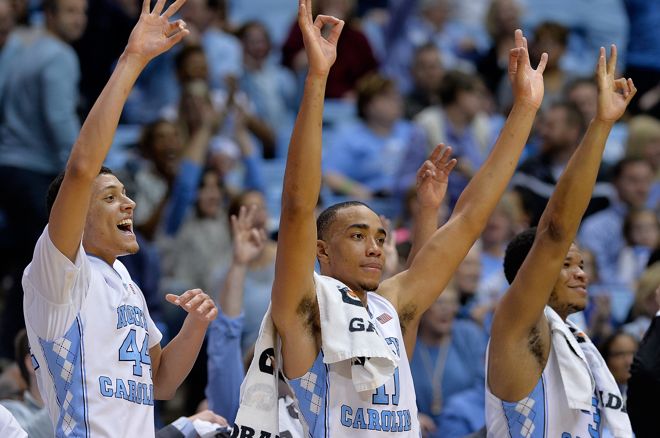 Popular opinion might be that the term March Madness refers to the constant stream of basketball action — and inevitable crazy upsets — that come as a natural part of the NCAA college basketball championship tournament. After all, the 68-team single-elimination tournament is famously unlike anything else in sports, each game a high-stakes affair packed with tension and emotion for those involved.
However, Madness can take on a different meaning, especially these days. For those who love to make a wager or even just gamble it up in an office pool for cheeseburger money, Madness can be a reference to the frenzy of betting action and wild swings of fortune that occur from game-to-game, and even possession-to-possession, in the high-variance tournament.
Americans as a whole are expected to wager $9.2 billion on March Madness this year via a combination of bracket pools and bets through sportsbooks both legal and illegal, according to the American Gaming Association, a nationwide trade group representing the U.S. casino industry. That number continues to climb and is up from $9 billion in 2015.
Even people with zero clue love to get in on the sweat this time of year — 40 million people complete an average of two brackets each at an average cost of $29 per bracket, according to the AGA. I've already gotten requests from my mom and at least one friend to fill out brackets for their office pools. You can hardly find a workplace in America where Joe in the sales department isn't rounding up people's $10 bills along with bracket sheets covered in scrawled team abbreviations — University of North Carolina-Wilmington and Cal-State Bakersfield are tough to fit on there if you're daring enough to pick them.
My hometown, Omaha, Neb., is also the home of billionaire Warren Buffett. Those lucky enough to work for subsidiaries of his mega-conglomerate Berkshire Hathaway get to play in the office pool to end all pools, where a perfect run of picks to the Sweet 16 will be worth $1 million annually for the rest of a person's life. If nobody accomplishes the near-impossible feat, whoever is closest will still earn $100,000.
The rising popularity of March Madness and the betting that comes with it is reflected in media, too. Mainstream outlets like The New York Times and ESPN are running stories referencing and even analyzing the betting lines.
"Americans' passion for betting fuels the unmatched popularity of March Madness," said Geoff Freeman, AGA president and CEO. "Betting increasingly drives sports fans — and even casual observers — to invest in the tournament, offering further evidence that sports betting is the new national pastime."
This year's tournament kicks off Thursday, March 17, with Kansas, Virginia, Oregon, and North Carolina the No. 1 seeds in their respective regions. First-round games are split between Thursday and Friday, with second-round action taking place Saturday and Sunday. After a few days of rest, Sweet 16 competitors square off March 24 with a weekend schedule that mirrors the first week's that will see a Final Four determined. Those teams gather for the last two rounds of the tournament, taking place in Houston this year, to determine a champion crowned on April 4.
Of course, none of this info is news to most visitors to this page, since poker players and betting are as synonymous as eggs and bacon. Walk through any populated poker room in America and you're liable to find players jabbing away at their mobile devices to place bets or feverishly refreshing live scoreboards to track their teams. Some will even fire up streams, passing their screens around the table so others can see a crucial moment.
March Madness takes things to a whole new level due to the sheer volume of games and the local rooting interests. I remember covering a poker tournament in Wisconsin where the tournament floor was separated from the rest of the gaming floor, absent any TVs. For the players, not getting to watch their Badgers in a highly-anticipated Sweet 16 match-up with Oregon simply wasn't an option. Due to overwhelming demand, and not wanting to lose out on any players, tournament staff had TVs wheeled in on stands.
The tournament is well-known for its often crazy finishes. Wild things tend to happen when players used to toiling away in anonymous gyms in front of small crowds are suddenly thrust into the spotlight playing the most pressure-packed basketball of their lives. For bettors though, even the most mundane of endings can be heartrending.
Last year, Duke and Utah faced off in the Sweet 16 with Duke having closed as -5 favorites. In the dying seconds, with players walking off the court and Duke waiting for the clock to expire on a 62-57 win, a Utah player committed a silly foul. Officials cleared the court and marched Duke to the free-throw line, where a player sank one free throw, leaving those holding Utah +5.5 tickets gaping in disbelief.
Experienced tournament bettors know to simply shake their heads and move on to the next one. They don't call it Madness for nothing.
Where to Bet
Las Vegas is the March Madness betting hub in the United States, with thousands of sports bettors flocking to Sin City during the wildest three weeks of sports during the year.
Those in markets where online sports betting is legal can also get involved in the Madness. Dozens of European bookmakers, including PaddyPower, Betfair, 888 Sport and BetClic offer odds on every game throughout the NCAA Tournament. Sign up today and place your wagers all during March!