California Assemblyman Adam Gray: "I Don't Anticipate the $60 Million Figure Changing"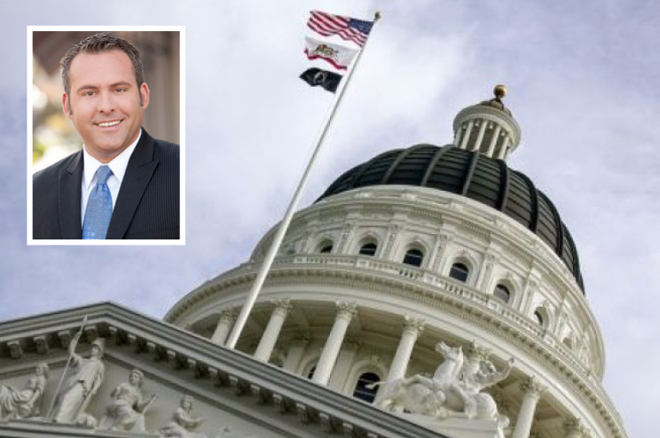 California Assemblyman Adam Gray does not view the proposed $60 million horse racing subsidy in online poker bill AB 2863 as a figure up for negotiation.
In his first interview on the topic since joining Assemblyman Reggie Jones-Sawyer in introducing the state's latest attempt at online poker legislation on Feb. 19, Gray discussed with PokerNews.com how the subsidy figure was arrived upon, why the amount shouldn't be of concern to Indian tribes, the potential for player pooling, and the criminalization of playing on unlicensed sites.
The inclusion of an annual subsidy in exchange for the horse racing industry foregoing its right to operate Internet poker sites was the major development in this bill, sparking new hope for breaking a stalemate between the tribes and tracks that has kept legislation from moving forward.
But while many in the industry speculated that the amount was a starting point for negotiation, Gray clarified that it's issues such as suitability standards and taxes/fees that he intends to be up for debate.
"I don't anticipate the $60 million figure changing," Gray said. "I'm not in the process of negotiating that with anybody and haven't put that on the table as a point of negotiation."
How the $60 Million Figure Was Determined
Gray explained how horse racing's share was determined. It has nothing to do with projections of Internet poker revenue in California, but instead with the finances of the horse racing industry.
To ascertain the subsidy, he started with the 2014 takeout distributions made in the industry according to the Horse Racing Law and added 20 percent to each pot. So the purses of $150 million get an additional $30 million, the track commissions of $126 million get $24 million, and the breeding incentive awards of $10.5 million get $2 million. Add in $1 million for retirement and welfare plans plus $3 million for the California fair industry, and there's the $60 million.
Chris Grove of OnlinePokerReport.com projects online poker revenue in California to be between $178 million and $254 million in its initial year and reach $278 million to $382 million when the market reaches maturity in its fifth year.
At that rate, it would take a dominance of the marketplace to come close to $60 million in profit. It's likely no site would attain that figure.
The number has been well-received by representatives of the horse racing industry, but tribes, while being generally supportive of the bill, have questioned the amount. Dave Palermo of OnlinePokerReport.com quoted two tribal representatives as saying the figure wasn't real world and needed to be rolled back.
Gray indicated that Indian tribes shouldn't be concerned with the subsidy amount for horse racing because it's not coming out of their end.
"The state is going to authorize Internet poker and put fees and taxes on it," Gray said. "How we decide to spend our fees and taxes is nobody's business but the state's. We're compensating horse racing because right now they are the only online gaming in California, and they're giving up that opportunity to be licensed for online poker in California, which will be an expansion of online gaming in the state. It's not a point of discussion on the table regardless of how anyone may feel. If you're operating an online poker site, how we're dealing with the horse racing industry is irrelevant to your operation."
$60 Million Not Guaranteed
He noted that the $60 million is not guaranteed money, but up to the first $60 million of what is generated by license fees and taxes. That would almost certainly be the full $60 million in the first year because of the one-time license fees, but going forward could be substantially less depending on the success of the market.
Gray deemed this money critical to California's horse racing industry to compete nationally, saying more money needs to be put into purses for tracks to contend with those in other states where they can have slot machines. He also clarified that the bill will allow for tracks to participate as marketing affiliates to licensed operators.
The initial draft proposal of AB 2863 had a $15 million licensing fee and 15-percent tax rate on gross gaming revenue, but they were removed from the bill before introduction. The higher the tax rate and fees, the better it would be for the tracks while being worse for the tribes and card rooms who operate sites.
"We did that because folks raised opposition that 15 percent and $15 million are too high," Gray explained. "It seemed reasonable to me as a starting point for negotiations to leave that blank and have a discussion on what is the right number. We'll probably decide that in the Assembly Appropriations Committee. We'll also have to negotiate with my Republican colleagues, who often times have an opinion about taxes."
Shared Liquidity and Playing On Offshore Sites
The bill would allow operators to pool liquidity between licensees in the state, but does not address the possibility of combining player pools with other states in which online poker is regulated — currently New Jersey, Nevada, and Delaware. The latter two states already are sharing players.
Even with California's advantage in liquidity as the most populous state in the nation, Gray sees benefit in having agreements with other states.
"I think ultimately we'll discuss it," Gray said. "Nevada didn't have it in their original legislation, either. We get this bill passed and then we can move on to the issue of increasing market share and player pools, which is a reasonable discussion."
The bill does make it a felony for Californians to play on offshore sites, long a point of contention with the Poker Players Alliance. This doesn't seem necessary as other states with this law on the books haven't enforced it against individuals, offshore sites tend to block individuals in states that regulate online poker, and players won't have to look elsewhere if California operators give them a good product. However, Gray sticks by criminalizing offshore play.
"The legislation takes the carrot and the stick approach," Gray said. "Clearly, if I'm saying we need regulation, then we need to crack down. Part of cracking down is saying this is a felony and we're not going to allow that activity, which will hopefully drive them to a California site. I think both approaches are important."
What's Next for AB 2863?
Gray expects an April hearing for the bill in the Assembly Governmental Organization Committee, which he chairs. He declined to offer any predictions for the bill's chances of passing, other than to say that he was going to put in a 150-percent effort into getting it done this year.
There remains concern regarding the level of urgency felt by Gray's colleagues and the state's gaming interests on moving a bill. Assemblyman Mike Gatto told PokerNews last month that he thought there were people who, if they really wanted a bill passed, would have a more collaborative attitude, and that current legislators don't have the same appreciation for tax revenue that existed in 2010 when the state was in financial crisis.
"You have to take people at their word, and at this point all the different stakeholders have said they are open-minded and willing to move something forward to advance Internet poker in California," Gray said. "I believe it when they say something and hopefully they'll keep their word."
Some previous bills in the state have basically been written by gaming interests. Gray and Jones-Sawyer met with stakeholders to get thoughts on the draft proposal before introduction, but inclusion of the subsidy in the draft was their own move that came as a surprise to the state's gaming industry.
"My perspective is that we ought to offer a regulated, safe entertainment option in California," Gray said. "I'm trying to craft a bill to accomplish that goal, one that's good for California and good for consumers. I'm going to shape my own legislation, and hopefully I can convince everyone to come along with it."
However, Gray insists that it's not about reaching a consensus among California's gaming stakeholders but rather in the state legislature.
"There's 120 people who vote in the California state legislature, and none of those stakeholders have a vote," Gray said. "It's important to take testimony and input from people who do business in that area, but at the end of the day it's really up to the 120 of us. We're trying to negotiate with other members of the legislature, and hopefully we can arrive at a consensus among us."
Get all the latest PokerNews updates on your social media outlets. Follow us on Twitter and find us on both Facebook and Google+!