$57M Stipend to Horse Racing Industry Floated for Online Poker; Tracks Seem Open-Minded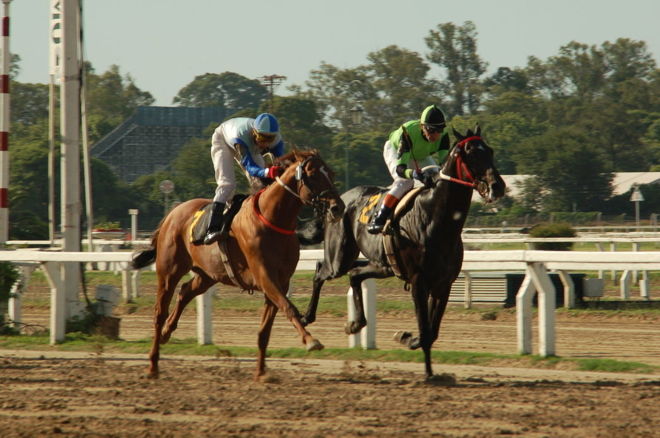 There may yet be hope for ending the long stalemate between California tribes and racetracks on Internet poker. PokerNews.com has received a copy of language Assemblyman Adam Gray has floated to industry stakeholders to fill out his shell bill AB 431 from last year. The new bill may be introduced in the next week, prior to the Feb. 19 deadline for bills to be introduced in 2016.
The major development in this proposed language compared to previous bills in the state is a $57 million annual stipend to the horse racing industry in exchange for acceptance not to be operators. The draft bill states that of the first $60 million collected each year, 95 percent will go into a California Horse Racing Internet Poker Account, which would contribute to purses, commissions, and incentive awards to be disbursed by racing associations or fairs, and pensions for jockeys and parimutuel employees.
The draft bill also allows racetracks to serve as service providers to licensed operators, noting that a horse racing service provider must receive at least 50 percent of the gross gaming revenue it generates for an operator.
Robyn Black, a lobbyist for the California Thoroughbred Breeders Association, commended Gray, who chairs the Assembly Governmental Organization (GO) Committee, for trying to end the eight-year stalemate between the racetracks and tribes, but cautioned that the tribes and tracks have yet to agree to the proposed language.
"We applaud the chairman for recognizing the importance of racing in California," Black said. "I think this is a great place to start a dialogue. I believe what he's trying to do is get everyone back to the table to have a discussion."
Black said that racing hasn't changed its position that it is legally entitled to operate an online poker site, but she also didn't reject the large stipend figure. This is a stark contrast to last June, when horse racing lobbyists quickly and unanimously rejected a general offer of revenue sharing made by Pechanga chairman Mark Macarro at an Assembly GO hearing.
"I'm more optimistic than I have been in the past because I think everyone is really trying to make a sincere effort, and I include in that the tribes," Black said. "That's a positive development. Can we get there? We'll see what happens."
Black expressed that she's not sure if the tribes are amenable to the proposed figure.
"Racing would be interested in what the tribes think," she said. "There is a dollar amount out there and that's great, but the devil is always in the details. I talked to some of the tribes and get mixed responses for it, and that's why I have apprehension to get overly excited about any poker bill passing yet, because the tribes still have to come to a consensus. Until they come to an agreement, it's difficult for us to say this works."
Black noted that she hoped racing interests would be ready to take a position on the bill within a couple weeks of its introduction, if an introduction does occur. One concern is that a forfeiture of rights to be a licensed operator is contained to Internet poker and does not set a precedent for any other form of online gaming.
"We don't know what the next form of gaming can be," Black said. "Nobody foresaw daily fantasy sports becoming what it has become. I don't think racing would ever go along with giving up rights to future games, whatever they may be or look like. It's not just about what the implications are today for racing, but what the implications are 10 years from now. If no one is playing poker and they're playing a new game that racing doesn't have equal access to, that's really a problem."
*Image courtesy of Marcelo Gerpe/FreeImages.com.
Get all the latest PokerNews updates on your social media outlets. Follow us on Twitter and find us on both Facebook and Google+!