Inside Gaming: Trouble at the Taj While Cash-Strapped Atlantic City Faces Shutdown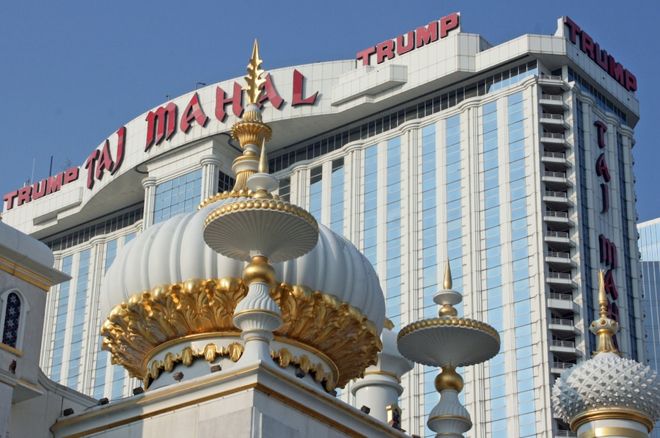 This week's Inside Gaming focuses squarely upon Atlantic City and the continued financial woes affecting the city and its casinos. First covered is a worrisome report by the Trump Taj Mahal's new owner regarding its uncertain future, followed by the announcement that the city will be temporarily shutting down its municipal government in order to avoid running out of cash.
Trump Taj Mahal Future in Doubt Says New Owner Icahn
Despite the name, presidential candidate Donald Trump no longer owns the Trump Taj Mahal in Atlantic City — Carl Icahn does, thanks to the billionaire business magnate and Trump endorser having helped Trump Entertainment Resorts emerge from bankruptcy court protection last month, thereby making the company a subsidiary of his own Icahn Enterprises.
During the months leading up to Icahn's takeover of Trump Entertainment Resorts, Icahn spoke of a plan to invest as much as $100 million to save the failing Trump Taj Mahal from following the path of other Atlantic City properties and closing. Such a bailout would be contigent, however, upon Icahn successfully securing tax breaks from the city and county as well as significant cuts being made to casino workers' compensation. Regarding the latter, prior to Icahn's takeover, an appeals court ruled in favor of Trump Entertainment Resorts to end health and pension benefits to its employees in order to keep its doors open.
However, future plans have been put in limbo thanks largely to another factor emerging to dissuade Icahn from following through on such an investment. Icahn has made clear his opposition to New Jersey legislators' plan to allow for casinos to be built in the northern part of the state, stating earlier this month in a letter to Taj employees that "north Jersey gaming will probably be a death sentence for the Taj and the Atlantic City economy," the Associated Press reports.
"This is the issue that will make or break Atlantic City," Icahn continued. "This is the issue we should all be rallying against."
Meanwhile Taj Mahal employees continue to express displeasure at the previous loss of benefits. On Wednesday union members picketed outside the casino in protest, maintaining that the "previous owners acted with Icahn's knowledge and approval in terminating benefits," something Icahn denies. The demonstration was one of several that have taken place over recent weeks.
"Carl Icahn is responsible for whatever happens at this facility," Bob McDevitt, president of the casino workers' union, told the AP. "Workers demanding what really is their birthright in this industry is not what's going to close the Taj Mahal. What's going to close it is poor management and treating workers horribly."
McDevitt added that the other seven Boardwalk properties "are providing what Icahn took away, and they're doing pretty well."
While the casino remains open, the Trump Taj Mahal poker room — once the second-largest in Atlantic City (behind the Borgata) and immortalized in the 1998 film Rounders — closed in February 2015. Reports then indicated a plan to reopen the poker room last July following remodeling, but that plan did not come to fruition and the poker room has not reopened.
Those following the increasingly heated primary campaigns for the 2016 United States Presidential Election may have noticed Trump frequently evoking Icahn's name in speeches and at debates.
For example, a week-and-a-half ago in a speech given the night of GOP primaries in five states, the current Republican frontrunner again noted how "We've got endorsements from Carl Icahn and the smartest people in business," adding that "these people are going to be negotiating our deals" should he be elected in November.
There has been speculation that Trump would choose Icahn as his Secretary of Treasury should he be elected, with Icahn going back and forth on a couple of occasions last year on whether or not he would accept such a position. Icahn's most recent answer to the idea of joining a Trump cabinet was to say "There's no way I would ever do that," CNN Money reported in November 2015.
Visit the AP for more on increasing friction between Taj employees and their new owner.
Atlantic City To Shut Down Municipal Government Next Month
As alluded to by Icahn, the troubles at the Taj are only part of a larger imbroglio affecting Atlantic City. We were reporting here just two weeks ago a ratings agency's report that the city appeared destined to run out of money and face default by early April. This week came further news regarding the direness of the situation with an announcement by Mayor Don Guardian the city would be shutting down its municipal government at the end of business on Friday, April 8, then reopen Monday, May 2 when new tax payments are due.
Newsworks reports that while police officers, firefighters, revenue department workers, and other public works employees will remain on the job, "nonessential employees will be furloughed without pay" during the three-week stretch. However almost all of the 900 affected employees have stated their intention to come to work anyway and accept IOUs in lieu of payment, reports philly.com.
A request from Guardian to the state for a temporary loan to enable the city to avoid the shutdown was denied by Governor Chris Christie. At a news conference on Tuesday, Christie reaffirmed his decision, stating "I am not going to permit the people of this state to be held responsible and have their pickpockets picked again by Atlantic City."
Christie again stated his support of two bills currently being considered to assuage the problem, one involving the state taking over the city's management entirely and the other allowing casinos to make lump sum payments rather than pay taxes.
At a news conference yesterday, Guardian fired back at Christie, blaming the governor for not agreeing to give the city back $33.5 million in taxes paid by the casinos previously earmarked for the now-dismantled Atlantic City Alliance, a citywide marketing program. Guardian also reiterated his opposition to the bill proposing to allow the state to take over the city's management.
"If we go bankrupt, it's because the governor will drive us into bankruptcy. It will not be an Atlantic City bankruptcy, it will be a Christie bankruptcy," stated Guardian.
Check out both Newsworks and philly.com for more on both the announced shutdown and the positions being staked out by city and state leaders.
Photo: "Trump Taj, AC," jerseygal2009. Creative Commons Attribution-NoDerivs 2.0 Generic.
Want to stay atop all the latest in the poker world? If so, make sure to get PokerNews updates on your social media outlets. Follow us on Twitter and find us on both Facebook and Google+!