Inside Gaming: Three Win Record Powerball; Atlantic City Revenue Down by Half Since Peak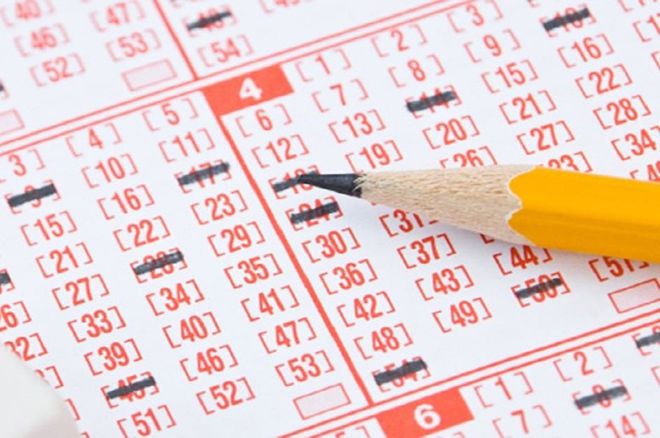 This week Inside Gaming reports on the record-shattering Powerball drawing, reports on a fugitive who ran an offshore sports betting site finally turning himself in, and looks at how far Atlantic City's casino revenue has fallen over the last decade.
Three Winners in Record-Breaking Powerball Drawing
After 20 straight drawings with no winner over two-and-a-half months, there were three winning tickets sold for Wednesday's multi-state Powerball lottery drawing. While the identities of the winners have not been disclosed, the lucky lottery players destined to split a record-breaking $1,586,400,000 jackpot bought their tickets in Chino Hills, California, Munford, Tennessee, and Melbourne Beach, Florida.
First introduced in 1992, the Powerball initially involved 15 states and featured a $2 million jackpot. Today the Powerball is offered in 44 states along with the District of Columbia, Puerto Rico, and the Virgin Islands, with drawings held twice every week. The multi-state lottery is not offered in Alabama, Alaska, Hawaii, Mississippi, Nevada, or Utah.
Currently the jackpot begins at $40 million and increases every time a drawing is held without a winner. This week's nearly $1.6 billion prize shattered the previous record jackpot of $590.5 million won in 2013.
In October 2015 the format of the Powerball was changed in a way that affected the odds of winning, making it less likely to choose all six correct numbers though more likely for players to win the smaller prizes for guessing fewer correct numbers.
The PowerBall costs $2 to play and involves players choosing five numbers from 1 to 69, then a sixth Powerball number from 1 to 26. Overall, players have a little better than a 1 in 25 chance of winning at least the minimum $4 prize. The odds of selecting all six of the numbers are 1 in 292,201,338.
The Multi-State Lottery Association reported that 635,103,137 tickets were sold for the January 13th drawing, with 26,110,646 tickets winning at least the $4 prize, 73 tickets winning the $1 million prize for guessing five correct numbers, and eight more tickets winning $2 million for guessing five numbers plus while also choosing the "power play" option.
The winning numbers were 4, 8, 19, 27, 34, and Powerball 10.
For more about this week's drawing and the mania it produced across the nation, visit USA Today.
Offshore Sports Betting Fugitive Returns to U.S., Pleads Guilty
Haden Ware, an American who operated an online sports betting company based in Antigua, pleaded guilty to conspiracy in a Manhattan federal courtroom yesterday. The plea comes after 13 years of Ware living as a fugitive, most of which he spent continuing to run the World Sports Exchange site following the conviction of an owner for accepting U.S. bets.
Reuters reports that the 40-year-old Ware finally turned himself into U.S. authorities on Wednesday after returning to the United States from Antigua. He was released on a $150,000 bond and allowed to travel to Massachusetts and California to see his parents whom he hasn't seen for 20 years.
Ware and others helped start the World Sports Exchange in the 1990s, then in 1998 the U.S. Department of Justice charged 22 people including the company's owners for operating offshore sportsbooks that took bets from American customers both over the internet and via phone. One of the owners, Jay Cohen, was convicted and sentenced to 21 months in prison.
Ware wasn't initially charged, but was later indicted in 2002. He chose to remain in Antigua and continue to run the WSE until the site finally closed in 2013, with another of the original owners, Steve Schillinger, dying a few days later of an apparent suicide.
Under a plea agreement, Ware will not appeal should he receive any prison sentence of less than 12 months.
Read more about Ware's story and the history of the World Sports Exchange from Reuters.
Report Shows New Jersey Gaming Revenue Fallen by Half Since 2006
The struggles endured by Atlantic City over recently years have been well chronicled here at Inside Gaming, and this week came more documentation of just how far the famed Boardwalk has fallen over the last near-decade in terms of its casinos' annual revenue.
According to the New Jersey Division of Gaming Enforcement, Atlantic City's eight remaining casinos collectively earned $2.56 billion in revenue during 2015, less than half what the city's casinos took in during 2006 when there were more casinos and the total revenue was $5.2 billion. That was the year a casino opened in Pennsylvania, with increasing competition from other neighboring states subsequently cited as a contributing factor to Atlantic City's decline.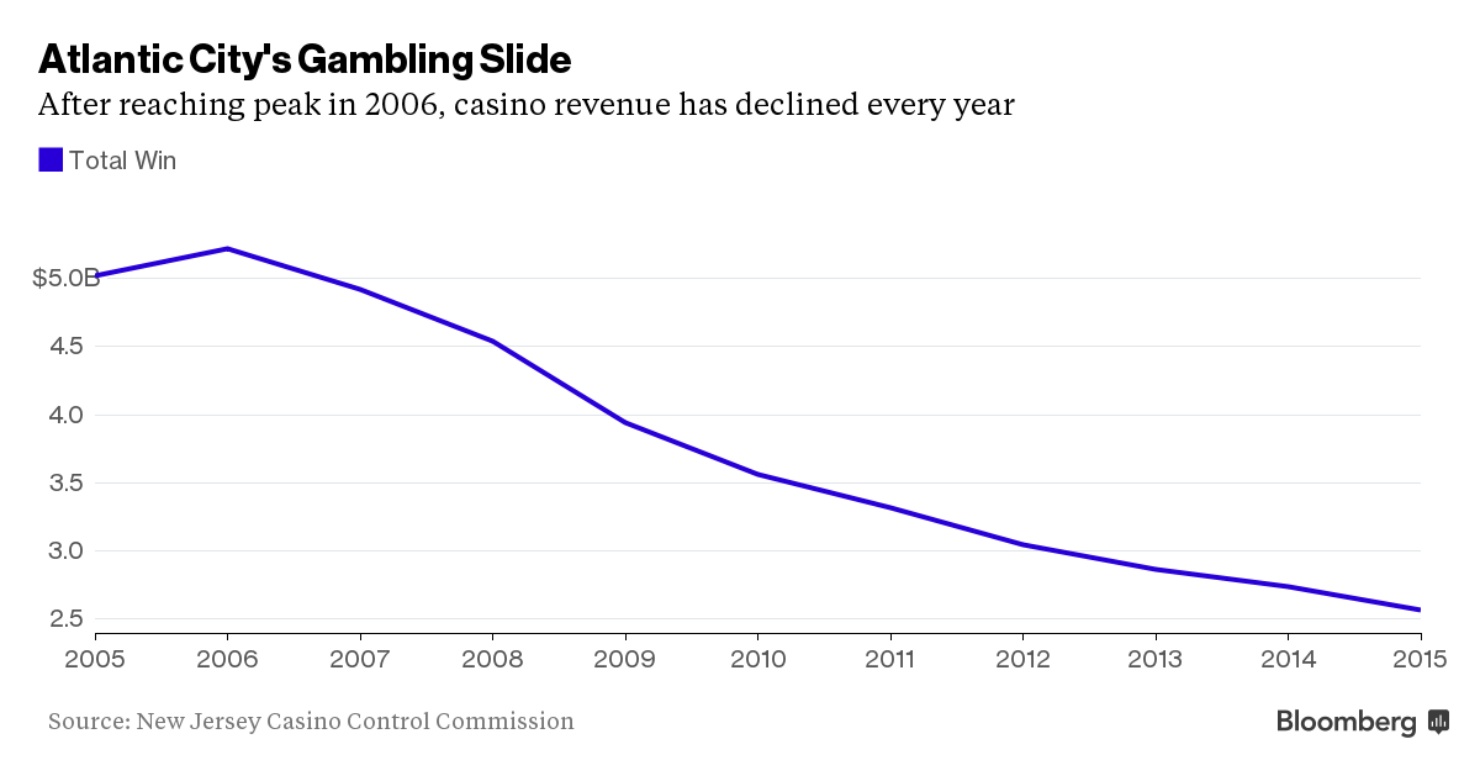 Atlantic City casino revenue, 2006-2015 (graphic via Bloomberg)
Commenting on the figures, Atlantic City mayor Don Guardian noted how the city previously "had a monopoly and 12 casinos," but competition from surrounding states' casinos has altered the balance considerably since 2006.
"Now there are 30-something casinos in the northeast," said Guardian, "and we're about to have gambling in the northern part of the state. There are more gambling places than there are gamblers willing to gamble."
The reference to more gambling coming to New Jersey outside of Atlantic City concerns new legislation to allow for the building of casinos in the northern part of the state.
On Monday the state's senate passed such legislation by a 33-6 vote on the last day of the legislative session, with Republican presidential candidate and Governor Chris Christie returning from the campaign trail to help announce a deal had been reached to guarantee at least a $1 billion investment in any new casinos in the northern part of the state. A new bill to be considered in the newly-begun legislative session will still need to be passed in order for a referendum on the issue to allow non-AC casinos in the state to be added to the November ballot.
Year-end revenue figures show that five of the eight casinos showed a gain during 2015 compared to 2014, although overall there was a 6.5% decline year-to-year. As the Associated Press reports, the Golden Nugget enjoyed the biggest increase of 24.6% for the year, while the Trump Taj Mahal fell the furthest, decreasing 16.5%.
Meanwhile online gambling revenue was up 21.2% in the state last year, only its second full year since the passage of legislation to allow online gambling. The total of $149 million in online gambling revenue in 2015 is nonetheless far shy of the $1 billion optimistically forecasted by Governor Chris Christie after signing the state's online gambling bill into law in early 2013.
Read more about NJ Division of Gaming Enforcement report at CNS News, and see Bloomberg Business for further discussion of the current legislative machinations regarding the future of casinos in the state.
Want to stay atop all the latest in the poker world? If so, make sure to get PokerNews updates on your social media outlets. Follow us on Twitter and find us on both Facebook and Google+!