Inside Gaming: Brockton Casino Plan Rejected, Nevada Down in March & NFL Franchise Eyes Vegas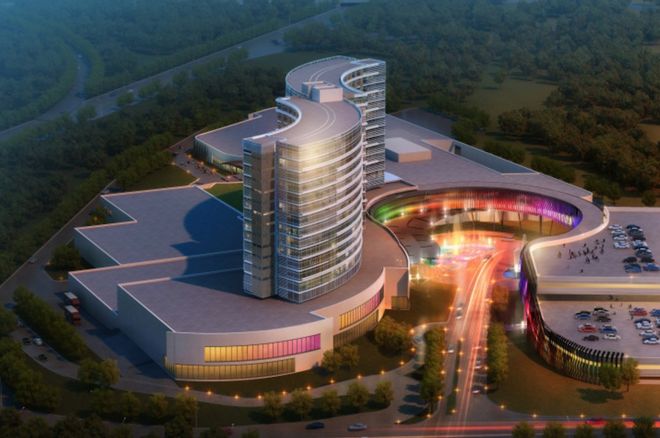 In this week's installment of Inside Gaming, a proposal to build a casino in Brockton, Massachusetts is shot down, one of the Macau gaming companies finally is able to report a revenue increase, Nevada endures a slight decline in March, and could the Oakland Raiders possibly be considering a move to Las Vegas?
Brockton Casino Proposal Denied by State Commission
A proposal from Mass Gaming & Entertainment to build a new $677 million casino in Brockton, Massachusetts was rejected by the Massachusetts Gaming Commission by a 4-to-1 vote on Thursday, ending a year-long campaign by the company.
According to The Boston Globe, it was the prospect of competition from a forthcoming Taunton casino that partly swayed the decision, as well as the Commission's view of the proposal for the Brockton casino having been lacking in inspiration. Commission chairman Stephen Crosby, who had already voiced opposition to the plan earlier in the week, described the proposal put forth by Mass Gaming & Entertainment as "less than a knockout."
"Crosby said he expected something bigger and bolder, something with a greater 'wow factor' comparable to the two casinos that have already won state approval: the $1 billion MGM Resort casino in Springfield and the $2 billion Wynn Resorts casino in Everett," the Globe reports.
Both the MGM Springfield and the Wynn Boston Harbor currently have target opening dates of 2018.
Meanwhile construction of a $1 billion casino in Taunton (an artist's rendering of which is shown above) already began earlier this month on reservation land owned by the Mashpee Wampanoag tribe. As a tribal casino, there's no need to obtain state approval to move forward. However, there is a pending federal lawsuit to decide whether or not the land is to be designated with the needed reservation status.
For more on the Brockton casino denial and future of casinos in Massachusetts, check out the story in The Boston Globe.
Galaxy Entertainment Enjoys First Quarterly Increase in Nearly Two Years
The drumbeat of sour revenue-related news from Macau has been fairly uninterrupted for nearly two years as the Special Administrative Region as a whole continues to report decreases month after month. However some rare good news emerged this week when the Hong Kong-based Galaxy Entertainment Group Ltd. reported its first quarterly gain since 2014.
Bloomberg Business reports that on Wednesday Galaxy shared its first-quarter figures, showing adjusted earnings having risen 6% to HK$2.4 billion (or about $309 million USD), marking the first year-over-year quarterly increase since 3Q 2014.
Both casual gamblers and high rollers contributed to the increase, which could be taken as a good sign given the extreme hit to VIP action that has formed much of the basis for the larger decline in Macau gaming traffic. Revenue from tables typically attracting the casual gamblers rose 17% year-over-year, while the high-end players' tables also were up a comparable 17%.
Galaxy also has now seen some benefit from its two new properties, Galaxy Macau Phase 2 and Broadway Macau, both of which opened last year. "The two properties have boosted Galaxy's exposure to the mass market segment," explains Bloomberg.
Such expansion fits with other Macau operators' plans to diversify their offerings to give themselves a better chance of gaining revenue from sources other than VIP high rollers.
Visit Bloomberg for more on Galaxy's good quarter.
Gaming Revenue Down in Nevada for March
After a fabulous February for Nevada gaming revenue, boosted significantly by heavy betting on Super Bowl 50, the Nevada Gaming Control Board reported a decrease of 3.04% in March, year-over-year.
Casinos in the Silver State had a total gaming win of a little more than $922 million during the month, down from just over $951 million in March 2015. The Strip in particular saw its casinos drop almost exactly 4% in revenue, going from just over $507 million to a little less than $487 million in March 2016.
Sports betting was down year-over-year; for example, betting on basketball decreased nearly 23% and on baseball about 14%. Over in the pit, roulette was up 18%, but there were declines shown for craps (down 16%) and baccarat (down 3.5%).
A few areas away from the Strip did show slight gains, with revenue in South Lake Tahoe up a significant 23%.
For a full look at at all the numbers, see the NGCB's latest report.
Oakland Raiders Owner Talks of Moving Team to Las Vegas
Finally — and speaking of sports and Sin City — yesterday Oakland Raiders owner Mark Davis made it known that he would like to move his team to Las Vegas, saying he'll contribute $500 million to the construction of a new $1.4 billion stadium in the city, reports ESPN.
Davis made his feelings known during a meeting on Thursday of the Southern Nevada Tourism Infrastructure Committee at the University of Nevada Las Vegas. There he stated a desire to turn "the Silver State into the silver and black state," an allusion to the Raiders' team colors.
Davis inherited ownership of the Raiders following the death of his father, Al Davis, in 2011.
The stadium project is being led by Las Vegas Sands Corporation chairman and CEO Sheldon Adelson. While Adelson was not present at yesterday's meeting, soccer legend David Beckham, who does promotional work for the Sands, was also at the table.
"To bring a great organization like the Raiders to Las Vegas is amazing, but it's bigger than that," said Beckham. He went on to discuss the potential of bringing a Major League Soccer franchise to Nevada as well.
The Sands have thus far pledged $150 million toward the construction of a new stadium in Las Vegas. Any such project would take a minimum of three years to complete, should it be approved. Meanwhile the National Football League team owners would also have to approve any team move, with NFL Commissioner Roger Goodell suggesting the league's stance on such a possibility has "softened... in recent weeks."
"Ultimately that's a decision of the ownership," Goodell said on Wednesday during an appearance on Colin Cowherd's sports talk show, "The Herd." He noted some owners "feel very strongly about continuing to support our position on gambling" and thus would oppose such a move, while others feel differently and are open to the possibility. But he'd rather see the Raiders stay in Oakland and be successful there.
For more on talk of a possible "Las Vegas Raiders," go to ESPN.
Image: AP
Want to stay atop all the latest in the poker world? If so, make sure to get PokerNews updates on your social media outlets. Follow us on Twitter and find us on both Facebook and Google+!