The Good Hand Starts at the Top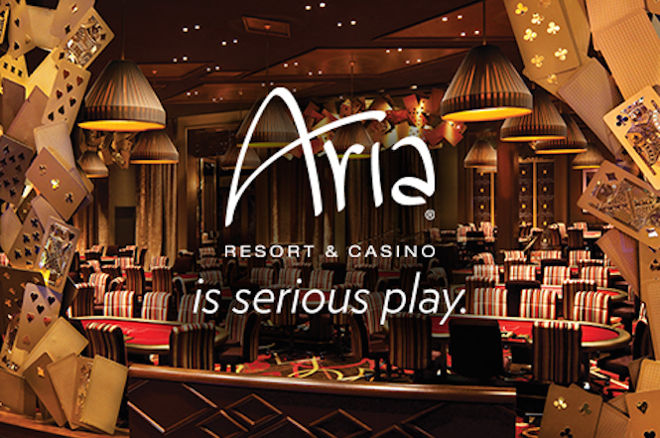 Attracting serious amateurs and legends alike, the ARIA Poker Room is one of the most esteemed poker rooms in the country. It boasts 24 tables, 18 of which are on the main floor, spreading games like $1/$3 and $2/$5 no-limit hold'em. Besides The Ivey Room, where players have the opportunity to compete with the world's highest limit games, an additional five tables are situated in an elevated high-limit area.
Everything about the ARIA Poker Room is designed with the player's comfort and convenience in mind, from the décor to the incredibly comfortable seating to the lighting. The room's tasteful respect for the game is clear from the moment you walk by the entrance's striking card sculpture. Convenient tableside dining allows players to stay on top during long games. With menus from Five50, Lemongrass, Jean Philippe Patisserie and ARIA Café, players have great options to mix good dining and cards.
Everyone's lining up to play at the ARIA Poker Room. That's one of the reasons ARIA utilizes a state-of-the-art Bravo Player Rating System. Bravo allows staff to text message the player when their seat is open. With so many fascinating places to explore at ARIA, players do not have to spend time hovering and waiting for a game to open up.
The success of the room here is no accident. The top-level executives at ARIA know poker. They get the game and that's the reason everything about the ARIA Poker Room has the player in mind. All of the staff has been carefully picked to be qualified, professional, and well-trained at every level. Satisfying every customer is the number one priority especially in a town that already has an abundance of tables. With all the amenities and conveniences in the ARIA Poker Room, there is no trouble drawing crowds of serious players. With daily tournaments at 1 p.m. and 7 p.m., players can gather at the ARIA Poker Room to take a seat for their next good hand.
Get all the latest PokerNews updates on your social media outlets. Follow us on Twitter and find us on both Facebook and Google+!